If summer were a dress – This season's most beautiful dresses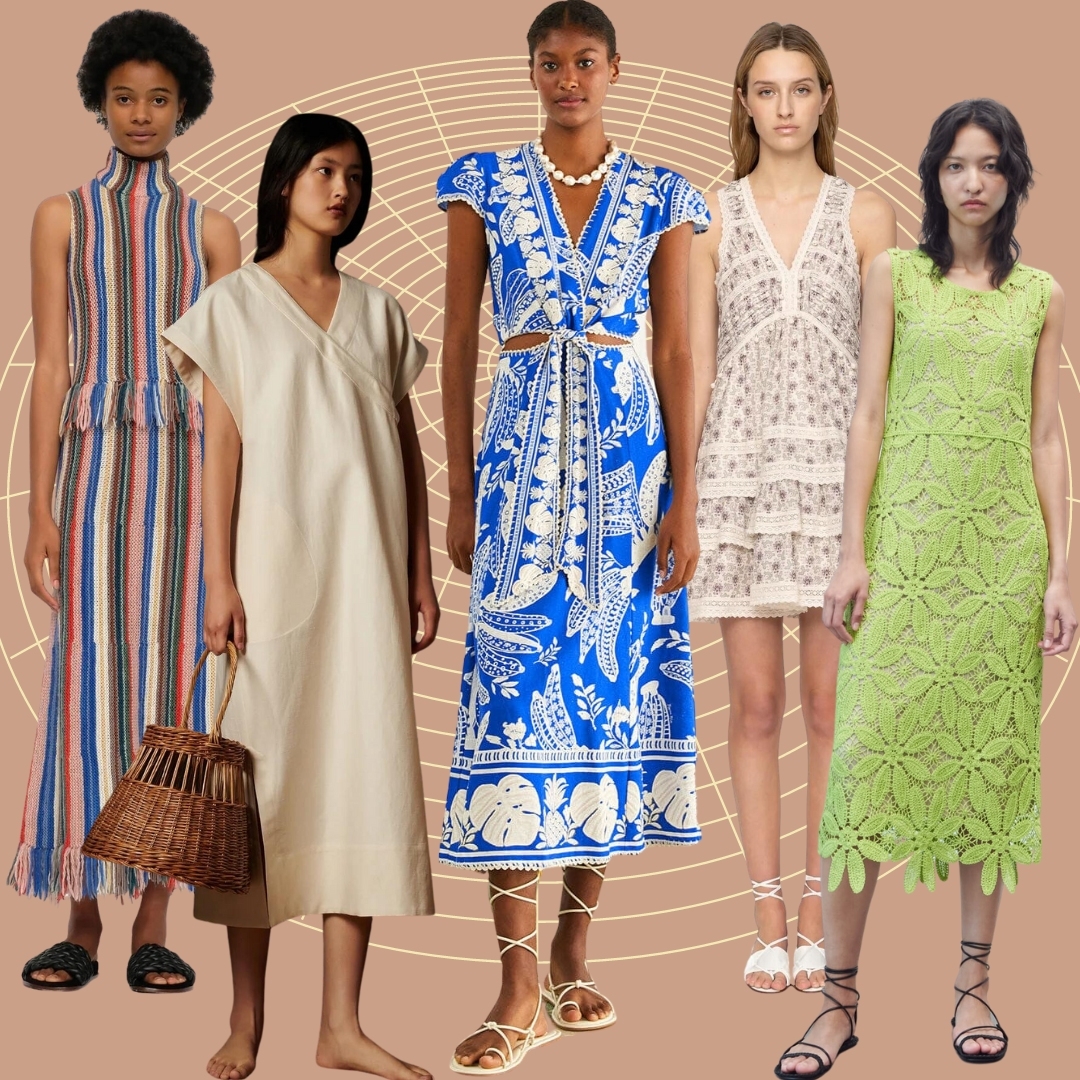 If summer were a dress, which one do you think it would be; florals, gingham, mini, maxi, prairie, or slip dresses? Luckily for us, we don't need to stick to only one style this season, and we have plenty of inspiration from the catwalk, red carpet and royal events, and street style. After scouring our favourite online shops, we handpicked the most beautiful dresses that fall in line with the summer 2023 trends but are timeless so that you can wear them for more than one season. So, shop our selection of this season's most beautiful dresses to enjoy summer in style. 
Floral dresses, the heroes of your summer wardrobe
Romantic florals are the must-have dresses for summer, year in and year out. So, discover our exquisite selection of dresses inspired by popular aesthetic trends like cottage-core. Embodying the charm of romantic countryside living, our selection features stunning pieces from brands like Tory Burch and Pink City Prints. Additionally, the hand-embroidered dresses from Farm Rio confirm the longevity of the Craftcore trend, making them a worthwhile investment for your timeless wardrobe. Finally, Reiss's bohemian print dress is a must-have for summer days and nights.
White dresses
As an essential summer garment, your wardrobe should always make room for a new white dress. In the summer of 2023, we carefully curated a selection of stunning hand-embroidered pieces from Zara and Pink City Prints. These dresses are perfect for running errands in the city, attending garden parties, and, of course, enjoying seaside holidays. On the other hand, we couldn't help but fall in love with the minimalist style dresses from Cos and Soeur. Cos has elevated the shirt dress with a surprising addition of panelled lace, while Soeur has created a unique kimono-inspired dress. All four dresses exude a classic and timeless appeal.
Boho-chic crochet
The bohemian style continues to inspire fashion designers, fueling the trend for crochet dresses, tops, and pants. We have curated a collection of dresses from the 2023 Summer collections, showcasing a range from bohemian chic to artisanal chic accents. These knitted garments are available in various silhouettes, yet they all share the timeless appeal of natural and slow fashion.
Mini dresses
As one of the most beautiful and stylish royals, Charlotte Casiraghi showcased her legs in on-trend mini dresses at the Monaco Grand Prix 2022. Before following her lead, be sure to read our article 'Get Your Legs Ready for Summer.' With that said, our selection of mini dresses embraces a cottage-core silhouette, exemplified by the Sea NY mini dress. Additionally, we've chosen an embroidered dress from Farm Rio that represents the craft core trend. To add a touch of luxury utilitarian style, we recommend a mini dress from the Australian fashion brand Aje. Lastly, for a flowing mini dress in a sandy colour, Soeur offers an excellent option.
Green dresses
According to prominent fashion retailers, green is the must-have colour for the summer of 2023. In many cultures, green symbolises hope, which is precisely what we need during these times of inflation and war. Moreover, green is a versatile colour that complements all skin tones and hair colours, whether you have blond or brown hair. Wearing green will make your complexion stand out.