Easy guide: Fashion trends for Spring/Summer 2023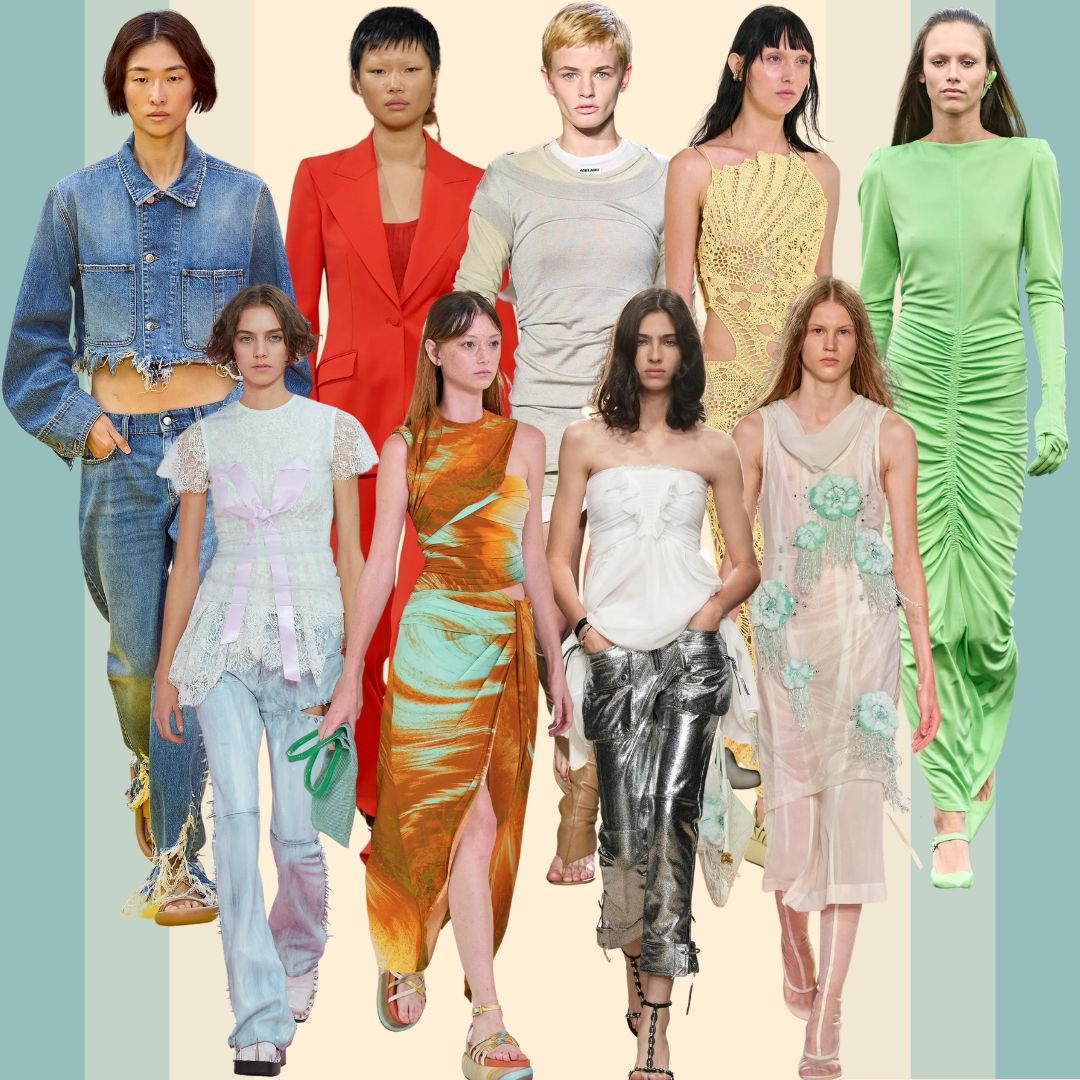 I have to confess: I am impatient for spring to come. Very impatient. Every year it's the same; December is a magical month when I don't even notice if it's cold or snowing. Early January is exciting, with so many plans that I don't even think about the weather. But then the end of January comes and I wouldn't say I like the cold, the lack of light and even my wardrobe. If you are like me, then you will enjoy reading this article about the fashion trends for Spring/Summer 2023. It will help you look at your wardrobe from a new perspective. You will see the pieces that will stay for this new season and the pieces that will go to the back of your wardrobe, maybe for next autumn.
How Notorious identifies the fashion trends for Spring/Summer 2023
I've checked every runway and came to a list of 16 fashion trends for Spring/Summer 2023. In my selection, I've identified the most wearable the ones that will last the longest in your wardrobe.
In general, fashion designers have been quite generous, offering creations for all types of women and moods. Trends range from basic monochrome (black-grey-beige-white) to colourful 80s maximalism. From elevated basics and contemporary formalwear to bright colours, laud metallic and bold 3D florals. This makes spring an easy season to find your style. Let's have a look.
1- Elevated Basics
The silhouette is simple and the overall style is minimalist. The materials and colour palette make the clothes look more expensive than they are. We are talking about colours like navy, camel and grey.
Style tip: Even though this trend for Spring/Summer 2023 calls for a simpler and more minimalist look, there's nothing stopping you from adding a splash of colour to your accessories. Camel and forest green or navy and orange are also chic.
2- Wide West Denim
As we've already mentioned, jeans are still wide, with loose and comfortable cuts. Even though the horsemen of the fashion apocalypse are predicting the return of skinny and low-waist jeans, we'll be safe this spring and summer.
Style tip: Pair your jeans with a white t-shirt and biker jacket for a winning office look. And take them up a notch with pointed-toe pumps and heels.
3- Metallic Mine
Gold, silver and copper are still highly quoted this spring. In addition to sequins and lamé, new materials were explored in the collections to make this trend wearable every day and not just at parties. So next season you'll want to invest in pieces with thicker fabrics and a liquid shine effect.
Style tip: If you don't feel like wearing jeans or a metallic jacket, play with accessories. Silver jewellery is high on the list of new jewellery trends. And pair your jeans with a silver slingback pump.
4- 3D Floral
It might seem that florals are one of the most obvious trends for Spring/Summer 2023. But this year, flowers are not just in prints. They appear in 3D, sculptural in large details or applications.
Style tip: If this trend is too dramatic for you, invest in brooches or brooches with flowers. The effect is the same.
5- Wear the Trousers
To follow the strong and independent woman, this season's fashion collections have focused their creations on trousers. In 2023, this wardrobe item will be much more novel than tops. The trouser is at the centre of the new look.
Style tip: Wide legs, cargo, puddle hems, whatever style you choose, find a trouser that fits your body perfectly. A good cut is essential this season.
6- Easy Rider
Leather biker jackets will be worn with cargo or tailored trousers this spring. They are a new option for the oversized blazer and tweed jacket.
7- Lime Green
According to top buyers at Net-a-porter, MyTheresa, Matchesfashion and fashion technology company Lyst, this is the colour of the new season.
Style tip: The lime green colour family includes different shades of green, from avocado green to a pale pastel green with a bluish hue. Find the shade that best suits your skin tone and be happy.
8- Knitted Spider Web
This is not a new trend for Spring/Summer 2023, but it's an evolution of crochet from previous seasons. Now you will find crochet with a more open and loose stitch, like a spider's web or fishnet.
Style tip: Wear it over a tank top or a bustier underneath.
9- Big Bag Theory
Luxury brands have thrived in recent seasons by selling supermini bags at big bag prices. But fashion has realised that women need more space in their bags. Even though half of our lives are stored on mobile phones, we are happy to see the return of big and tote bags.
Style tip: Choose one that is easy to carry and not as big as the ones on the catwalks. After all, you want your bag to last a few years, right?
10- New Utilitarian
This trend is nostalgic for the 90s. You'll see lots of mossy colours and muddy browns. And you can channel your MacGyver side with lots of pockets, belts and zips.
Style tip: look for cargo pants in more fluid and chic fabrics like silk or satin. And swap your blazer for a work jacket.
11- Bee's Knees
I hate it when the length of skirts changes, it seems like the whole world has changed. But it is what it is. This year skirts are going to hit the knee. The pencil skirt has been rescued from the 90s and is back.
Style tip: For a less businesslike look, pair your pencil skirt with mini socks and heels. Trainers work too.
12- Digital Tie-dye
It seems that Spring/Summer 2023 fashion is all about evolving trends that have been around for a while. The same tie-dye vibe has evolved into abstract and fluid digital prints.
13- Hot Red
The various shades of hot and intense red will be a strong trend for Spring/Summer 2023. And that's good news if lime green reminds you of your childhood playing with slime.
14- Pure White
In 2022, all-white outfits were in all year round, even in winter. And it will stay that way for Spring/Summer 2023. But with a twist. Instead of classic summer fabrics like linen and cotton, we'll see white outfits in sequins, PVC or scuba. It's all about new materials.
Style tip: update the white cotton dress you already have in your wardrobe with a white PVC trench coat and trainers.
15- Frou Frou
This is all about romantic little dresses with ruffles, lace and bows. This trend is a celebration of the feminine. Some of the dresses look like they came out of an old doll's box. Speaking of dolls, Mary Jane's shoes are also part of this trend.
Style tip: Pair your frou-frou dress with a basic t-shirt underneath to make it a daytime outfit.
16- Prima Ballerinas
Sneakers are still going strong for next season, as are loafers. But ballerinas are back and in several styles. Miu Miu, for example, literally designed them like ballet shoes. And Simone Rocha has created a more pop Mary Jane with a sneaker sole. It's gorgeous and already on my shopping list for spring 2023.
Style tip: Pair the ballerinas with wide-legged trousers for an edgy look.
Collages with images courtesy of the brands