Paris Chooses White Jeans as the Chicest Transitional Look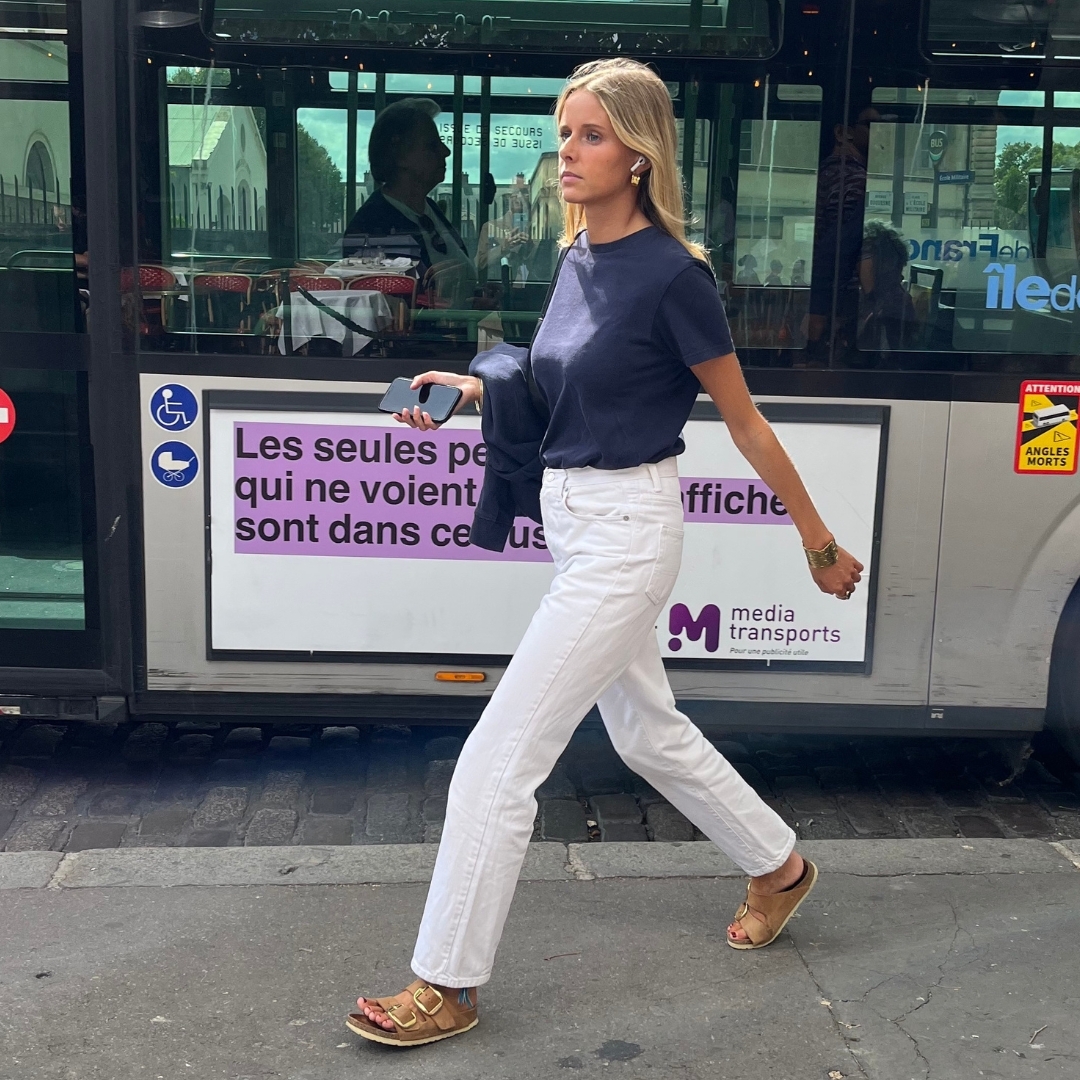 In the streets of Paris, we're already seeing that the height of summer has passed, and more and more Parisian wardrobes reflect the beginning of fall. Instead of the lazy summer days, we're witnessing outfits tailored for the office and university. One garment that transcends age and style is the white jeans. It's the centrepiece of a chic wardrobe with that elusive je-ne-sais-quoi of French women. In this article, we'll explore all the ways to elevate your white jeans, which happens to be the chicest transitional look of the French it-girl.
Our trend hunting in the streets and shops has revealed that the Quiet Luxury trend prevails. This style favours minimalism, focusing on the quality of the cut and fabric. Naturally, combinations like white and black, white and navy blue, and white and grey are at the top of the list for effortless chic. Taking all this into consideration, let's delve into how your white jeans will become the chicest transitional look in your wardrobe.
Pay Attention to the Fit of Your White Jeans
First things first, let's talk about fit. White denim can be unforgiving, so make sure you find a pair that fits you well. A high-waisted style is always flattering and elongates your legs. Pair it with a tucked-in blouse or shirt to accentuate your waist and add some definition to your look. Loose-fit and wide-leg jeans are usually more suitable than tight ones – no discussion here. Additionally, tight white jeans with tight tops are an absolute no-go. Have a look at this one from COS.
Which Coat to Wear With White Jeans?
When the temperatures cool down a bit, layer a navy or black peacock coat over your tee, or opt for a cobalt blue denim work jacket (another French-girl style obsession). A trench coat is always a good idea – you just can't go wrong with a loose-cut beige raincoat. But to transform your white jeans into the chicest transitional look in your wardrobe, drape a cashmere cape over them. Wait until the 15th of September and buy this trench coat by Uniqko:C, the collaboration between Uniqlo and British designer Clare Waight Keller.
The Best Shoes to Wear with Your White Jeans
The shoe choices we've spotted in the streets of Paris during our style hunting include slingbacks, ballerinas, and Mary Janes. They are key for the upcoming season and undoubtedly elevate your white jeans. But what if the temperatures don't allow you to walk around without socks? Former editor-in-chief of Vogue France, Emmanuelle Alt, shows that you can simply pull out a pair of cowboy boots from your wardrobe.
Colors that Elevate Your White Jeans
In theory, white goes with all colours. But when we're talking about transforming your white jeans into the chicest transition look and drawing inspiration from the French woman's style, hold on for a moment. Forget about pink, red, and even forest green. The chicest colours are various shades of grey, black, navy blue, and beige.
White Jeans and Accessories
Silver jewellery is always chic and adds a touch of modernity to your look. However, the French woman adores gold jewellery. After all, she embodies heritage and, therefore, inherits family jewellery. Chunky bracelets and necklaces (worn over turtleneck pullovers) pair well with the bags that French women adore. Curious? Take a look here.
On top, the most popular bag model in Paris is the heritage cartridge bag or 'Bandoulière'. Choose yours in beautiful leather in brown or burgundy colours like this one from Soeur. However, the classic tote bag is always chic. We love this one in calf suede leather from the Spanish brand Hereu.
Conclusion
The thing about white jeans is, they remind us that just yesterday it was still summertime. It's like we're in a rush to get dressed for the new season, grabbing a coat or pullover that was just hanging there in the closet – you know, without putting too much thought into it. Those Mary Jane shoes? Well, they were right there, front and centre. And as for the bling, it's what we rock every single day, no matter what. That whole easy-breezy vibe forms the heart of what makes a French woman so darn charming. Even though every little detail is thought through (yes, even that no-makeup makeup), the end result comes off effortlessly natural, a tad undone, a little messy, and that's what makes it perfect, you know?
So, keep all that in mind and grab those white jeans of yours. Step into the new season looking simply, outrageously chic – like you didn't even try, but we both know better, don't we?
Photos via Shutterstock