11 ways to wear leggings and fall in love with them again 
Comfy and stylish.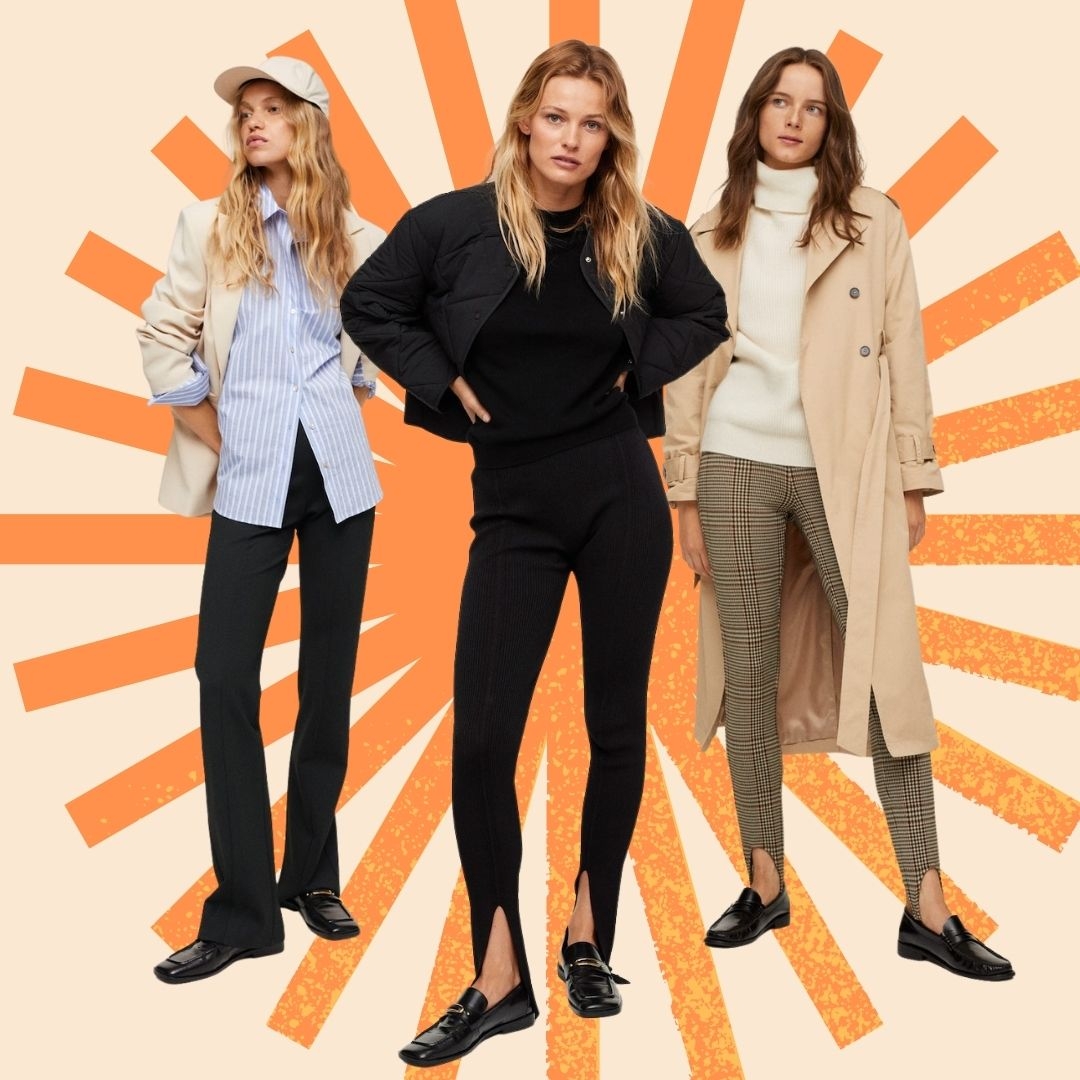 Never say never again, especially when it comes to fashion trends. Because, as we told you, leggings are back big time, not only on the Fashion Week A/W 21-22 runways but also among influencers, editors, and buyers who are already wearing the slim-fitting trousers. And, believe it or not, we've pinpointed 10 ways to wear leggings that will make you fall in love with them all over again. With the right styling, we guarantee you can look fab this fall and winter in skinny leggings, no matter your age or body type. 
1- Leggings under dresses
One of the significant trends for fall/winter 2021-2022 is layering a dress over trousers. We saw it at Roksanda, Molly Goddard, and Raf Simons, among many others. So, a great way to wear leggings is to think of them as if they were tights. Layer your leggings under the knitted dresses we'll be wearing in A/W 21-22. You can also pair them with a mini dress or a maxi shirt dress; leave the last buttons of your dress undone for extra fashion points. 
2-Leggings, white shirt and loafers
Add some preppiness to your leggings by combining them with a crisp white shirt and wearing loafers. Above all, make sure you choose thick-soled loafers, one of the A/W 21-22 shoe trends you'll love to wear this season.
3- Leggings, white shirt and chunky knit
For colder days, or if you like to play with volumes like me, layer extra chunky knitwear over a long shirt. Don't forget a structured bag and boots to dress up the athleisure trousers.
4- Leggings and sweatshirt
Want to wear a comfy sweatshirt and leggings to run errands or meet friends? No problem. Just style this relaxed look with some key pieces to make it more put-together. For example, add a statement handbag and matching ankle boots, and throw a nice plaid outwear on top.
5- Leggings and oversized knitwear
The key to rocking this look is to balance the tightness of your leggings with an oversized jumper. Nevertheless, to create a put-together look that you can wear to the office, choose a pullover in natural wool, for example, cashmere, that feels more luxurious. Next, wear shoes in the same colour as your leggings to elongate the legs. Finally, add a lady-like silk scarf, and you're ready to go.
Are you already convinced leggings are the comfort piece that you want in 2021? So, shop our selection or keep reading to see more styling inspirations.
Our editors choose independently all products featured on Notorious-mag. However, when you buy through our links, we may get a commission.
6- Leggings and oversized blazer
Here again, we like the balance of an oversized blazer paired with tight leggings. Additionally, Janette Masden wears cool sneakers with leggings, but she adds a chic structured bag.
7- Leggings with belted jacket
A chic belted jacket in the '40s style looks fantastic with leggings and boots, and together, they make a great outfit to wear at the office.
8- Leggings and bomber jacket
In the same vein, your tight bottom also can be worn with a voluminous '80s bomber jacket, the number 1 top trending product on the Lyst index in 2021. Finally, complete your cool leggings outfit with loafers, like the French Estelle Chemouny did, or wear chunky Chelsea boots.
9- Leggings and trench coat
A timeless trench coat is the easiest way to dress up leggings and sneakers. But, of course, don't forget to carry a chic bag and nice sunglasses to create a relaxed yet elegant look.
10- Leggings and animal print coat
Dark leggings are the perfect backdrop to funky animal print coats. Or any loud-printed outwear you may feel like wearing this season to send away the winter blues.
11- Leggings and big puffer
This winter, oversized puffer jackets will be one of the hottest coat trends, so leggings are excellent trousers to balance the extra volume of your outwear in 2021.
Titel photo via Wolford.