Coastal grandmother style: The summer trend on TikTok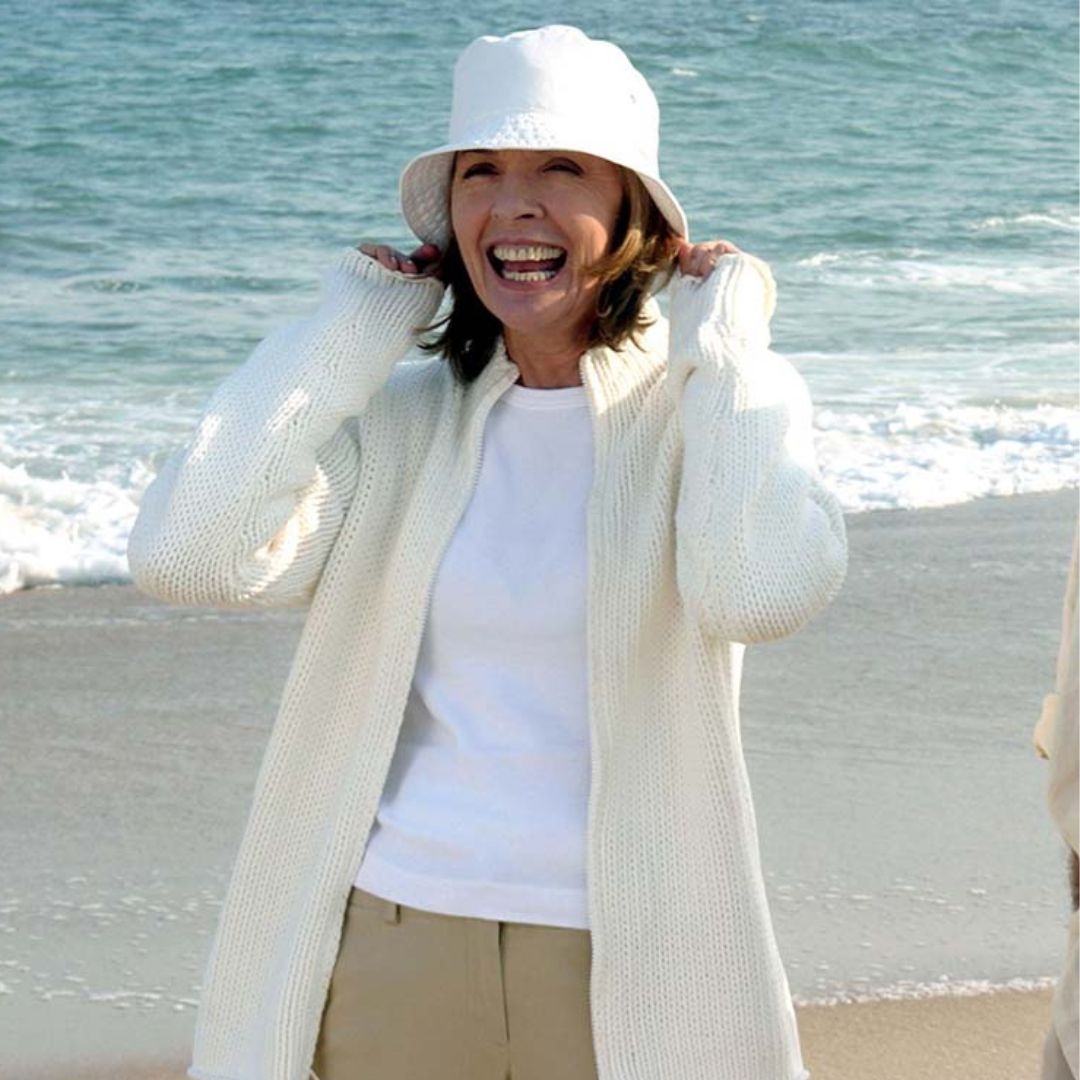 Among all the social media platforms, TikTok is the most downloaded application, and indeed, where we see new trends like #royalcore and #cottagecore appear and spread at the speed of light. So, it's no wonder luxury fashion houses are already on the mobile video platform. The latest trend that's gone viral and become the must-have look of this summer is the Coastal Grandma style. In short, TikTok users have shared uncountable videos with the Coastal Grandmother trend aesthetics, including outfits, home decor, and even playlists with the songs for the ultimate vibe of summer 2022.
So, here's all you need to rock this season's viral trend, whether you have a villa by the sea or just dream of comfort and elegant simplicity.
What is the Coastal Grandmother style?
Certainly, for those who love Nancy Meyers's movies, it will be easy to spot the trendy lifestyle. Remember Diane Keaton's looks in Something is Gotta Give? Or Meryl Streep in It's Complicated and Natasha Richardson in The Parent Trap? The Coastal Grandmother trend making waves on TikTok and Instagram consists basically of a chic, laid-back beach style;  bourgeois preppy with a hint of boho minimalism, if that makes sense.
For example, a true Coastal Grandma takes long walks on the beach with her dog, wearing a white button-down shirt, worn-in tan jeans, a cable knit jumper around her shoulders, and a straw hat. Her capsule wardrobe essentially in sandy and pastel shades, is completed with gold jewellery pieces she layers effortlessly. During the day, you may find her gardening or strolling in the local farmer's market. Otherwise, she'll be home, making flower arrangements or reading while sipping wine in wide trousers and cosy oversized sweaters. Anne Hathaway is one of the many #coastalgrandmother enthusiasts and hopes this summer trend will never end.
Ten must-have items to get the Coastal Grandmother look
Our editors choose independently all products featured on Notorious-mag. However, we may get a commission when you buy through our links.
1 – Timeless button-down shirt
A timeless button-down shirt is the number one item to ace this summer's TikTok Coastal Grandmother trend. Either a crisp white or light blue Oxford shirt that you can wear buttoned with trousers and shorts or undone over classic swimwear.
The Coastal Grandmother summer wardrobe is filled with looks in natural fabrics like linen and cotton. And because they live for polished comfort, wide-leg trousers, button-down skirts, and Bermuda shorts are a must.
Wear a romantic maxi dress in the colours of the ocean with flat sandals and, of course, a straw hat. In summer evenings, throw an oversized cardigan over it to add nonchalance and rock the Coastal Grandmother trend from TikTok.
4 – Sandy high-waisted denim
Achieve the coastal lifestyle vibe by wearing high-waisted jeans, preferably in white denim or sandy hues; they look more expensive and polished.
Tank tops are a significant summer trend this year, but the Coastal grandmother has been layering them under unbuttoned shirts long before TikTok.
6 – Cotton or linen shirt dress
Wear this minimalist shirt dress to walk on the beach or visit flea markets. But you can also bring the Coastal Grandmother trend to the office this summer by pairing the dress with classic sneakers.
7 – Comfortable Birkenstocks
If you still haven't jumped on the Birkenstock trend, now it's the time to do it, as this summer's Coastal Grandmother trend asks for comfortable walking shoes.
8 – Striped jumper à la Coco Chanel
Tie a timeless Breton-style knit sweater around your shoulders, or wear it over any outfit for an effortlessly chic coastal look.
9 – Straw and cotton hats
You won't get the Coastal grandmother trend right without cotton or woven straw hat in the best Meryl Streep style. Wear it from brunch till evening.
You'll need a big tote to carry your pocket notebook, the best sunscreen, and the flowers you've just bought in the market. But make sure you choose an elevated tote in linen as the Coastal grandmother only likes good-quality garments and accessories.
Photo courtesy of Warner Bros.