How to layer necklaces according to a jewellery designer. 
Expert tips.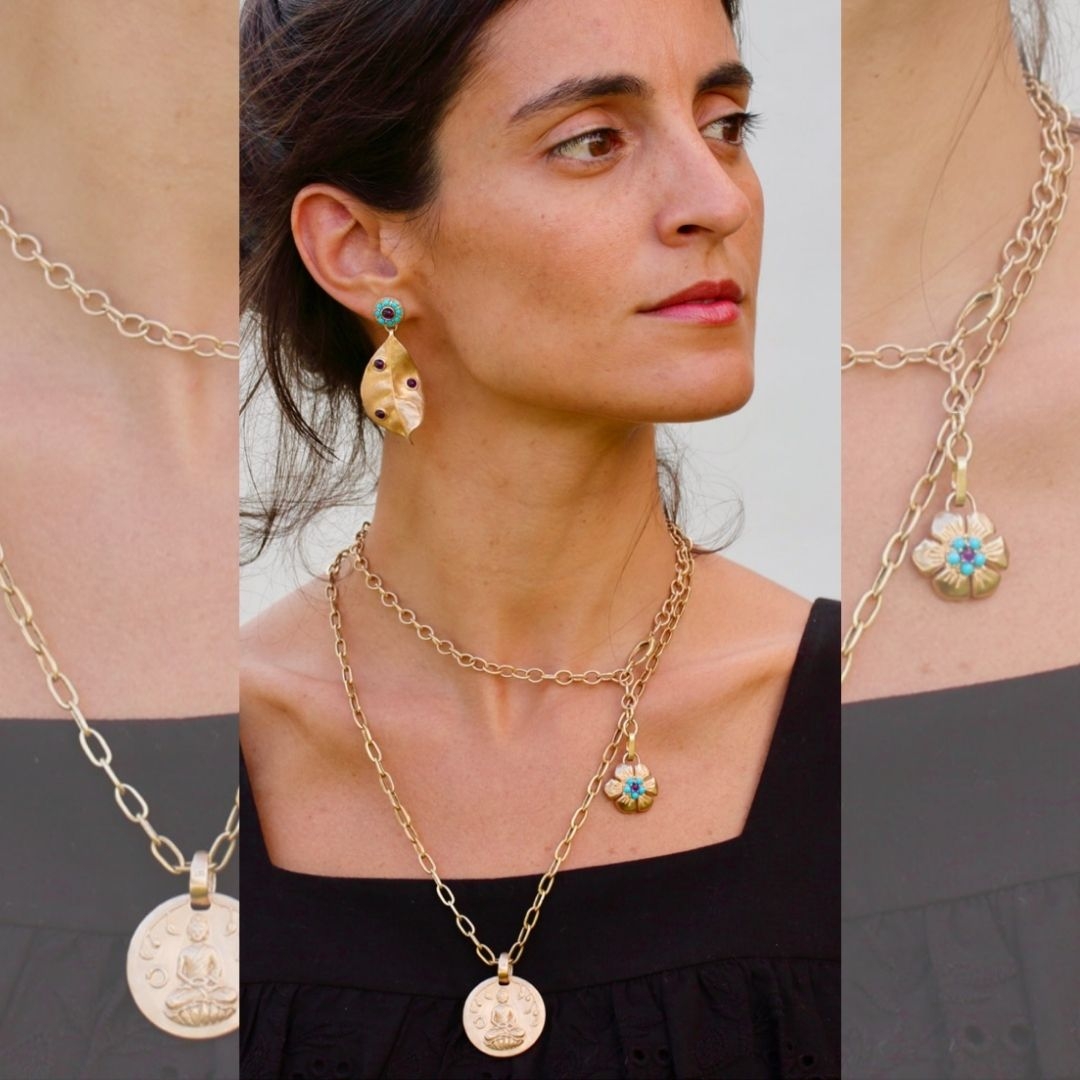 Being a jewellery designer, I witness first-hand the ever-changing trends and new styling tricks, including the layering craze that has taken over the fashion world, Instagram, and TikTok. But, although seemingly simple, the layering trend requires much more than just pilling up several necklaces. When styling your favourite jewellery pieces, you must pay attention to details like materials, lengths, and colours to master the stacking of chains. So, here are my tips on how to successfully layer necklaces and achieve a harmonious and unique statement look.
Our editors select independently all products featured on Notorious-mag. However, we may get a commission when you buy through our links.
How to layer chains in a contemporary way
In the past years, we've seen women wearing several layers of dainty chains, either in gold or silver. To make your necklace stacking more fun and modern, consider wearing chains with different link sizes, shapes, and weights. Mix chunky link chains with delicate necklaces so your accessories don't look too coordinated. Additionally, the necklaces should come in different lengths not to clump together.
Mixing metals in your layers
You don't need to stick to one metal colour when you layer your necklaces. In fact, mixing different tones of gold or silver and gold like sculptor and jewellery designer Carolina Wickenburg does, results in a modern combination that looks effortless and cooler.
Layering your pearls in a funky way
Do you think your grandmother's pearls look too lady-like? Add a twist to the classic pearl necklace by layering a couple of chains with colourful charms, one of the top jewellery trends to wear in 2022. The retro charm necklaces create a playful look, perfect for spring and summer.
Mix heirloom jewellery with new ones
The good thing about layering is that it allows you to wear precious jewellery in your day-to-day looks, for example, jewellery designer Marla Aaron's fantastic necklace cocktail. Similarly, you can layer heirloom jewels like a diamond tennis necklace with modern pieces creating an informal and easy-to-wear stack.
Add a dash of colour with layers of gemstones
When layering gemstone strings, choose one colour palette to create a balanced necklace stack. Either pick one dominant colour like these jewellery pieces in Very Peri, the Pantone colour of the year 2022, or hues that complement each other.
Layers to play with different textures
With summer around the corner, coral necklaces are back on-trend. Layer several bead necklaces and mix them with chains to play with various textures. You can create a statement accessory that will elevate even the most basic t-shirt by layering four necklaces in different lengths. Note that the shortest and the longest jewellery pieces are coral necklaces, framing the two gold chains. In other words, despite the mix & match of materials, textures, and lengths, there is order and balance in the layering.
Preparing your summer stack
Besides coral, turquoise is another must-have gemstone for summer. Pair, for instance, with a light-blue beaded necklace, one with emeralds to carry the colours of the ocean around your neck.
Making a bold statement with chunky beads
You can also layer several bead strings with almost identical lengths to create a bold statement necklace. The chunky beads combined add a wow effect to your summer looks indeed.
Can you layer long necklaces?
As Caroline de Monaco, Princess of Hanover, shows at a lunch during Chanel Cruise 2022/2023 à Monte-Carlo, layering very long necklaces also look fabulous. She puts together a chic stack mixing irregular pearl necklaces with long chains down the waist. The combination of big and smaller pearls with the chain necklaces results in a polished yet modern look with a touch of the Roaring 1920s, an era that's inspiring current fashion trends.
Title photo courtesy of Carolina Wickenburg.