#WinterFix: How to Wear That Grey Pullover, Runway-Style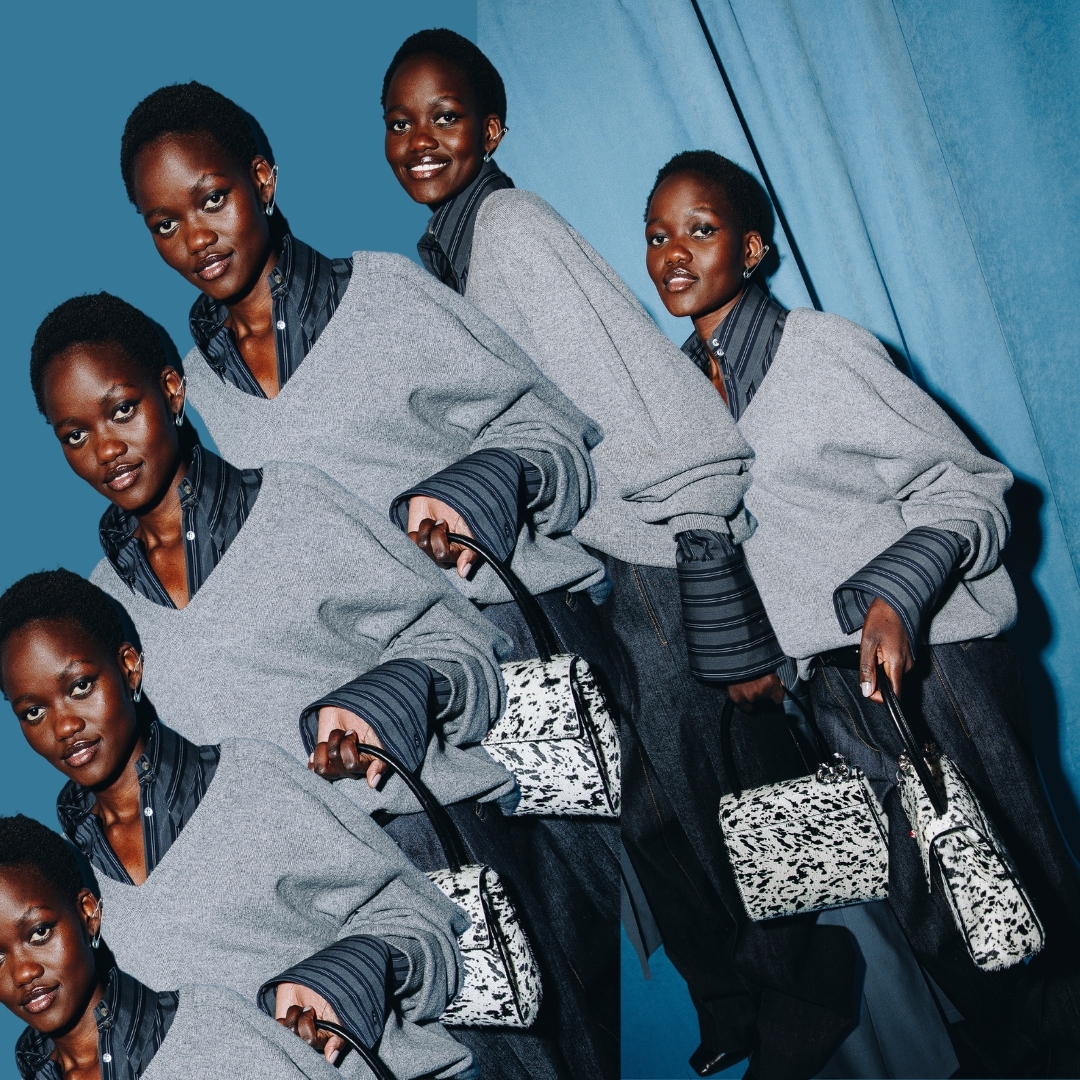 This winter, it's all about being savvy with our sartorial choices to update our wardrobe intelligently. And guess what's topping the must-have list? Yep, the grey pullover. From V-necks to turtlenecks, this cosy piece has been strutting its stuff on nearly every AW23-24 runway. If you're aiming for that timeless, chic vibe, the grey pullover is your ticket. Dive in as we spill the tea on how to wear that grey pullover, inspired by the crème de la crème of AW23-24 runway looks.
1- Prada – Grey Pullover Meets Leather Blazer
The Pradettes are buzzing with whispers that 2023 might be Miuccia Prada's curtain call. Drama aside, Miuccia and Raf Simons are serving us collection after collection of pure fire. With Prada reigning supreme on the Lyst Index's hottest brand list, they're suggesting a killer combo: our beloved grey pullover paired with a to-die-for caramel leather blazer and pointy shoes adorned with a bow. Talk about a look that screams femme fatale!
2- Victoria Beckham – Slaying the Grey Pullover and Denim Skirt Combo
VB is nothing short of iconic. Not only does she keep turning heads on the runway, but she's also handling her marriage with the ever-so-flashy David Beckham (Did you catch their Netflix doc?). Gossip hour over, let's talk fashion. Victoria is vibing with an oversized, turtleneck grey pullover, paired with a floor-grazing skirt. Feeling edgy? Go for denim. For those with a classic flair, a luxe satin maxi is your jam.
3- Tory Burch – Layering Grey Pullover and Masculine Shirt
Tory Burch's AW23-24 collection is giving us major wardrobe envy. Think classic pieces with a dapper twist, perfect for layering shenanigans. Tory's vision? A monochrome grey ensemble featuring pleated trousers, a striped shirt, and our fave relaxed V-neck pullover. Office chic with a hint of androgyny? Yes, please!
4- Bibhu Mohapatra – Color Play with the Grey Pullover
Bibhu Mohapatra, a fave of Michelle Obama and the shining star of India's fashion scene is serving us some serious colour goals. Imagine a textured grey pullover paired with a pristine white embroidered mini and royal blue tights. Refreshing and oh-so-stylish!
5- N°21 – Channeling the 50s with the Grey Pullover
The pencil skirt, a 50s icon, is making a luxe comeback this winter. And N°21 is showing us how it's done. Picture this: a sleek pencil skirt paired with a snug grey pullover. It's a look that's sharp, sultry, and dripping with femininity.
There you have it, how to wear a grey pullover, as seen on the AW23-24 runways. And here's to a winter filled with grey pullovers but sunny days ahead.
Images courtesy @Prada, @VictoriaBeckham, @ToryBurch, @BibhuMohapatra and @n21