You need a Vostok Amphibia, the Russian James Bond watch 
Russian Army watch.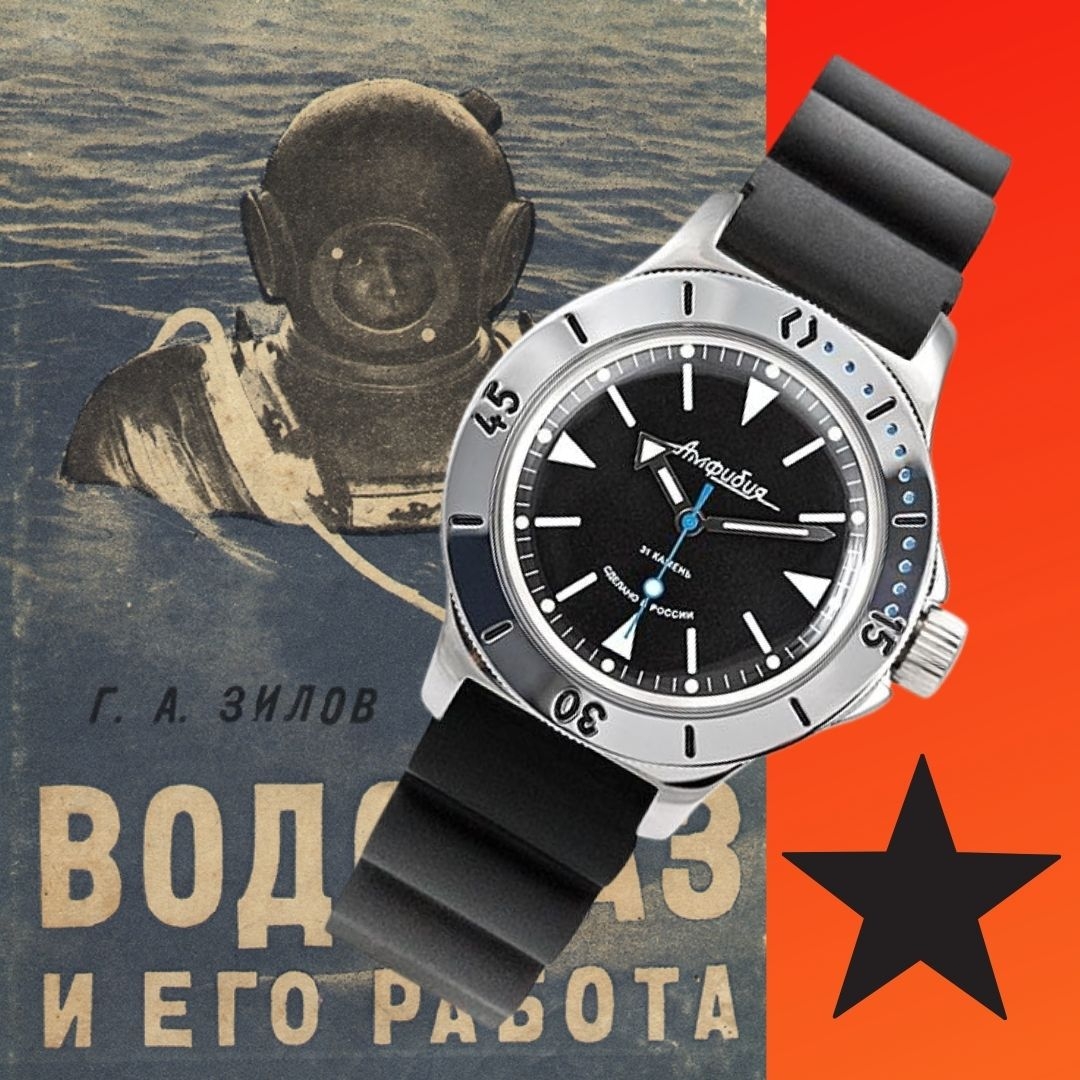 If James Bond were a Russian spy, he would wear a Vostok Amphibia watch. "Amphibia, Vostok Amphibia".
This week I finally saw the latest James Bond film, No time to die ". Again, I enjoyed what I like best in the franchise; exotic sceneries, beautiful people, great cars and motorcycles, finest sartorialism (Tom Ford bespoke) and of course watches (Omega as usual). All in one, a feast for the senses.
All of the above subjects I enjoy immensely and are close to my heart, but mainly Watches. And since James Bond ties with Watches have a long tradition (from Rolex to Omega), that is the topic I want to write about but with a twist.
Our editors select independently all products featured on Notorious-mag. However, when you buy through our links, we may get a commission.
Vostok is part of the exclusive group of brands with in-house movements
I have had a fascination with fine Horlogerie for a very long time. It mesmerises me still to look into advanced and complex watch movements, which in some cases remain almost identical as in their beginnings. It is one of these rare moments where mechanics turn into art.
And there are a few brands that truly understand and master the fine craft of in-house movements. They are the pinnacle of Horlogerie. Of course, there is nothing wrong with brands that use modified movements from ETA or Valjoux, like Breitling, IWC, Frank Muller, Omega, TAG Heuer, Panerai, and even Chopard. Still, there is a finesse in manufacturing your very own movement that put some brands on another level. Patek Philippe, Rolex, Vacheron Constantin and Audemars Piguet are the ones that set quality apart, and three of these brands are the so-called "Holy Trinity "of watchmaking; Patek Phillipe, AP and Vacheron.
The history and mystic of Vostok Watch
But in the rarified air of the Watch Olymp, there is another brand (by which I am currently obsessed) that, apart from a very small group of fanatics and aficionados, is mostly unknown and unjustly underrepresented. A watch that also has one of the key components of an iconic brand; the history and mystic. I am referring to the Russian Vostok (Boctok). A brand established in the 1940s in the Soviet Union that has produced mainly military but also civilian watches in the number of millions.
And the one particular watch, produced in the Chistopol factory, that I would like to focus on in this article is the iconic Vostok Amphibia 120. Launched in the 1960s especially for divers of the Russian Army, it has remained unchanged, and its performance is a tour de force.
The watch can withstand the pressure of 20 ATM (200 m). The case is made of stainless steel, and the case back is 1 mm, double the regular thickness. With a 3 mm crystal made out of plastic (a sapphire crystal would simply crack) that deforms by a half millimetre under pressure, creating an effective seal, the watch does not require extra rubber seals, which is simply genius.
And here to the crown jewel; the movement. Inside the Vostok Amphibia watch, is the in-house made calibre 2416B movement with 31 jewels and a 31-hour power reserve. It is a rugged and simple self-winding automatic movement that will survive Armageddon – ultimately the raison d'être of a military watch.
How difficult is to get a Vostok watch. How much does it cost
Besides being indestructible, simple and functional to its core, the design is another forte (pun intended, sorry) of this fascinating watch. Unpretentious, clean and well balanced, it exudes an effortless coolness. With no gimmicks nor marketing strategy, this watch success is a remarkable case to be studied in MBA's around the world. And if you try the get the particular model I am referring to, the chances are that you will have to wait between two to four months. The usual status at most resellers and the factory is that the product is out of stock due to high demand. I have ordered mine in May and gotten it in Sept. In between, I ordered another model from the Amphibia family, but it was not the same as the real stuff, trust me.
And last but not least, this gem of watchmaking technology and Soviet history goes for a retail price of €80,00, which is totally insane and unexplainable if you come to think that it is genuinely competing with the Submariner or Seamaster in performance. Again, something that will be studied in business schools.
Am I happy with my Vostok, Ekaterina?
Here are some considerations after wearing the watch every third day for the past month; it is very light for the size (40mm) and extremely comfortable. It looks incredibly cool on the wrist. The accuracy and precision are not great strengths – it may be off by some 20 seconds a day – but then again, you cannot do miracles for this price. The silicon strap is not the most attractive, and most buyers change it immediately to nato or nylon straps available at the Vostok website. But overall, it is one of the pieces that I most enjoyed acquiring and wearing. Even the chase and hunt for it was thrilling, very Bond.
I like to imagine that my Vostok came, part on the back of a Yak, part on the Transsiberian train, that it was lost somewhere in Bulgaria and arrived four months later (which was the time it took to get here) undamaged.
Simple and cool. And I love everything about it.