The Breitling Top Time Limited Edition 
Just 2000 pieces.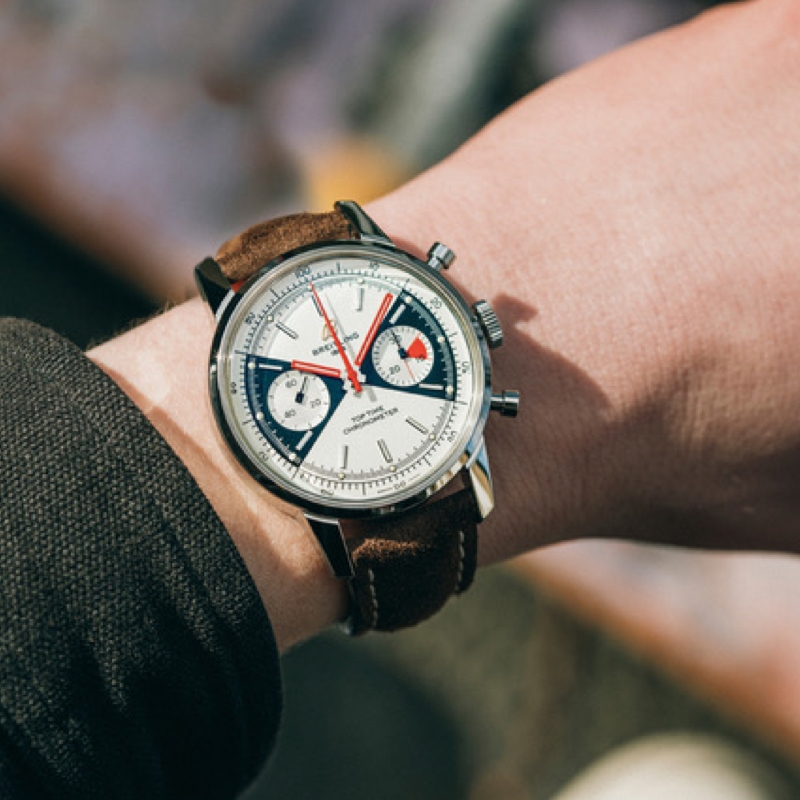 Breitling just launched a limited edition bringing back its iconic Top Time.
The Breitling Top Time stands out with its unmistakable style appealing to men and women who love this blend of design, history, and great chronograph performance.
The original Top Time was launched in the 1960s with a clear mission: to suit the needs of "the young and active professionals" with a range of "ultra-modern chronographs". The sports watch appealed to that demographic but also attracted young women who were drawn to its bold lines and its undeniable elegance.
Today, the Breitling Top Time offers a modern interpretation of this stylish chronograph with one of the most recognizable dials ever made, which is also referred to as the "Zorro dial" by collectors.
The Top Time comes in a 41 mm stainless-steel case paired with a brown nubuck strap and a stainless-steel pin buckle. It houses a COSC-certified Breitling Caliber B23 chronograph movement and is limited to 2000 pieces.
History 
Swiss luxury watchmaker Breitling was founded in 1884 by Léon Breitling in Saint-Imier and is known for precision-made chronometers, which later became aviator's golden standard.
In 1961, Scott Carpenter, one of the original astronauts in the Mercury space program, approached Breitling with the idea of incorporating a 24-hour dial instead of the normal 12-hour dial. This was needed due to the lack of day and night during space travel. Breitling complied and produced the 24-hour Navitimer which Carpenter wore on his 1962 space flight.
Breitling has also been on Her Majesty's secret service in the 1965 James Bond movie "Thunderball." In the film, Connery's character was tasked to find two NATO atomic bombs that had been stolen by the criminal organization Spectre. To aid in his mission, Q  presented James Bond with a modified version of the Breitling Top Time, equipped with a Geiger counter.
More about watches? Here you find a list of the top 10 luxury watches.