New Year's resolution: find here the best women's fitness clothes 
You can do it!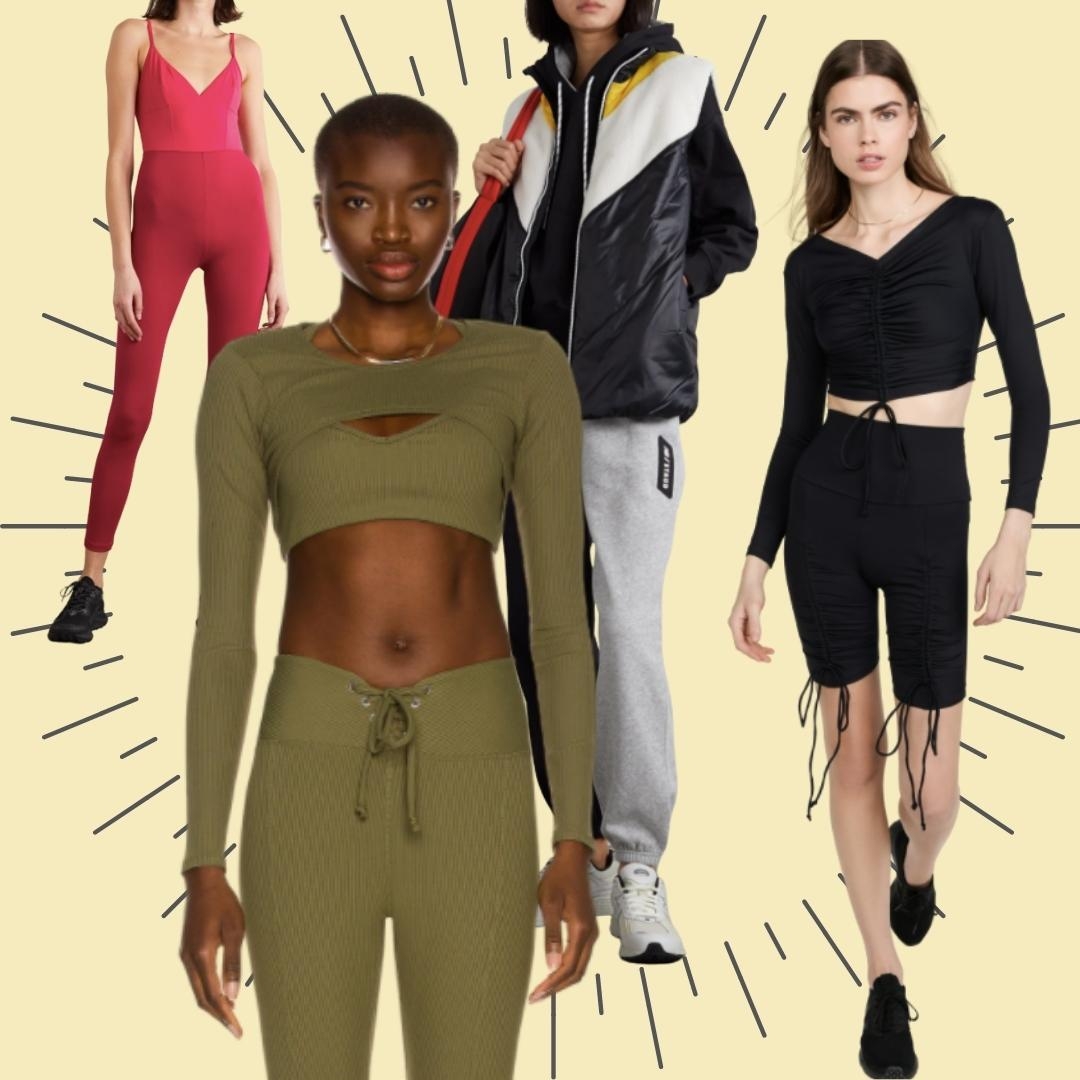 What's the best way to stick with your New Year's resolutions? For fashion enthusiasts like you and me, it is, of course, having fabulous looks to pursue our goals in style. So, if your New Year's resolution is to get fitter and healthier and maybe lose some extra weight while at it, finding the best women's fitness clothes will undoubtedly keep you motivated.
What you need to consider when buying fitness clothes
Whether you choose to stick to the TikTok fitness videos or go to the gym club or yoga classes, having the right activewear can make the difference when practising any sport. In other words, not only must they look stylish, but also be in state-of-the-art fabrics that allow your body to move and breathe freely. For example, choose seamless sports bras and functional gym kits in quick-dry or temperature-regulating fabrics. Additionally, athletic wear and high fashion go hand in hand these days. Several designer collabs elevate women's fitness clothes and will make your new Year's resolution look easier. Among the many collaborations are Adidas by Stella McCartney, New Balance x Staud, Rick Owens x Champion, and Reebok and Victoria Beckham.
So, we scoured the Internet to hand-pick the best women's fitness clothes that will give you the superpower to stick to your New Year's resolutions!
Our editors select independently all products featured on Notorious-mag. However, we may get a commission when you buy through our links.
Fitness clothes souldn't be only in black
Try a new pattern like this fabulous camouflage-print sports bra. It is made in quick-dry fabric so that you don't have to worry about sweat marks.
Give your black leggings a break
Suzie Kondi's Eastern European grandmother's style inspired the silhouette of these track pants. They come in luxurious velvet, and as we saw before, velour tracksuits are a trend from the Noughties that's come back during the lockdown.
Go to the fitness center as if you were going to the coffee shop
This is a stylish top with a cutout and body-shaping effect that you can wear from the yoga studio to the nightclub. Wear this Year of Ours top with the brand's lace-up ribbed football leggings, a massive hit among fashion-forward girls like Hailey Bieber. Their vintage layered gym shorts are also excellent for running.
Get in shape with 90s athlesure style
Wear the retro terry polo shirt to keep you warm after training. Pair it with the super flattering recycled Raquel leggings by Splits59. You can read more about the comeback of Terry cloth fabrics in #CloseEyeOn: You need towel fabric clothes by Terry this summer.
Inspired by the 70s
Staud designer Sarah Staudinger collaborated with New balance, creating colour-block sportswear like this fleece quilted vest. Besides the great vintage vibe, this trendy puffer vest is made in a tech material that regulates body temperature.
Conscious and high fashion motivation to help you with your New Year's resolution
The queen of sustainable fashion, Stella McCartney produces eco and animal-friendly fitness lines with a futuristic style. Made with recycled materials, this cool metallic burgundy jacket looks fab with the matching track pants.
It's much better to sweat in futuristic leggings
Also, a collaboration between Stella McCartney and Adidas, the metallic silver leggings are comfortable to work out and synch with the space travel fashion trend.
The supermodel's darling brand
Alo Yoga's fitness clothes are the choice of women like Gigi and Bella Hadid, and this superb jacket is the best sporty outwear to take you to the gym club.
Set your goals high and wear the best runner's top.
Undercover designer Jun Takahashi collaborated with Nike and the Gyakusou International Running Association to create this stylish cutout mesh-panelled top using Dri-FIT technology.
Making your New Year's resolutions come true is a transcendent experience.
You want to wear a brand like Yoga Konga for this almost spiritual journey. Made from organic bamboo fibre, hand-dyed with natural indigo sourced in Africa, the high-waisted leggings are certainly your perfect yoga pants with an empowerment feeling.
Lift weight in couture.
Ernest Leoty sportswear is known as "couture for leisure". For instance, this two-tone jumpsuit inspired by traditional 19th-century corsetry has adjustable straps for extra comfort.
Romantic ballet-inspired fitness clothes.
We usually see French girls wearing cardigans with ballet aesthetics over slip dresses. But you can also wear this cute Live The Process cropped top made in eco-friendly hi-tech fabrics to your dance class or pilates.
Not another simple and functional fitness outfit.
Port de Bras is the brand for functional yet super stylish fitness clothes for women who like workout outfits with unexpected details.
One top for different sports and occasion.
Prisme Squared makes all its pieces sustainably in Italy, and Kate Moss and her daughter, Lila, are fans. This all-in-one, multi-functional top, can be used as swimwear, sportswear and underwear.
Finally, you may also like to read 4 Tips To Stick To Your New Year's Resolutions.
Check in our video Morning Routine to start the day like Doris Day, Fresh and relaxed.
[fvplayer id="359″]