The 5 best cafés to eat apple strudel in Vienna 
Forget the calories.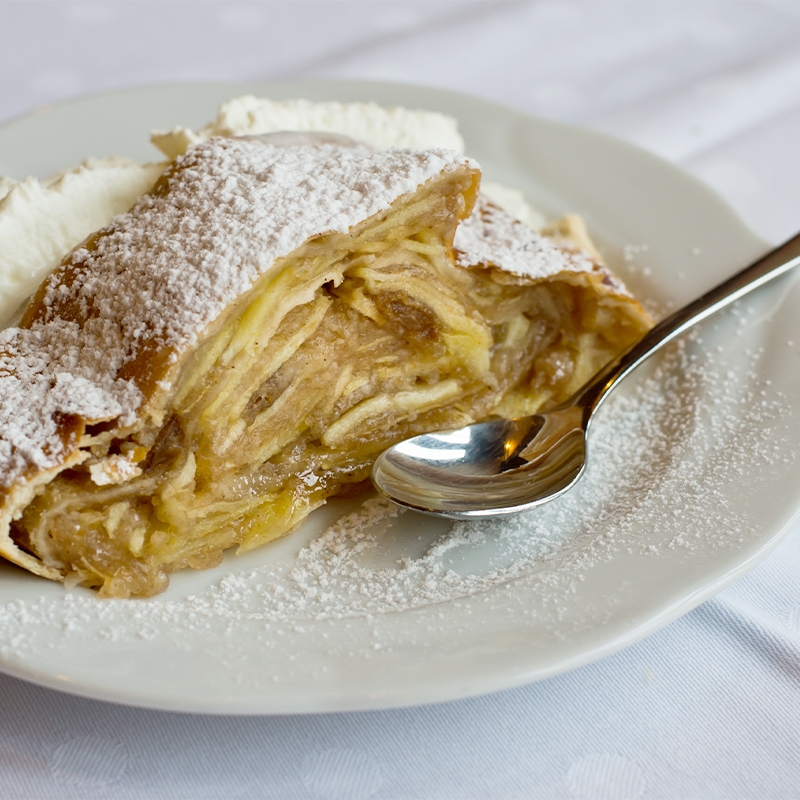 It's warm, it's sweet and absolutely delicious – the traditional Wiener Apfelstrudel (Apple Strudel). When in Vienna, there is no excuse for not trying this famous Austrian pastry, not even your New Year's resolution. An apple strudel consists of a rectangular flaky strudel pastry jacket with an apple filling inside refined with a hint of cinnamon and raisins. Raisins!? No worries, most cafés also offer it without them. Here are the five best cafés in Vienna serving apple strudel that will satisfy your sweet tooth.
If you like retro interior and sweet stuff, this is the right place to visit. The unique 1960s patina creates a living room atmosphere that the Viennese appreciate a lot when it comes to having a cup of coffee and reading the newspaper. Susanne Widl, a Viennese actress, performance artist and model, took over the family business in 2010. When Café Korb opened in 1904, even Emperor Franz Joseph I showed up. Oh, and yes, you also get one of the best apple strudels there. Local advice: Don't forget the cream!
It's that kind of place where famous writers and creatives used to spend their afternoons. The Café Alt Wien opened its doors back in 1922, close to St. Stephens Cathedral. Leopold Hawelka and his wife Josefine took over the café in 1936 before opening the famous Café Hawelka. Ever since you get one of the city's best apple strudels there – flaky and perfectly spiced. Also, if you are craving for something savoury, make sure you order Gulash first. The traditional red furniture and the low light make you want to stay forever, ordering apple strudel all day long, of course.
This cosmopolitan but typical Viennese café is located on the beautiful Ringstraße, and it's said to offer apple strudel's perfection. It's definitely one of Vienna's most chic cafés to eat and drink in a stylish atmosphere. Even painters such as Gustav Klimt, Egon Schiele and Oskar Kokoschka paid a visit. If you think it's only for the moneyed ones, you are wrong – you see students, professors, politicians, pensioners, workers and artists all eating one of the city's best apple strudel since 1873
First things first: They serve the one with special spices! Café Eiles is in the 8th district, near the town hall, and welcomes you with a friendly, modernised Viennese interior. We gather after 177 years, the coffee house had to change a bit, but what has remained unchanged is, and now you can guess, one of the best apple strudels in town!
And no worries if you spoiled yourself too much, we also know where to find the best detox places.