The Story Behind the 'Tennis Bracelet' is Celebrating 45 Years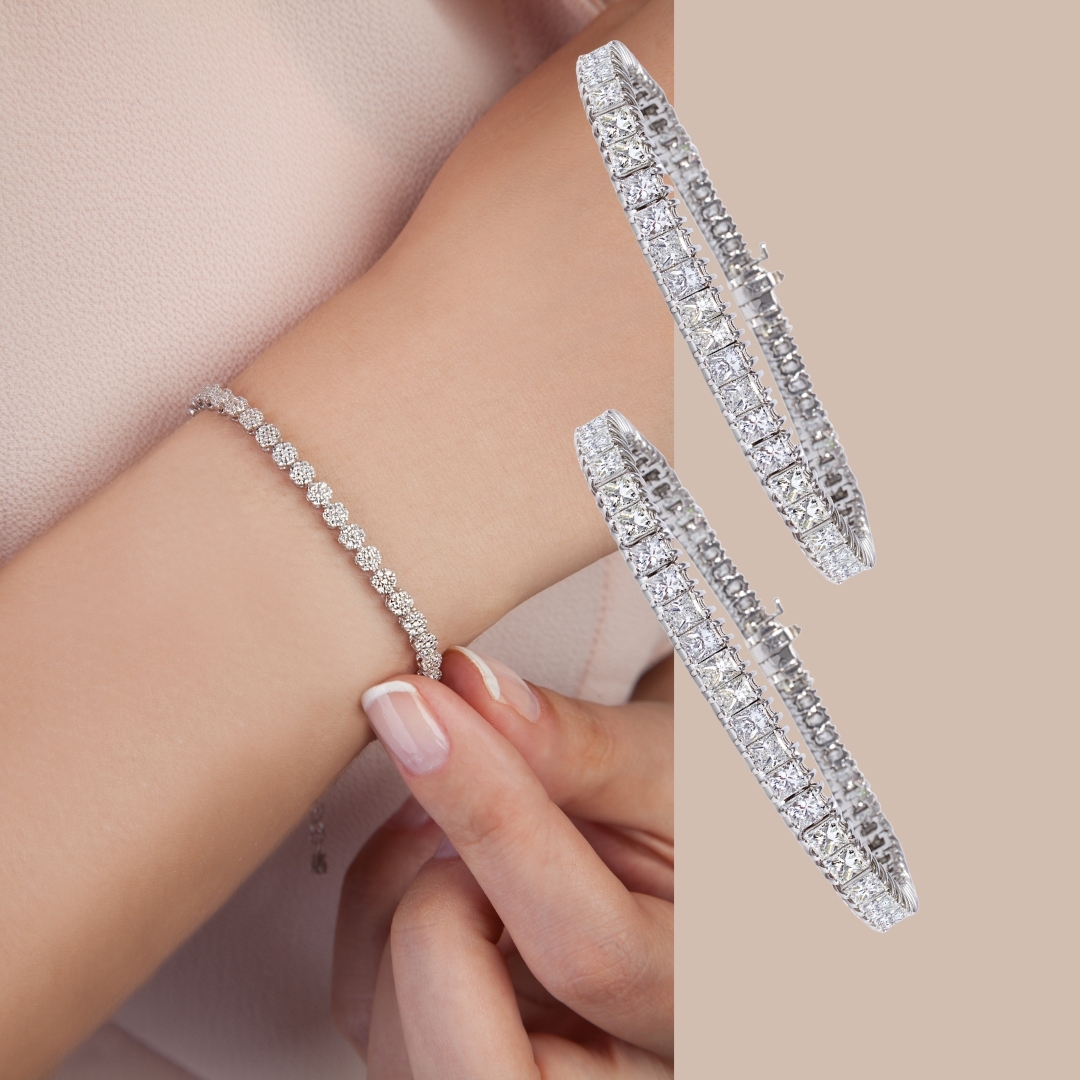 This article about the story behind the tennis bracelet was updated and completed with more information.
At the beginning of July, specifically on the 3rd, the Wimbledon tournaments kick-off, one of the most prestigious and historically significant tennis events in the world. All the deets of the tournament are right here. Wimbledon boasts a rich history, tracing back to 1877 when the inaugural tournament took place. Over the years, the event has witnessed countless epic matches and iconic moments. Wimbledon is one of the four Grand Slam tournaments, alongside The US Open, which sets the stage for the tale we're about to unravel here—the story behind the tennis bracelet.
What's the Deal with a Tennis Bracelet?
Chris Evert, a tennis legend of the 70s and 80s, shines through with 18 major singles titles, including the French and US Open, securing her spot as the world's number-one player. Besides her outstanding records and unique on-court style, Chris Evert had a flair for fashion. Her cascading fringe hairstyle had many women emulating it long before it became a #Hairtok trend. Her initial major sponsor was Puritan Fashions, endorsing a line of sportswear. As a good luck charm, she always sported a bracelet adorned with a row of diamonds. In 1978, during a match at the US Open, Chris Evert, while wearing her bracelet, suddenly exclaimed to the referee, "I dropped my tennis bracelet." The game came to a halt until she retrieved her bracelet, and ever since, this particular style of bracelet became known as the "tennis bracelet."
But there is yet another story behind the tennis bracelet, one that is even older than the one associated with Chris Evert.
Popularized by Chris Evert in 1978, 45 years ago, the design of the tennis bracelet actually originated in the 1920s. During the vibrant era of Art Deco, tennis bracelets were adorned with closely aligned square diamonds, reminiscent of the precision and symmetry found in military service stripes. These bracelets became affectionately known as "service stripes" and were often gifted to commemorate wedding anniversaries, symbolizing successful "tours of duty" in married life. Embraced by glamorous Hollywood stars and affluent women, they were frequently layered, creating a dazzling display of natural diamonds combined with sparkling Art Deco bracelets.
What Exactly is a Tennis Bracelet or Necklace?
Also referred to as a line diamond or eternity necklace, a tennis necklace or bracelet is a continuous strand of diamonds that encircles the wrist or neck entirely. This elegant and timeless piece of jewellery typically features diamonds set in white gold or platinum, though you can also find them in yellow or rose gold, and even silver.
The diamonds can be uniform in size and cut or graduated, with a larger gem in the centre. Tennis necklace designs can follow a linear pattern or incorporate various shapes, much like the one Beyoncé is rocking from renowned jewellery designer Lorraine Schwartz, called the new Harry Winston from LA.
Another Tennis Legend Associated with Tennis Bracelets
In late 2022, Serena Williams, one of the all-time greatest tennis players, launched her own brand, Serena Williams Jewellery. The 23-time Grand Slam winner unveiled a collection of everyday wearable jewellery, and among the brand's most sought-after designs is a cute tennis bracelet.
How to Flaunt Tennis Jewellery?
45 years later, the tennis bracelet is part of our daily wear jewellery. It's versatile enough to make any outfit pop, whether it's an LBD or a suit. It effortlessly adds a touch of chicness when paired with a white T-shirt and jeans. For a sporty-chic look, team a tennis bracelet with your watch. Don't be afraid to stack multiple bracelets—a combo of white and champagne diamond bands, for instance. Necklaces and bracelets are stackable too, so go ahead and rock several at once. Remember, more is more! Mix your tennis necklace with multiple gold chains and pearls for a statement-making ensemble.