Shoe Trends AW 23/24 – The Ultimate Guide Before Snagging Your Autumn Boots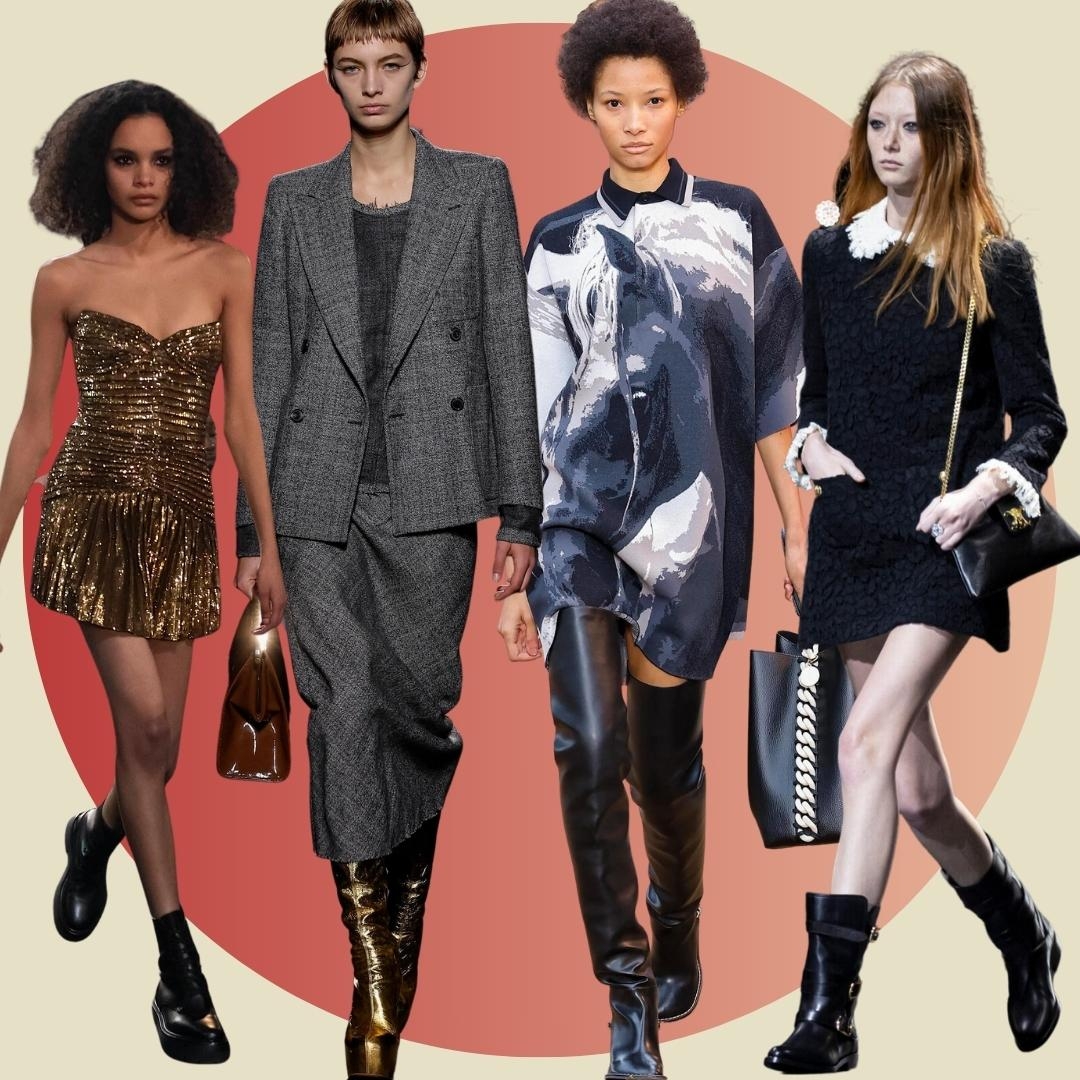 Shoes aren't just a footnote; they're the game-changers when it comes to shifting your wardrobe from summer vibes to fall chic. And let's not forget about winter. The world of footwear is ever-evolving, but there are always those killer styles that stand out each year. That's what we're diving into today: the must-have Shoe Trends AW 23/24, with a spotlight on boots that are straight-fire this season.
Ready to step up your shoe game? Let's strut right into it.
The Rise of the Over-Knee Boots
Scroll through your Insta feed and you'll spot a sea of fashion-forward folks absolutely crushing it in over-knee boots. Sponsored posts? Who cares. The AW 23/24 runways don't lie—nearly every designer is jumping on this trend. Skirt lengths are shrinking, and naturally, boots are reaching new heights. Just check out the runways from Hermes, Stella McCartney, and Loewe if you need proof that over-knee boots are ruling the Shoe Trends AW 23/24 roost.
The Bike Boot Makes a Comeback
Brace yourselves, we're time-travelling back to 2010 for a '90s grunge revival. Bike boots are leading the pack as the go-to kicks this fall and winter. What's fascinating? These rugged beauties first stole the spotlight in Miu Miu's Fall/Winter 22/23 show but have managed to hold their ground in the Shoe Trends AW 23/24 lineup. The iconic Jimmy Choo Bike Booty is still a showstopper, but brands like Vagabond and H&M are offering some pretty rad alternatives.
Out of This World Spaceship Metallic
Thanks to some NASA whistleblowing, fashion is gearing up for an otherworldly experience. Think of close encounters of the stylish kind. Metallic boots are everywhere—on the streets, in the boardroom, and ready for daytime or a night out. Go for gold, opt for reflective silver, or even a 3D effect. Trust us, these boots will skyrocket your Autumn/Winter look into another galaxy.
Wedge Boots: Where Chic Meets Quirk
Sculptural heels are far from over. We're talking everything from logo heels to cartoonish styles. But the latest addition to the 'sculptural heels' fam? Wedge boots. Take a cue from The Attico, Tory Burch, and Jimmy Choo for a modern, edgy twist on this Shoe Trends AW 23-24 look.
Laced Boots: Borrowed From the Boys
Expect to see a dash of menswear inspiration in this season's footwear. From Miu Miu's monk strap shoes to Max Mara and Stella McCartney's androgynous loafers, the laced boots are the latest to get a masculine makeover in the Shoe Trends AW 23/24 collection.
Last But Not Least
When it comes to Shoe Trends AW 23/24, Over-Knee, Bike, Metallic, Wedge Heels, and Laced boots are the showstoppers you'll want to snag to breathe new life into your wardrobe. While these trends echo previous seasons, don't sleep on these other styles you should keep tabs on:
Mary-Jane and Mary-Jane Heels
Pointy-toe Pumps
Clogs
Menswear-inspired Brogues and Loafers
Bow Embellishments
Sculptural Heels
Statement Red Shoes
Exotic Leather like Snake or Crocodile
Denim Footwear
Classic Wedges
There you have it! Your shoe game will be on point with these Shoe Trends AW 23/24.