NYFW trends that emerged from the street style 
To be worn now.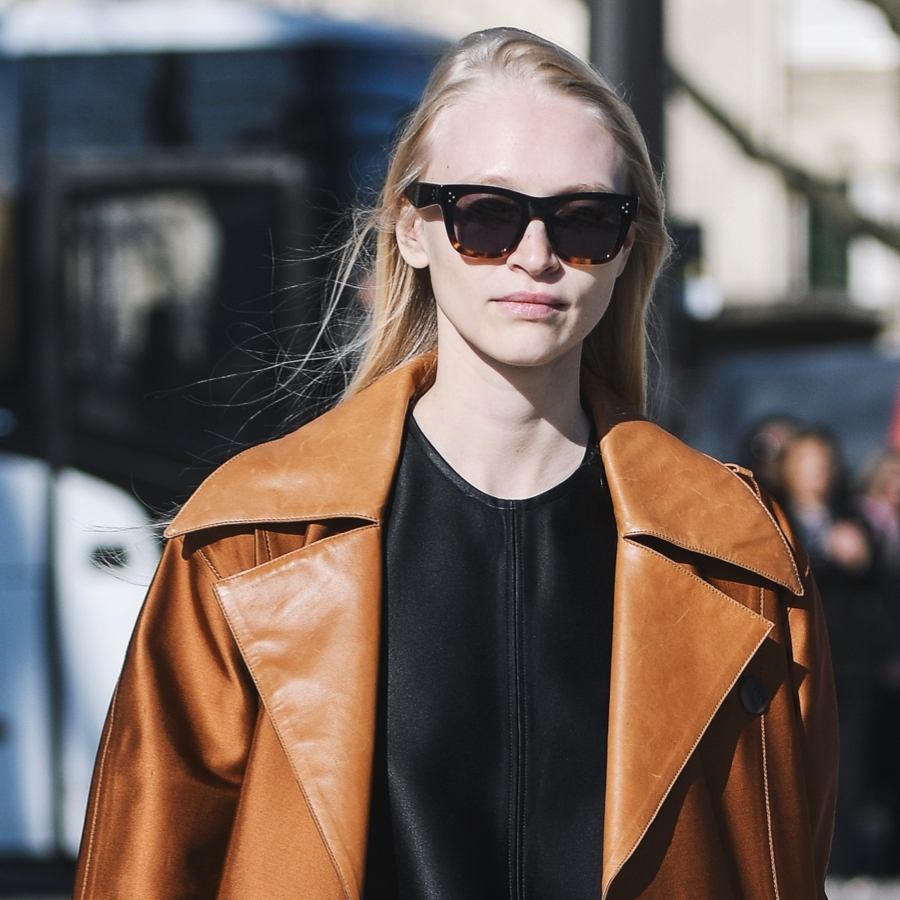 New York's street style is always an exciting mix of high-low fashion trends, still, the sartorial choices of the fashionistas attending NYFW Fall 2022 were undoubtedly more stimulating than ever during a week that saw everything, from sunny days to low temperatures and even snow.
The style of fashion-show goers was as eclectic as it gets. For example, they wore oversized silhouettes, vibrant colours, cool layering, leather, checkered and sequined looks. So, get inspired by the fashion enthusiasts and influencers' street style during NYFW and start wearing these trends now.
The greenest street style trend
Although Pantone elected Veri Peri purple as the colour of 2022, green seems to be everywhere this year, especially vivid green.
We've seen this vibrant hue in Copenhagen and New York's streets during Fashion Week and on the Fall 2022 runway. In other words, we'll wear bright green throughout the year.
As warm as the sun
Besides green, the top colour trend we spotted in NYFW street style is yellow, a fabulous hue to shine like the sun even in colder seasons.
In the mood for chess?
Another of the main street style trends during NYFW was the checkered print. We saw it on coats, hats, pants; you name it. Fashion show-goers looked stylish and modern, wearing garments with a checkerboard pattern.
So, whether you are a chess player or not, consider refreshing your winter and spring wardrobe with anything that comes in a two-coloured square pattern.
Sequins and shimmer
We're still in the mood for celebration after such a long, gloomy pandemic, and, as a result, the 1920′ looks are a significant inspiration and street style trend for 2022. Hence, the streets of New York were sparkling with sequinned outfits around NYFW shows.
In the same Roaring Twenties vibe, we saw plenty of shimmering and metallic garments. Additionally, silver outwear and dresses brought a dash of futuristic space-travel fashion to the streets.
Transition from winter to spring in leather
Leather and fake leather come in different pieces and silhouettes that are excellent to wear now and transition from winter to springtime. Anna Wintour and several other fashion aficionados chose sleek leather blazers but we also saw the classic biker jackets.
Lisa Aiken and others, on the other hand, preferred long leather coats. But no matter whether long or short, leather jackets and coats are the go-to trend of models, editors, and street style stars at NYFW Fall 2022.
Finally, we also spotted leather suits, jumpsuits, trousers, dresses and Bermuda shorts, a big trend we'll wear in Spring 2022.
Layering like a street style pro
Nobody layers like the New Yorkers! So, check the best street-style looks NYFW attendees wore because this wearable trend is fantastic for changing weather and transitional outfits. For instance, fashion designers and fashionistas love layering dresses over trousers to add a bit of edge to romantic dresses.
Use layering to create new looks and silhouettes with pieces you already have in your wardrobe. For instance, adding a turtleneck under a shirt is a style hack that keeps you warm and elegant. Likewise, you can layer a short jacket over a long coat, a long leather coat or puffer under a second outwear and so on; the options are endless. You can even wear a corset over an oversized trenchcoat to bring contemporaneity to the timeless outwear.
Rainbow street style trend
Despite the cold and snow, the street style during NYFW Fall 2022 was extraordinarily colourful and joyful, and the rainbow trend was a must. The vibrant colour-block outfits, which we recently also saw at CPHFW, will undoubtedly bring a smile to your face, even on the dullest day.
So, follow the lead of cool New York street style and dare to mix bold colours.
Neon to light up winter days
The neon trend from the '80s and Y2K lighted up the street style looks at NYFW. Wear these bright hues during the rest of winter to cheer you up.
You can choose any colour, acid green, yellow, bubble gum pink, orange, as long as it's neon! For the more classic ones, add only a touch of neon to your look, for example, sunglasses, earrings, or other accessories.
TImeless trench coats
The classic trench coats are timeless and never go out of trend, as many street style pros showed during NYFW. Lauren Santo Domingo, for example, wore hers open over a cream set showing her ankles with no socks, a perfect outfit for spring. Additionally, you can elevate tracksuit pants and leggings with a chic trench.
Furry hats and bags taking the streets of New York
Furry buckets hats were a must-have street style trend we spotted at NYFW.
In the same vein, furry bags in all shapes and sizes took the streets of New York during Fashion Week. All the bag trends for 2022, from classic shoulder models to crescent moon bags and oversized totes, came in cosy faux fur and sterling.
Balaclavas are by far the major street style trend in 2022
Balaclavas are the most popular winter 2022 trend, and the edgy helmet-style headpiece invaded the streets at NYFW.
The warm knitted pieces are typical of Ukraine. Madonna, for example, wears a crystal-embellished balaclava by the Ukrainian hat designer Ruslan Baginskiy. You can read more about the booming fashion scene of this country in 8 Ukrainian designers and fashion brands you must know now.
Futuristic sneakers
The Lyst Report predicted that one major trend in 2022 would be futuristic sneakers, and, in fact, we spotted space travel-inspired sneakers in several street style photos taken at NYFW.
Title photo via Shutterstock.
Finally, now that you've seen the best street style looks and trends at NYFW, learn how to sound like a true fashion pro with our A to Z Fashionista Dictionary.
[fvplayer id="387″]