Jewellery Box – Madeleine Albright and her political brooches 
Diplomacy is precious.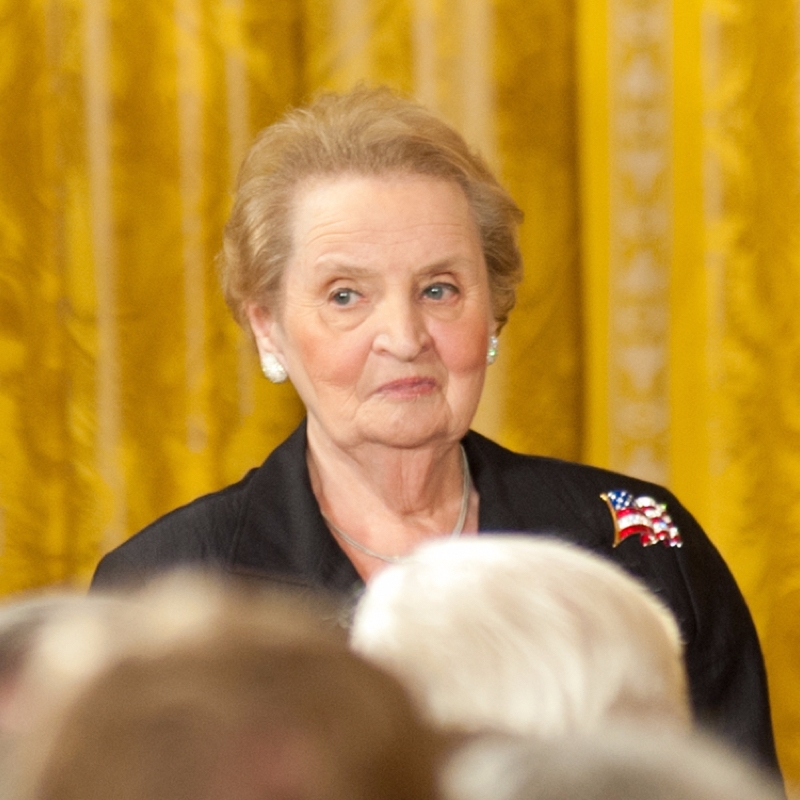 Madeleine Albright, American former secretary of State, passed away on March 23, 2022, in Washington. And in this article, we collected some anecdotes about  her famous "political brooches".
 As we told you before, brooches are a powerful way to send messages without uttering a single word. Look at the pieces Queen Elizabeth II chooses carefully for each occasion, and the way she is able to express her opinion on specific matters and occasions, even when she's not allowed to give her political views.
Another powerful lady who was a pro on non-verbal communication was Mrs Madeleine Albright, the first female Secretary of State in US history.
Madeleine Albright used to wear brooches which reflected her feelings and opinion on matters the United States was dealing with at the time. Her signature pins became so well-known that they ended up turning into a book: "Read my Pins". 
How it all started
After the Gulf  War, Mrs Albright was Ambassador at the United Nations while the United States was pressuring and sanctioning Iraq, which under the dictator Saddam Hussein had invaded Kuwait. Madeleine Albright, at that time the only woman on the Security Council, had to say things about Hussein that weren't exactly nice as you may imagine. The Iraqi media, which was controlled by the government, compared her to an "unparalleled snake". To her next meeting on Iraq, she decided to wear a snake pin.  So she had, showing with humour how little that personal attack had affected her. The brooch caught the press' attention and soon everybody was asking her about the snake pin. Madeleine Albright recalls she found it fun and thought she should get some more brooches to deliver visual messages.
Jewellery as a diplomatic tool
From then on, the Secretary of State would wear pins to every occasion. She found that her brooches were an excellent ice-breaker, a way to start a conversation. On good days she would wear flowers and butterflies but on bad days, threatening animals and bugs.
During negotiations with Russia on the Anti-Ballistic Missile Treaty, Mrs Albright wore an arrow pin, and when the Russian foreign minister asked her if it was a missile interceptor, she said: "Yes, we make them very small, let's negotiate."
Sending messages through brooches
Upon discovering a listening device that the Russians had put in a conference room in the American State Department, Madeleine Albright wore a pin that was an enormous bug in her next meeting with the Russians, to show them that they knew about the bug the Russians had planted near her office.
On another occasion, she wore a three-monkey brooch, the "hear-no-evil, see-no-evil, speak-no-evil monkeys", when visiting Russia with the then President Clinton. When President Putin asked her why she was wearing that pin, she said it was because of his conflict in Chechnya, which the Russians would never talk about.
Pin collection
Madeleine Albright served her country as US Ambassador to the United Nations from 1993 to 1997 and as Secretary of State from 1997 to 2001. During all these years she collected an eclectic selection of brooches. She found some of her pins in little antique shops, in flea markets and souvenir shops all over the world, others were gifts, and although most of them are not valuable jewellery but costume brooches, their real value lies in the role each played during complicated negotiations and official visits. t
And how about you, are you aware of and take full advantage of the silent messages you can send through the jewellery and the clothes you wear?
Images via Smithsonian and Shutterstock