How to Get Freddie Mercury's Look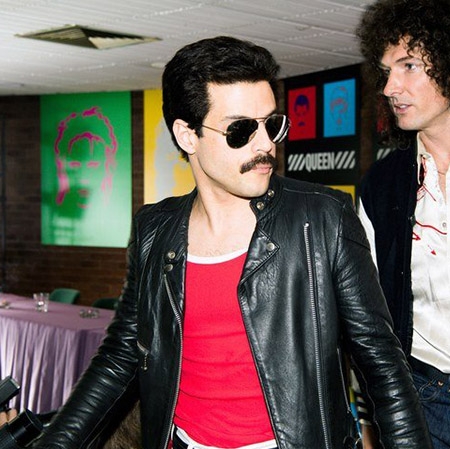 Freddie Mercury and his glam-pop-rock fashion style are having a triumphant comeback right now, thanks to the film "Bohemian Rhapsody" that has just been released. And you should seriously consider trying Freddie Mercury's look to your next dancing night out.
The biographical movie about the iconic frontman of Queen and his band has had opinion divided, some people love it, others hate it. I was impressed by Rami Malek's performance. The "Mr Robot "star was so convincing as Freddie Mercury that Brian May, Queen's guitar player who took part of the film's production, said Malek "inhabited Freddie to the point where we even started to think of him as Freddie".
Besides the unforgettable songs and his impressive voice, Freddie Mercury was famous for his flamboyant dressing style on stage. He once famously said that "It's not a concert you are seeing, it's a fashion show." The costume designer for the movie, Julian Day, recreated some of iconic Freddie Mercury's look such as the tight velvet pants, leather Biker jackets and studded belts, high waisted Wrangler jeans, Adidas white sneakers, skin-tight jumpsuits, side stripe pants, military jackets and so on.
You might think that Mercury's style was too daring, but you must remember that in the London of the '70s and '80s, fashion was experimental and barrier-breaking, so it was not unusual for men to buy women's clothes at stores such as the über-hip Biba. The singer's androgynous look and sartorial style remind us, by the way, of what we've been seeing in the latest designer catwalk shows. Mercury's outfits are utterly contemporary.
We don't want you to go around in satin flowing capes and sequined leotards, but you can – and should – get inspiration from the Bohemian Rhapsody man and get some of his cool looks. And if you are a woman reading this article and wishing you could dress like Freddie Mercury, well, you can! Feel free to wear all he did, from studded leather jackets and belts, T-shirts with colourful stripes or logos and sequined pants to layered chains and Aviator sunglasses, but please stay clear of the thick moustache, darling, and we're sure you'll have a ball!
If you purchase something through the links in this post, Notorious-mag will get a commission.
Images courtesy of 20th Century Fox