Fashion Recap – The Highlights from All Fashion Weeks SS24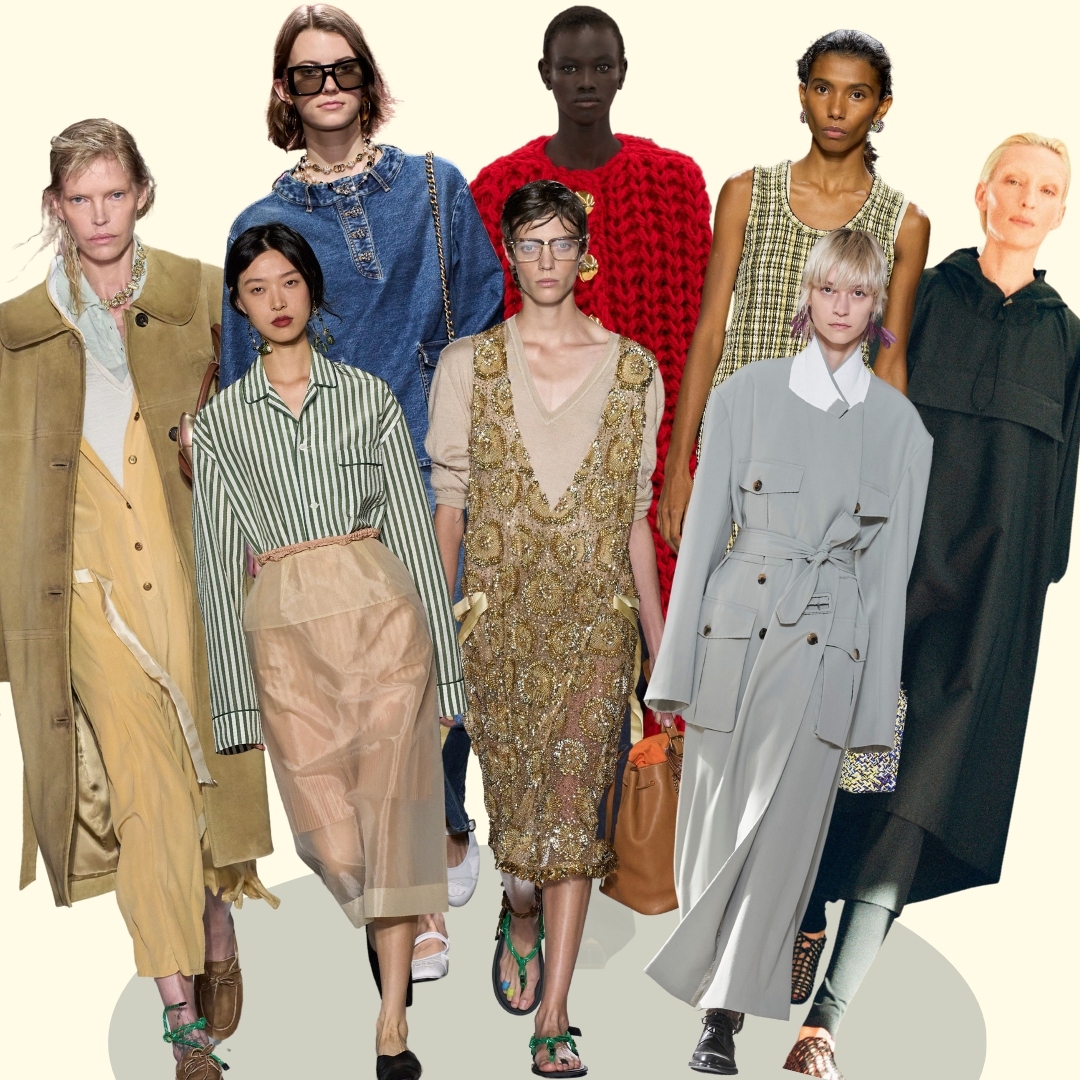 Fashion Month has finally wrapped up, and it's time to dish on the juiciest deets from the runway. You know how it is – it takes a hot minute to digest all those shows, thousands of pics, and an avalanche of ideas that the SS24 collections brought to the table. Fashion, it's a wild ride, swinging between dreamland and the real world, juggling glam and practicality. But guess what? The Spring/Summer 2024 season is all about clothes you can actually wear in your everyday adventures. Most collections are dancing gracefully on that fine line between sophistication and common sense. We've done the heavy lifting for you, so let's dive into this article where we spill the tea on the highlights of all the Fashion Weeks SS24, with a twist of wearable vibes. Seriously, no one's got time for 'no-pants' looks, right? Those are strictly for those Instagram influencer photoshoots – and, let's be real, is there anything further from our everyday reality than that?
SS24 IS ALL ABOUT EASY COOLNESS
Now, flip the script to Autumn/Winter 2023, and it's all about heritage, old-school opulence, and that powerful minimalist vibe. This style caught on like wildfire on the high street, and they're calling it 'quiet luxury.' But SS24? Oh, it's a whole new level. The SS24 woman is about to loosen up, dial up the coolness factor, and embrace clothes that are more fluid and relaxed. Fewer shoulder pads, more chill, and get ready to hear 'layering' like it's the secret sauce of the season. Stripes, denim, black, white, fringes, and a buffet of colours – that's what's on the menu. So, are you ready to dive into the highlights of SS24 from all the Fashion Weeks? You better be!
1- SPRING SUMMER OF SAND COLOURS
Saint Laurent and Max Mara
Antony Vaccarello, the creative genius at Saint Laurent, decided to roll with an all-cotton collection, inspired by the Saharienne Jacket that Yves Saint Laurent brought back from his North African upbringing and dropped on the scene in Paris back in 1967. His take on it? Well, basically a symphony of beiges: jumpsuits, shirt dresses, and knee-high pencil skirts. And, folks, let's not forget the show's styling – it's like a time warp back to the '80s, complete with hair and accessories that could be stolen right out of a vintage music video.
Then there's Max Mara, painting a picture of a tropical summer paradise, splashed with colours but still reserving a cosy corner for beige. Their pencil skirt struts its stuff with a parka-style top – the kind of outfit that's both chic and sexy.
Now, Miu Miu – they put on quite a show. The Miu Miu woman? She's cool, effortless, and nonchalant. Take a peek at the layers of beige on those models, heading toward a pastel green polo shirt. It's all a bit messy, with bags that could probably fit the kitchen sink (a subtle nod to the late Jane Birkin), and let's not forget those Sebago-style shoes. Every detail screams 'Miu Miu woman is all about action and hustle,' leaving Barbie in the dust.
But hold on, there's a different turn with Co, the brand hailing from Los Angeles. They're serving up a wardrobe that's cohesive, complementary, and oh-so timeless. Co's collection is an expansive buffet of beige – think coats, skirts, dresses, and tops with enough volume to rival your favourite summer playlist. The name of the game here is 'chic and comfy' – and isn't that what we're all hunting for when summer rolls around?
Let's not forget Carven, a heritage French brand that dates back to 1945, founded by the one and only Marie Louise Carven and a fave of the legendary Edith Piaf. Here's the kicker: Carven finally has a woman at the creative helm – Louise Trotter. Does it make a difference? You bet your stylish boots it does. Carven's come back swinging, and it's one of the standout stars of all the fashion weeks for SS24. Loose Trotter's designs strike that perfect balance between dressed up and pared back. Picture a silhouette that channels the '90s minimalism with a touch of femininity, and a real-life approach to the transparent trend. Keep your eyes peeled for Carven – you'll want a piece of that action in your wardrobe.
2- BLACK, WHITE AND BLACK AND WHITE
Now, let's chat about Dior, Valentino, Stella McCartney, The Row, Dolce & Gabbana, Tom Ford, Giambattista Valli, and Alexander McQueen – they're all on the same page when it comes to colours. White, black, and any combo of those two take centre stage. They've got their eyes on practicality, making clothes for the real world, where real women are doing real things and need to look stunning while they're at it.
Carven does it again – a wide skirt paired with a knitted top and some flat kicks. It's a timeless look that's bound to make you do a double-take. And guess what? Carven's not done yet. They're tossing in a nighttime outfit – wide-legged pants and an embroidered top, all in black, with just a pop of yellow via a divine clutch bag.
Enter The Row, serving up a long black cape draped over a dress, layered on top of grey leggings, and finished with some netted shoes. Yep, layering and comfort are the names of the game for SS24.
Tory Burch, Loro Piana and Dior
Tory Burch's coat, Loro Piana's knitted ensemble, and Christian Dior's pants and shirt all embody the SS24 silhouette. And this means a more fluid look with fewer shoulder pads (good news for us petite folks) and a dash of understated sex appeal. You could spot yourself in these outfits at a lunch meeting, the office, or a beach day. Because it's all about clothes for the real deal, no runway theatrics are needed.
Giambattista Valli, Louis Vuitton and Alexander McQueen
Now, let's talk about Nicolas Ghesquière at Louis Vuitton – he's the creme de la creme of designers. He's rolling out a collection that's all about fluid silhouettes, like a black skirt with layers on layers of fabric, a cropped blazer cinched with a black-and-white belt.
Giambattista Valli's lace maxi dress gives a little waist action with some knitted detail and a bedazzled belt.
And don't even get us started on Sarah Burton's final collection for Alexander McQueen. This creative designer, who put in a solid 26 years at the label, pulled out all the stops with intricate cut-offs, chunky knits, and some seriously stunning rose motifs. The craftsmanship on display in that knit top with rose patterns, paired with a black leather fringe skirt, is nothing short of spectacular. Sarah Burton – you'll be missed at Alexander McQueen.
3- BURGUNDY FOR SS24, SANTÉ!
Dries van Noten, Saint Laurent and Hermès
Burgundy, typically reserved for the fall and winter, is breaking all the rules and making a grand entrance for SS24. Think about the Burgundy region in France, where they produce some of the world's finest wines. The shades here draw inspiration from nature – the sun, the earth, the pale green vines, and, of course, that rich, rich wine. Designers like Dries van Noten, Saint Laurent, and Hermès are serving up relaxed silhouettes with a high-end twist. It's a cheer to Burgundy in the summer!
4- CHECKED AND GINGHAM FOR SPRING 2024
Chanel, Dior and The Attico
Guess who's making a comeback? Checkered patterns are strutting back onto the scene with a vengeance. Let's break it down into a few scenarios. First up, we've got Chanel, stepping into the spotlight with a dazzling show. Finally, they're back! Feast your eyes on their red and pink checkered gown. Christian Dior presents a grunge-inspired look, fusing a sheer and billowing checkered dress with a leather jacket adorned with white stars and laced boots. The Attico's embellished coat epitomizes the balance between simple and minimalist silhouettes, infused with a touch of glamour.
Bottega Veneta, Louis Vuitton and Loewe
Bottega Veneta, Louis Vuitton, and Loewe demonstrate how checks can be incorporated into everyday wear. The Loewe ensemble, comprising Bermuda shorts, a shirt, and a blazer, could easily become a daily staple in your wardrobe.
5- DENIM FOREVER
Valentino, Loro Piana and Chanel
Denim, often referred to as the comfort food of your wardrobe, is a reliable choice for any occasion. Can't decide what to wear? Opt for an all-denim look, and you're ready to go. Feeling down? Grab your old jeans, put on high heels, and don your boyfriend's shirt, and you'll feel better instantly. But what's new in denim for SS24? It's more tailored. We fell in love with Loro Piana's SS24 collection, which features an 8-button denim suit. Valentino proposes a denim short suit, and Chanel offers a super chic set with an Audrey Hepburn vibe. But denim will also be seen in trench coats, skirts, dresses, and more.
6- GREY IN SUMMER?
Loro Piana, Loewe and Dries van Noten
Grey is one of the biggest highlights from SS24, actually surprising in terms of colours. Grey, the favourite for autumn/winter 2023, continues to be a prominent choice for spring/summer. From light grey to dark grey, tailored to drapey and embellished, grey appears in numerous forms.
7- LEATHER IS SEASONLESS
Loro Piana, Miu Miu and Bottega Veneta
Leather is a wonderful material due to its versatility across seasons, making it a practical choice for both cold and warm weather. Designers have leveraged this noble material to create practical, chic, and simple yet special looks. Loro Piana's A-line skirt look exudes richness and simplicity. Miu Miu's long pink coat, almost resembling grape-coloured leather, makes a bold statement. Meanwhile, Bottega Veneta's cream dress could easily find a place in your wardrobe.
8- MIX AND MATCH PATTERNS
Chanel, Dries van Noten and Loro Piana
I recall the early 2000s when mixing and matching patterns reigned supreme. The ability to artfully blend different patterns established one as a styling queen. Subsequently, monochrome fashion took centre stage. However, today, thanks to Chanel, Dries Van Noten, and Loro Piana, we witness the resurgence of stripes paired with checks, checks combined with floral patterns, and identical patterns featuring varied colour schemes. Your imagination holds the key to endless combinations within your wardrobe.
9- STRIPES, AGAIN?
Stripes are a timeless classic, much like the colour white, and hence, they are a staple in spring/summer wardrobes. However, SS24 offers a fresh take on stripes, departing from the classic Breton stripes paired with jeans. Instead, we embrace colourful and bold stripes, exemplified by Carven's exquisite ensemble, featuring a beige skirt and a green-striped shirt. Another compelling illustration of bold stripes in the forthcoming season is Chanel's red and black striped skirt, combined with a white top and an XL logo. Lastly, Marni introduces a diverse range of stripes in vibrant colours.
10- A TOUCH OF RED
Givenchy, Acne Studio and Loewe
In recent seasons, red attire has garnered increased attention and a growing following. SS24 is poised to feature a plethora of red dresses, suits, and ensembles entirely dedicated to the colour red. What's more intriguing, however, are the subtle touches of red that complement these looks. Givenchy introduces a playful element by adding red socks and shoes to a pastel outfit. Meanwhile, Loewe combines denim with a red knit cape, undoubtedly an item that has already secured a spot on my wishlist. The Row stylishly pairs black and white attire with red netted shoes. Acne Studio adds flair to a delicate white dress with knee-high red patent leather boots. The examples are numerous, but the all-red ensemble remains relevant and sizzling, epitomized by Acne Studio's dress coat.
11- FRINGE BENEFITS
Johanna Ortiz, Teurn Studios und Jil Sander
Fringe continues to be a standout trend in the upcoming season, characterized by its playful and vibrant disposition, evoking the essence of summer. Above, you can admire Johanna Ortiz's dress, a simple yet striking ensemble. Teurn Studios set is just perfect for Summer. And take inspiration from Jim Sander's white dress, if you want to create a dramatic entrance.
12- BOMBER JACKET
Miu Miu, Louis Vuitton and Valentino
While SS24 celebrates the prevalence of longer and more flowing coats, it's important not to overlook the enduring appeal of bomber jackets. Miu Miu offers a sleeker take on bomber jackets, featuring masculine accents that beautifully complement ruffled and distinctly feminine skirts. Louis Vuitton, on the other hand, adopts a voluminous and leather-heavy approach, seamlessly pairing it with billowy skirts. Valentino introduces a voluminous yet cropped bomber jacket, best styled without underpants (let's avoid being fashion victims, shall we), as demonstrated on the runway, and preferably paired with wide-legged tailored pants.
13- SIMPLE YET EMBELLISHED
Valentino, Miu Miu and Tory Burch
As we mentioned at the outset of this article, the majority of designers have sought to create fashion that caters to real-life scenarios. This entails addressing the demands of work, school pick-ups, busy schedules, and the overwhelming nature of life's appointments. Can you relate? Yet, these practical women don't intend to sacrifice style for practicality. Consequently, SS24 will witness the prevalence of outfits boasting intricate gold, silver, or embroidered details. Here, we showcase a Valentino t-shirt dress, a Miu Miu jumper dress, and a resplendent Tory Burch coat that feels as if it descended from the heavens.
LAST THOUGHTS
With this comprehensive overview of the highlights from all Fashion Weeks SS24, you are better equipped to embark on your autumn/winter 23-24 shopping spree, making more informed choices regarding enduring wardrobe pieces. Above all, when exploring second-hand or vintage shops, you'll possess the knowledge of which aesthetics and colours will remain relevant. It's important not to succumb to impulse buying; take the time to research and remember the mantra of 'Buy Less and Buy Better!'
Images courtesy of the brands