Duchess of Cambridge inspiration: Her most beautiful floral dresses 
15 spring looks.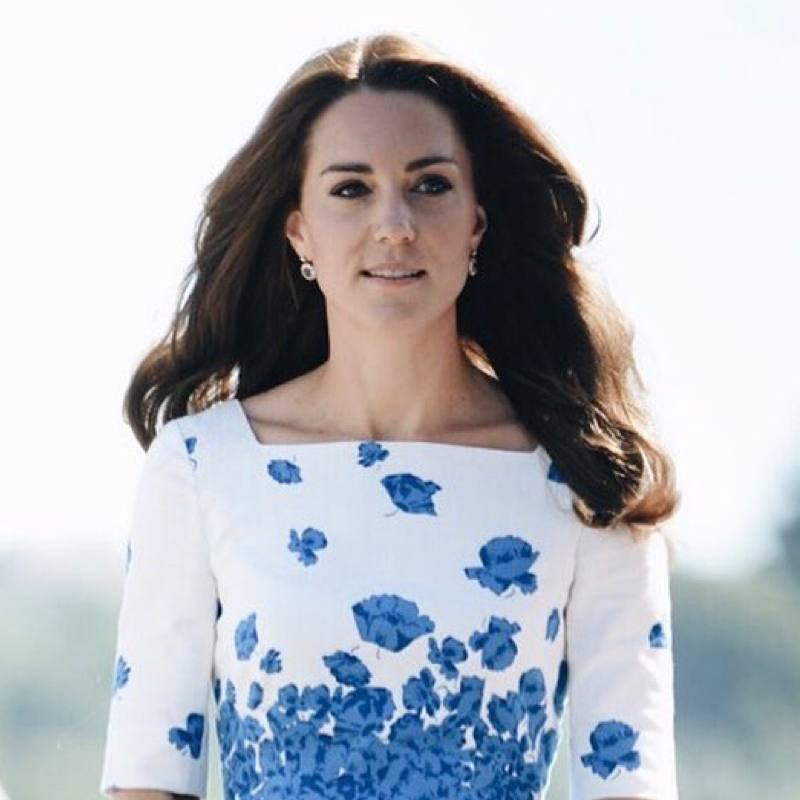 Today, we're looking at the most beautiful dresses the stylish Duchess of Cambridge has worn for some spring floral outfit inspiration. Certainly, Kate Middleton's looks, including her beloved floral dresses, are always flawless, whether on royal tours, at Wimbledon or at home. Above all, the Duchess is the high-low queen, mixing like a pro luxury fashion labels with high-street fashion. In fact, we love her sustainable way to wear the same outfits several times, creating new looks by using different accessories. In other words, as a truly chic woman, the Duchess of Cambridge doesn't need to wear only haute couture and 5.000-dollar designer dresses to look elegant. Additionally, she usually champions British labels, both heritage houses and newcomer fashion designers.
So, here are the 15 most beautiful floral dresses from Catherine, Duchess of Cambridge.
Red floral dress to cheer up Londoners
The Duke and Duchess of Cambridge while visiting London Bridge and Whitechapel to hear about these communities' challenges throughout the Covid-19. She wears a red shirt dress by Beulah, a label founded by Lady Natasha Rufus Isaacs, a friend of the Duchess.
The Duke and Duchess in South Wales
At a visit to Barry Island & Shire Hall Care Home in South Wales, Kate Middleton wore an Emilia Wickstead floral dress. By the way, she had already worn it a year before that, at the RHS Garden Wisley for the Royal Garden Competition.
Floral dress to plant a garden
Catherine, Duchess of Cambridge, joined families to plant a garden for a children hospice in a Faithfull The Brand dress with puff sleeves and a pastel floral pattern. 
Chelsea Flower Show
Presenting her "Back to Nature Garden" at the Chelsea Flower Show 2019, Kate Middleton looks gorgeous wearing a midi dress by British label Erdem, famous for its floral prints.
What do you wear to pet a koala?
While in Australia, looking pretty in a yellow sundress to pet a koala.
Elevated floral
The Duke and Duchess of Cambridge met survivors of a former concentration camp in Poland, where she wears an Erdem floral dress. 
Two-in-one
Fashion savvy, Kate Middleton makes the same Alexander McQueen floral dress look totally different by adding short sleeves. As a result, she wore the gown in 2017 at the Bafta Awards and again in 2019 at the National Portrait Gallery in London.
Retro '70s style
One of my favourite looks, the expecting Duchess of Cambridge wore this blue velvet Erdem dress with a retro '70s vibe in Stockholm.
Talking about mental health
Again in Erdem, the embroidered floral dress with long sleeves Kate Middleton wore in London is perfect for spring evenings. She was at an event in 2017 to promote the Heads Together campaign. Princes Harry and William, and Kate spoke about normalizing mental health as an issue in our society.
The Duchess of Cambridge in a chic floral dress
Catherine, Duchess of Cambridge, arrives at Youthscape in Luton, England, in 2016, wearing an elevated floral number. She wore the L.K.Bennett's blue and white Lasa Poppy Print Dress. However, this dress is very contemporary since elevated florals are among the trends that emerged from the London Fashion Week A/W 2021.
At the iconic Taj Mahal Palace
Looking happy at the Taj Mahal in their tour of India and Bhutan, a far cry from Princess Diana's photo at the same location. The Duchess of Cambridge looks relaxed in an easy-to-wear Naeem Khan embroidered floral dress that matches her husband's outfit.
What to wear when bottle feeding a baby elephant?
Still in India in 2016, looking radiant at the Centre for Wildlife Rehabilitation and Conservation. Well, to clarify, who wouldn't be, having the chance to bottle-feed a baby elephant! Kate Middleton wears a boho-chic floral dress from the high street label Topshop and Dunes wedges espadrilles.
Assamese New Year
The Duke and Duchess of Cambridge (wearing an Anna Sui patchwork dress with bold floral prints ) at Kaziranga National Park. They were there during the Bohag Bihu festival, the celebration of the Assamese New Year. 
Kate Middleton in floral dress at a black-tie event
At the 100 Women in Hedge Funds black-tie soirée at London's Victoria & Albert Museum in 2015. Kate Middleton looks elegant in an Erdem floral print dress during the red-carpet event.
Pretty in yellow daisies
While leaving the maternity hospital with her newborn, Princess Charlotte, in 2015, the Duchess of Cambridge looks fab in a white and yellow floral dress by British designer Jenny Packham. She went home only a few hours after giving birth as if it were a walk in the park!
Besides her floral dresses, you may also like to learn 10 little-known facts about the Duchess of Cambridge.
[fvplayer id="150″]
Title photo @hrhtheduchessofcambridge.