Love details of Brooklyn Beckham and Nicola Peltz engagement 
Congrats.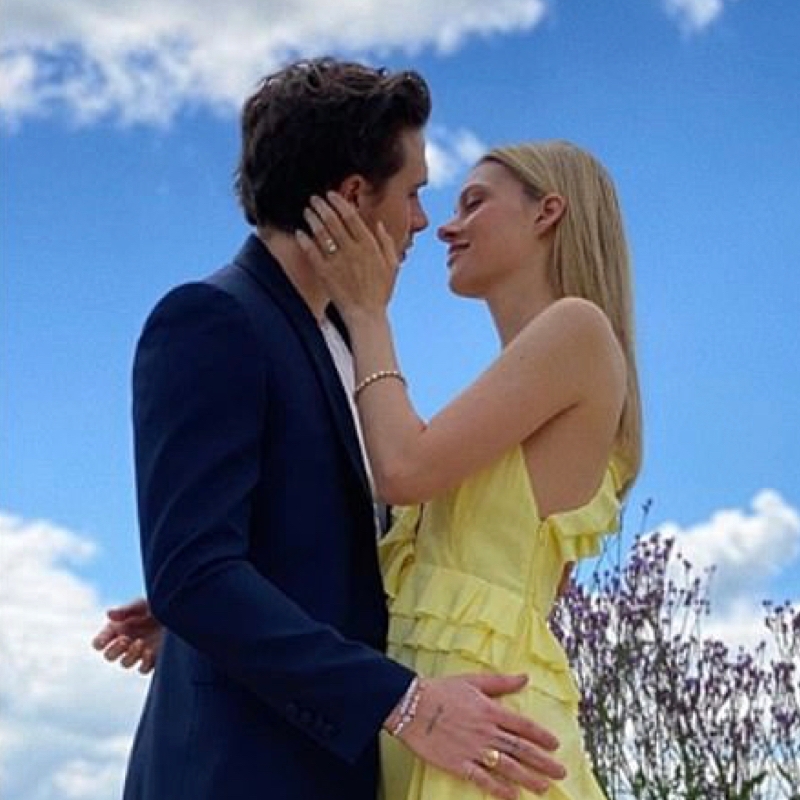 Big news for Victoria and David Beckham; their son Brooklyn Beckham and Nicola Peltz got engaged.
After dating for 7 months, the 21-year old photographer and his fiancée shared the happy news on their Instagram accounts with the same photo. Brooklyn wrote  "Two weeks ago I asked my soulmate to marry me and she said yes xx I am the luckiest man in the world. I promise to be the best husband and the best daddy one day. I love you, baby". 
Who took the engagement photo?
For the engagement pic, Nicola wore a yellow dress embellished with frills by, of course, Victoria Beckham, while Brooklyn wore a stylish two-piece navy suit with a white tee and his signature rings and bracelets. By the way, the photo wasn't shot by some famous photographer. It was by Nicola's future mother-in-law and former Spice Girl who took the beautiful snap.
Marrying young is a thing again
The Beckhams' eldest son proposed with a beautiful solitaire engagement ring. He designed the ring himself, with an emerald-cut diamond, which is said to be worth around 250.000 Euros. The bride-to-be stated he'd made her the luckiest girl in the world. Brooklyn Beckham and Nicola Peltz are the newest couple on the list of young people getting married. We've seen recently Justin Bieber and Hailey Rhode Bieber (the daughter of Stephen Baldwin), and Joe Jonas and Sophie Turner weddings. It seems tying the knot young is a trend again, and the photographer certainly has an excellent example at home, with his parents' long marriage.
Brooklyn moved to the USA after an internship with the British photographer Rankin, best known for his portrait of Queen Elisabeth and for founding the magazine Dazed and Confused. His American fiancée works as an actress and has already starred in the series Bates Motel. The 25-year-old Newyorker is the daughter of billionaire tycoon Nelson Peltz, which helped David and Victoria feel their son had finally met a girl who was not after his money of fame.
Proud parents
The proud parents are thrilled and also took Instagram to congratulate their son. Victoria Beckham wrote: "The MOST exciting news!! We could not be happier that Brooklyn and Nicola are getting married! Wishing you so much love and a lifetime of happiness. We all love you both so much x". A day later, David Beckham shared the same picture saying: "Congratulations to these two beautiful people. As they begin this exciting journey together we are so so happy for you guys." 
Saying yes twice
Brooklyn Beckham and Nicola Peltz still don't have a date for the wedding but they are planning on having two separate weddings (at a cost of 4 million dollars) at the end of next summer or fall. One ceremony will take place in the UK and the other, in Florida. Harper, Brooklyn's little sister, will be 'chief bridesmaid', and brothers Romeo and Cruz, his ushers. We also know Victoria Beckham is designing the wedding dress for one of the ceremonies. And we're sure her son will manage to look elegant yet cool as he always does with his vintage-skater-meets-rock&roll-legend style.
Get Brooklyn Beckham's look with our selection. Our editors select independently all products featured on Notorious-mag. However, when you buy through our links, we may get a commission.