5 oldest and best coffee places in Vienna 
A classic.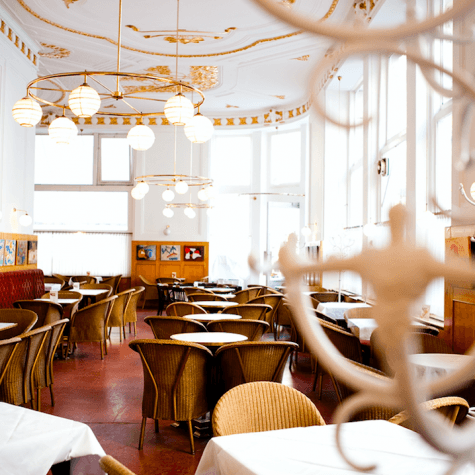 Vienna was elected the most livable city in the world for the ninth time! Café Culture is definitely one of the reasons for that. We know a thing or two about it because notorious-mag is based in Vienna. Café is almost an extra room of our home. So take seriously our top list with the 5 best coffee places in Vienna.
There are so many Cafe Houses that is difficult to choose but any true Viennese swears that his favourite Cafe Haus is the best one in town. Viennese people tend to go always to the same coffee places their entire lives and become almost friends with the waiters who already know what they will have. 
We selected our favourite spots in the 1st district, right in the centre of Vienna. So that you can, like a true Viennese, enjoy a Mélange with a piece of pie while reading the newspaper. Keep reading and pay attention because you won't find these precious tips in your usual city guides.
1-Cafe Korb
Near St Stephen's Cathedral, Cafe Korb is a family business that exists since 1904. At its opening, his Majesty Emperor Franz Josef came, confirming the importance of the coffee house culture even back then. 
The house has been renovated in the '60s and preserves till now the charming style and atmosphere of that time, maybe not as grand as the Sacher but definitely it's not a touristic destination. Korb is the place to go if you're looking for an excellent apple strudel and the best 'Ei im Glas', boiled eggs in a glass.
Café Korb, Brandstätte 7/9, 1010 Wien
2- Café Englander
This beautiful café on Postgasse, with tables in the garden to enjoy the nice weather. The Cafe Engländer had to close its doors for 4 years but since 2002 is back on its feet and has already become a cult and a very beloved place for Viennese to have breakfast, lunch or dinner. The Coffeehouse is a tribute to the famous cafe culture of the turn of the century.
Café Englander, Postgasse 2, 1010 Wien
3- Café Schwarzenberg 
The Café Schwarzenberg is on the Ring, next to the Opera House and is the place to have a snack or late dinner when going to the Opera. It is a traditional coffee place with a wonderful classic decoration. People meet there to have a coffee, read the paper or play chess and they can enjoy the spring sun at the tables outside too. During the Ball Season in Vienna, the Cafe Schwarzenberg stays open until early in the morning when the young people, in smoking and long gowns, coming out of the balls, stop in to have a well-deserved breakfast!
Café Schwarzenberg, Kärntner Ring 17, 1010 Wien
4- Café Prückel 
Opened in 1904 by a cycling champion, Maxime Lurion, in a beautiful corner building on the Ring, near the MAK Museum and the University of Applied Arts, Café Prückel is a meeting point for young artists and anyone who likes the wonderful old-time atmosphere of a typical Viennese coffee house. On its basement, Cafe Prückel houses a small theatre where Stella Kadmon founded in 1931 the famous cabaret "Der Liebe Augustin".
Café Prückel, Stubenring 24, 1010 Wien
5- Café Diglas 
Café Diglas, near St Stephen's Cathedral, is a classic traditional Viennese coffee house with the most delicious pastries made in their 140-year old patisserie following old family recipes. It has been, since its beginning, a meeting point for politicians, writers, poets and composers. Here, in my humble opinion, you have the best Viennese 'Apfel Strudel', or apple pie.
Café Diglas, Wollzeile 10, 1010 Wien
These are the 5 best coffee places in Vienna, in the first district. But you should also explore the best coffee houses in other districts too. Come to visit this wonderful city and we invite you for a coffee.
Photos via Café Schwarzenberg, Café Korb, Café Diglas, café Englander, and Café Prückel