A full wardrobe but nothing to wear? You need a winter capsule wardrobe 
ASAP.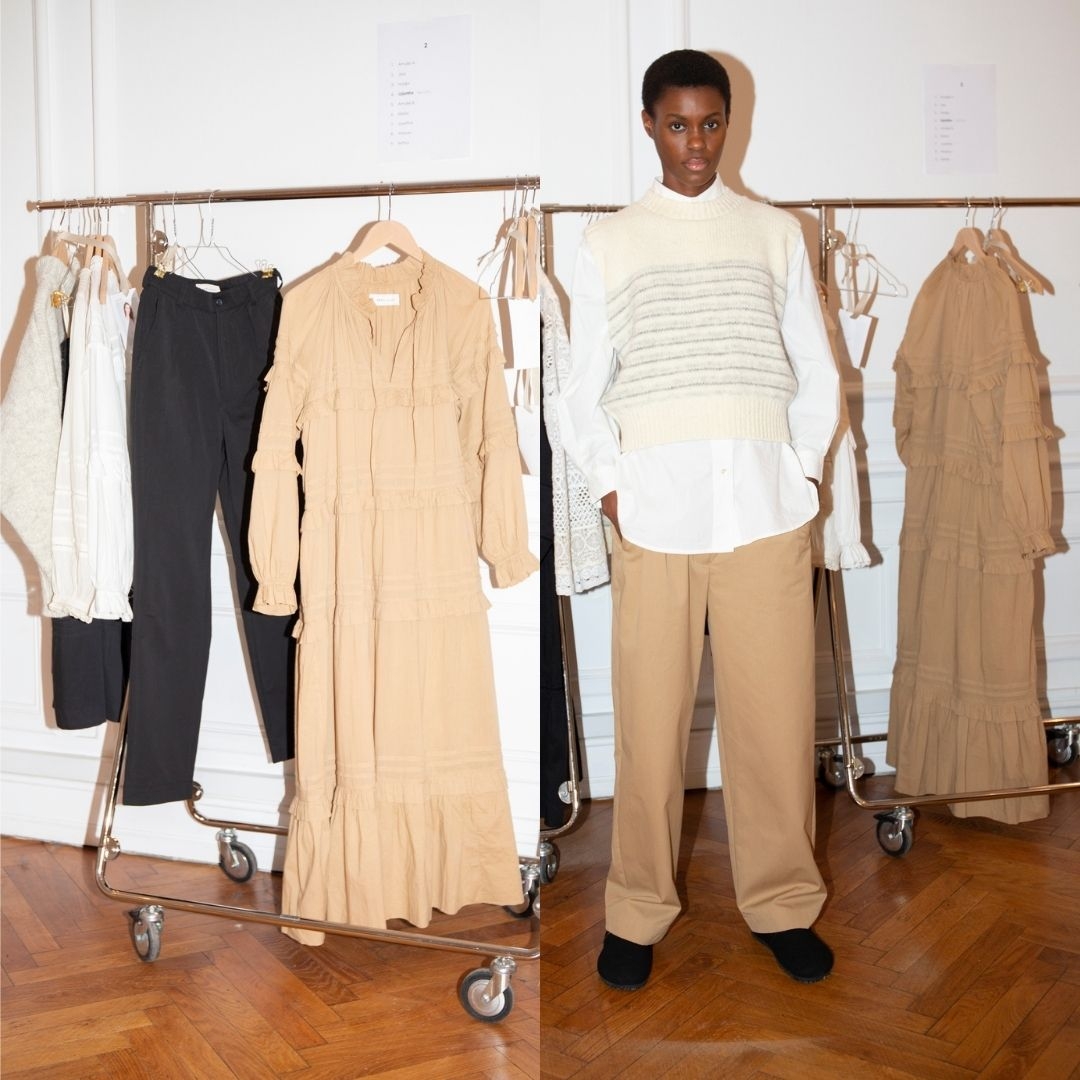 You know the frustration of not finding anything to wear even though the wardrobe is full? Well, I find that when I narrow my options, this feeling of having nothing to wear lessens. In other words, less is more! Consequently, this is why you should create a clever capsule wardrobe with clothes you already have in your closet this winter, so here's how to wear them.
We select independently all products featured on Notorious-mag. However, when you buy through our links, we may get a commission.
White jeans for winter
Of course, you will put your jeans and flared trousers in the winter capsule wardrobe to wear with boots. But consider not putting away yet the white jeans even though you might think they are too summery. Instead, we chose the example of the blogger and sculptor Anouk Yves, who defines her style as minimalist and feminine. Basically, her wardrobe is classic, and the twist lies in the volumes, cuts, and details of the clothes she wears. So, for example, the knitwear she wears; a Breton striped sweater you've probably had in your closet for years, gets a new life thanks to the white jeans, which she styles with Chanel flats and a timeless black bag. By the way, shoes like these Tory Burch ballerinas work well in winter too, for both looks with trousers or dresses and thick tights.
A super suit
No capsule wardrobe would be complete without a good suit, and this winter, you can update yours with the proper styling. Look at how the French Camille Charriere wears hers. The podcaster, consultant and playful muse who lives in London chose a classic colour that is very modern and on-point; brown. She pairs the suit with a chocolate brown turtleneck and a gold chain necklace. Her outfit couldn't be more classic and, at the same time, contemporary. And when you don't know what to wear, a pantsuit look is so versatile; you can combine it with sneakers, chunky loafers, or classic boots in winter. Additionally, you can wear the same suit at night for a party, but with nothing under the jacket and killer heels for a sexy look inspired by Evan Rachel Wood, Bianca Jagger and the '70s fashion.
Timeless Tweed
Like all stylish Scandinavian girls, the Danish model Amalie Moosgaard Nielsen has a super practical and classic wardrobe, but with a twist. As the fashion-savvy, you will need a tweed blazer to wear because it's the most versatile piece in a winter capsule wardrobe. It looks fab with trousers, dresses, skirts and mini-skirts, and it will always look modern with a touch of bourgeois style, as the last Celine collection explored. Finally, don't forget cool accessories to jazz up the quintessentially British Tweed jackets like these stylish earrings.
The versatile navy blue
Navy blue is the colour that saves you on those days you wake up with no inspiration. You won't have to worry about anything because you can't go wrong with this hue, whether it's a beautiful blue sweater, a blazer or an overcoat. So, do as the muse and jewellery designer Sharu, and pair something blue with a total-denim look—for example, Edwin jeans, one of the top denim brands, and this easy-to-wear denim shirt. The layering of several chain necklaces is the cherry on the cake. I'm sure you'll find all these pieces somewhere in your closet. Make sure to put them all next to each other so that you don't forget this look when preparing your winter capsule wardrobe.
Time for tights
Blanca Miró comes from Barcelona and is the founder of Vasquiat, currently one of the coolest online shops. She will inspire you to dig out the trousers you have lost in your closet. For a complete capsule wardrobe, you need to have accessories and small pieces of garment that change your winter looks completely. And one of these magical pieces are tights. This season, they come in colours or are embellished with prints of the brands' logos. And the big novelty is sheer tights with small embroideries like the Chanel tights Miró wears with her tartan skirt and faux-fur vest. Don't be afraid of styling them with chunky boots or even moon boots. It's all about the contrast.
Colour pop scarf
Refresh your black, beige, or grey looks with a colourful accessory. I love this Korean page; it's a pity we cannot buy from it in Europe. Their suggestion for winter is to add an electric blue scarf to your capsule wardrobe. But it could be any colour you like, as long as it's loud and bold. In the same manner, you can wear an oversized plaid scarf. The winter combo black pants, white t-shirt, and camel coat can become a tad repetitive, but it changes entirely with a touch of colour.
Slinky dresses in winter?
The sisters Danielle and Jodie Snyder are the founders of the jewellery brand Dannijo, which now also makes some clothes. This look is a fantastic idea for wearing your dresses in winter; just add a cardigan or oversized pullover, a Western-inspired belt, and chunky or slouchy boots. In other words, dresses are garments you can wear all year round, including summery white dresses like the one Alexa Chung rocked here. And although slip dresses are on-trend RN, you can include in your winter capsule wardrobe the classic florals that are timeless.
Title photo copyright: Danish sustainable fashion brand @SkallStudio. 
Finally, watch our video about cocktail rings, a great accessory to dress up your winter capsule wardrobe.
[fvplayer id="345″]