16 jewellery brands where to buy the best engagement rings 
For all styles and pockets.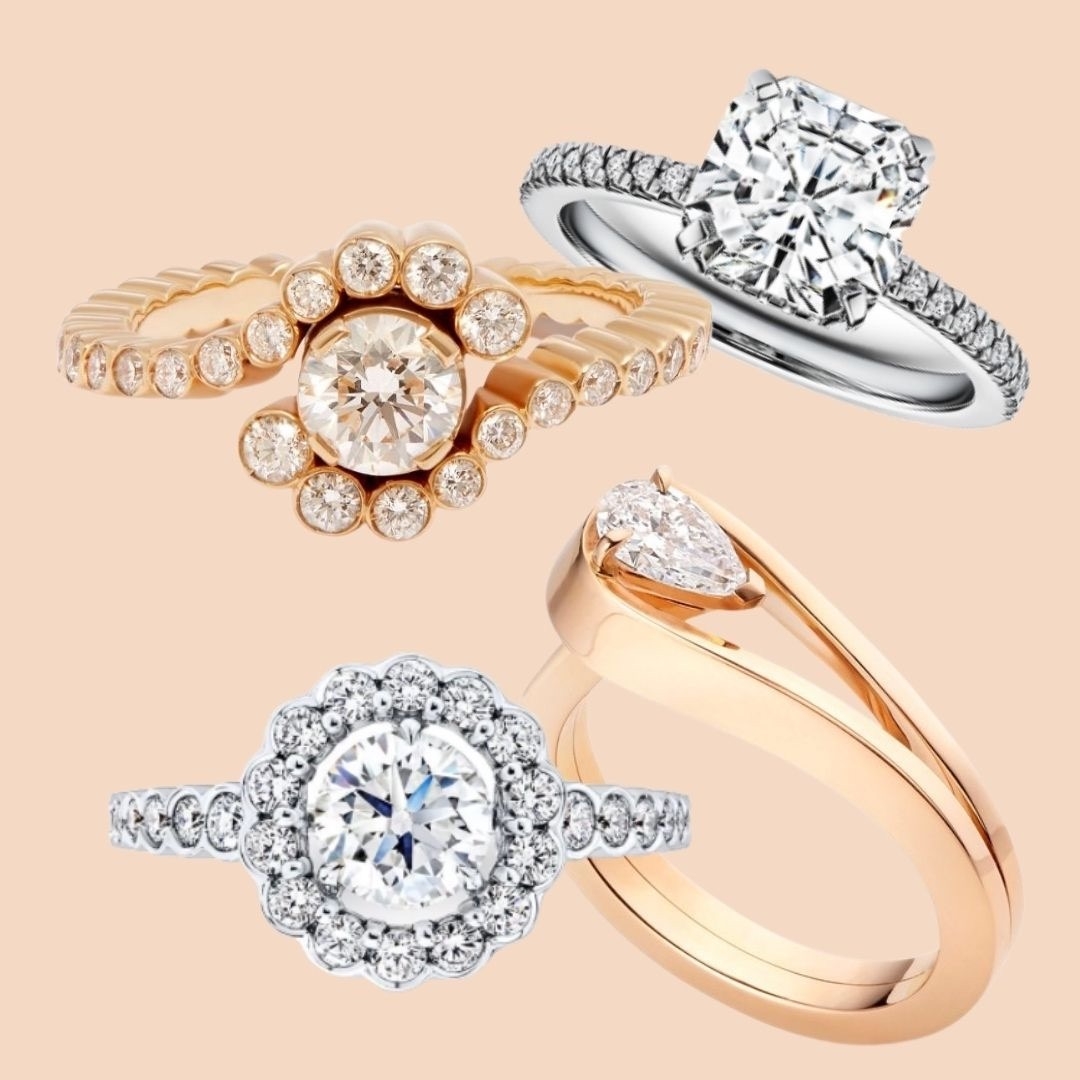 With spring around the corner and the pandemic restrictions loosening up, the wedding season will be soon here, making me think about where to find the best engagement rings. Vienna, for example, is one of those cities that have goldsmith's small workshops and fantastic jewellery shops at every corner. Additionally, there are also uncountable online options that offer a variety of engagement rings to fit all pockets and styles. So, whether the bride-to-be is classic and likes traditional and vintage jewellery or modern and wants a ring that's contemporary and edgy, where here to help you find the engagement ring of your dreams.
How to choose the right engagement ring
Although diamond solitaires are still the first model that comes to mind, many jewellers are creating unique and made-to-order rings. So, firstly, you should make an in-person or virtual consultation with the jewellery brand to discuss style, favourite gemstones, and budget. Then, they can show you or design a few pieces to suit you. Some jewellery designers and shop assistants are so good at understanding clients that sometimes they know exactly what your heart desires even though you cannot put it into words. That's when the magic happens, and you fall in love instantly with the all-important engagement ring!
So, keep scrolling to see our favourite jewellery brands where to buy the best engagement ring designs that will make your marriage proposal unforgettable. But first, read about the history of the engagement ring.
The best engagement ring for a traditional bride-to-be
Certainly, being proposed to with a little light-blue box from Tiffany is the dream of romantics. Engagement rings have changed forever since Charles Lewis Tiffany created a new way of setting diamonds in 1886 to best enhance the stone's sparkle. Besides the now famous six-prong setting, Tiffany also has a new unique cut developed in-house. To clarify, their True Cut is a mix between a round brilliant cut and a rectangular emerald cut to create a unique light reflection.
Undoubtedly, De Beers' slogan, Diamonds are Forever, is worldwide known. And no one's better than the giant luxury jewellery house to offer one of the most extensive options of engagement rings to buy. Additionally, you can customise all engagement rings from classic solitaires to pave-diamond bands, choosing diamonds of different sizes, clarity, and colour. If you want to know what to look for when selecting a diamond, read Jewellery Guide: How to choose a diamond.
Above all, Baunat is based in the world's diamond capital, Antwerp. Although they make traditional hand-made jewellery of the highest quality, like, for instance, tailor-made engagement rings, Baunat is a modern, digital brand. Consequently, you can fully customise your ring online. Once you choose among the many styles, settings, stone size and shape, they create a 3D model of your design so that you can visualise how your ring will look. Finally, being an online brand, they accept payment in cryptocurrency.
The ultimate bling engagement ring
Firstly, Lorraine Schwartz is the go-to jeweller for the ultra-glamorous bride-to-be. That is to say, the New Yorker is a third-generation diamond dealer, famous for making engagement rings for Kim Kardashian and Beyoncé and red-carpet jewellery for the stars. And, of course, her signature slim rings come with stunning D-flawless diamonds and rare coloured stones.
The British jewellery house is known, above all, for its jaw-dropping engagement rings with huge emerald-cut diamonds and baguettes. Likewise, the solitaires and three-stone rings are show-stopper bling pieces. And, of course, all pieces are handcrafted in the workshop above David Morris' Bond Street flagship store.
For the design-loving fiancée
Repossi is, certainly, where you'll find contemporary designs for the cool bride-to-be engagement rings. For instance, the signature diamond rings of the Italian jewellery house have a minimalist style, with gemstones that seem to be floating between the fingers. Additionally, chic rock & roll chicks love the brand's rings in blackened gold.
Because Only Jewels is the first retail platform dedicated to the jewellery world, you'll find there new designers as well as antique and vintage pieces. As a result, with a salesroom in the diamond district of Antwerp and in the Parisian sophisticated Galeries du Diamant, Only Jewels curate fantastic jewellery pieces from designers and artisans worldwide. Additionally, this female-founded company showcases fabulous gemstones to create bespoke jewels, including engagement rings.
The Los Angeles-based jewellery brand Azlee creates, above all, fabulous engagement rings with diamonds cut in unconventional shapes. The founder's engagement ring with a shield-shaped diamond, for example, became a sought-after design among the music and fashion industry royalty.
Likewise, the darling jeweller of cool Scandinavian girls is known for her "non-engagement" engagement rings. In other words, the Danish jewellery brand makes non-traditional engagement rings with curvy lines of brilliant-cut diamonds that embrace a bigger central stone. Although minimalist, the rings are as sparkling and bling as it gets.
The best vintage engagement rings for retro-design lovers
Certainly, S. J. Phillips is heaven on earth for vintage jewellery lovers. To clarify, the 150 years old family-owned antique jewellery shop has a fantastic selection of engagement rings, from Art Deco designs to vintage diamond solitaires. And, most importantly, besides being gorgeous, vintage jewellery is a sustainable and environmentally-friendly option.
Similarly, the Austrian family-owned house Rozet & Fischmeister, founded in 1770, is your address in Vienna to find some fabulous antique jewellery. To sum up, they have from rare and signed jewels from well-known designers to jewellery pieces from significant art periods. In addition, many of their vintage jewellery can be found in the old order books and sketch designs from this historical jeweller. In short, it's the place for the bride-to-be that dreams of a timeless engagement ring that carries history.
The former Christie's jewellery specialist Humprey Buttler is undoubtedly an antique connoisseur. Consequently, he founded his discreet eponymous office in London for clients to buy the best vintage engagement rings and antique and retro Art Deco jewellery. He also resets vintage stones into new handcrafted pieces.
Engagement rings for all pockets
Besides her ready-to-order collections, Hattie Rickards also makes bespoke jewellery using old pieces and stones or family heirlooms that she redesigns. As a result, she can create unique pieces that are more accessible and hold the clients' personal stories and memories. And, most importantly, the British jeweller truly understands her client's vision; hence her engagement rings reflect the style of the groom and bride. 
The Berliner Lilian von Trapp founded her eponymous label in 2017 after transforming some jewellery pieces she'd inherited from her mother, hence finding her true passion for design. Firstly, her sustainable jewellery is handcrafted in Germany, using recycled materials. Additionally, among the brand's minimalist engagement rings, the chic Slim One models with a single diamond are perfect for all budgets.
With its online shop, Fenton allows you to customise rings; you can choose from the central stone to metal colour and design. The jewellery brand sources gemstones directly from suppliers worldwide and uses stones like garnets, emeralds, sapphires, and aquamarines instead of big diamonds. As a result, their classic engagement rings are more affordable, nevertheless, as luxurious-looking as any other one.
Firstly, Jean Dousset is the great-grandson of Louis Cartier, and following his family's footsteps, he launched his namesake diamond jewellery atelier. In addition, with the brand Oui By Jean Dousset, he makes jewellery more accessible to a wider clientele by using lab-grown diamonds. Read Jewellery hot trend: How to buy lab-grown diamonds to know why the sustainable men-made gemstone is becoming so popular.
Title image by Notorious Mag with photos @ Sophie Bille Brahe, Tiffany, Repossi, and David Morris.
You may also like to watch our video about the history of cocktail rings.
[fvplayer id="388″]