What to wear to celebrate 'Stranger Things' Season 3 
S4 coming in 2022.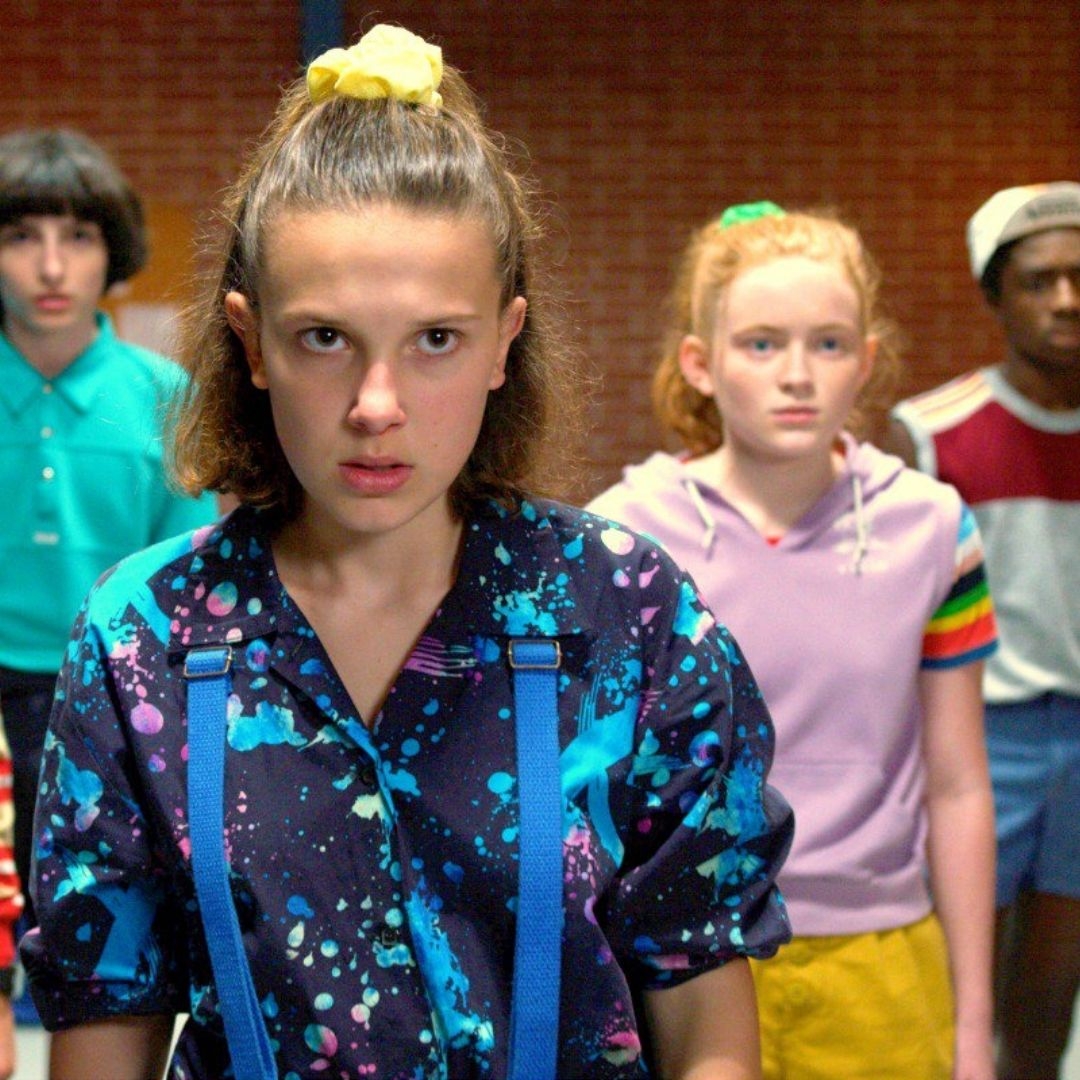 Are you ready for monsters, nose bleeds and lots of adventure? While we are impatiently waiting for Stranger Things Season 4, announced for 2022, let's watch seasons 1,2 and 3 again wearing '80s inspired outfits. But before anything here is a sneaky peek of season 4, courtesy from Netflix.
[fvplayer id="292″]
The group of teens from Hawkins parade the best of '80s fashion. Binge-watching seasons 1, 2 and 3 we see massive style hits. No wonder, one of the notorious fans of Stranger Things is the fashion designer and creative director of Louis Vuitton, Nicolas Ghesquière, who invited the cast to his headquarter in Paris.
Eleven, from the underworld to the Shop mall
In season 3, Eleven, played by Millie Bobby Brown, discovers the magical world of fashion. Her friend Max takes her to the mall for a make-over and Eleven finds her new style. The fashion choices of the psychokinetic and telepathic Eleven are colourful graphics shirts, high-waisted pants with suspenders and bright scrunchies. Even if you didn't lived the '80s, you will feel the nostalgia comes from the outfits in the show.
From Hawkins to our wardrobe
Eleven's adoptive father, Jim Hopper, also has a new look in season 3. The Hawkins Police Chief wears "cutting edge stuff," as he explains to his deputy. Jim Hopper's style is inspired by the TV hit of the '80s Magnum PI starring Tom Selleck. That explains the colourful Hawaiian shirts, which are now quite a thing again, light denim Wrangler jeans and topsider shoes. What we see at Strange Things are '80s inspired outfits we want to have in our wardrobe rught now.
Nancy, Steve and Billy fashion signatures
All the rest of the characters at Strange Things wears on-point '80s inspired outfits. For instance, Nancy's shearling jacket was popular in the 80s and pretty cute now too. One of the coolest guys in Hawkins, Steve Harrington, wears the '80s accessory par excellence; the Rayban Wayfarer sunglasses. And the rebellious Billy chanels his Americana-inspired look wearing denim jacket with jeans.
Where Strange Things' wardrobe actually comes from?
The three seasons happens from 1983 to 1985. Kimberly Adams and Malgosia Turzanska were costume designers for season 1, and Kim Wilcox for season 2. For season 3, the wardrobe was created by Amy Parris. The '80s sartorial direction brought Amy Parris to re-created the typical fashion of the era using fabrics and deadstock vintage pieces she found on e-bay. Write down the tip, it's for free.
To feel like you are one of the Hawinks citizens we found for you neon colour shirts, mid-length cut-off denim shorts, rainbow and graphic T-shirts , baggy jeans, tropical prints, drawstring shorts and, of course, bright coloured scrunchies.
Our editors select independently all products featured on Notorious-mag. However, when you buy through our links, we may get a commission.
Photos courtesy of Netflix