We've tested the best shampoos and hairstyling without sulfate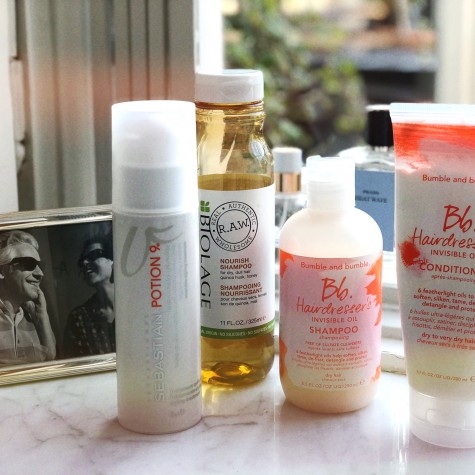 We all dream of healthy, bouncy and shiny hair, but unfortunately, when we rinse away the shampoo, we strip the hair of good oils and natural protectants. The Sulfates in your shampoo are responsible for the foam and for removing the dirt and all the natural protection from your scalp. Wash after wash, we see in horror strands of hair clogging the shower drain. Most hair products contain chemicals that damage your hair, especially if you have curly hair or dyed hair, which is more fragile and needs extra care.
So we went on a quest to find the perfect hair products to keep our strings healthy and shiny and, more importantly, keep them attached to our heads. Our editors tried several shampoos, conditioners and styling treatments and compared the results; here are our favourites:
Bumble and bumble Invisible Oil Shampoo
The American hair empire Bumble and Bumble was launched in 1977 by Michael Gordon, who later founded the fantastic Hairstory we've already shown you before. The Invisible Oil Shampoo is perfect for dehydrated and damaged hair, but if you have normal hair, you can use it too. It contains six extremely light oils that instantly nourish your hair, transforming it from dry and brittle to soft and silky. It is a Paraben, sulphate, and phthalate-free Shampoo that doesn't damage your hair.
Bumble and bumble Invisible Oil Conditioner
BB. Invisible Oil conditioner is a nourishing conditioner completely free of mineral oils, alcohol and sulphate, which are especially harmful to dry hair. As with the shampoo, this conditioner contains six light oils that help detangle your mane. We found it very good for curly and dry hair because it controls the frizz but doesn't weigh your hair down. You should leave the product a few minutes before rinsing so that your hair can absorb the oils. According to Bumble and Bumble, it also protects your strands from future breakage and UV rays. Try the Bb Mending Conditioner for the (truly) damaged hair if you need more moisturiser.
Biolage R.A.W. Nourish Shampoo
Biolage R.A.W. stands for Real, Authentic, Wholesome. This shampoo with natural ingredients is 93% biodegradable and comes in a 100% recycled plastic bottle. It doesn't contain Silicones and Sulfates, so it's good for your hair and the environment, but it can leave your strands a bit dry; you should use it followed by a conditioner to detangle and moisturise your hair.
Sebastian Potion 9
Sebastian is a company founded in Los Angeles almost 50 years ago. Its Potion 9 is a leave-in styling treatment. It helps you style your hair, making it more manageable and shiny, and it also protects and nourishes your mane. Apply it to wet hair before blowing or air-drying or to dry hair to boost the shine and add volume. You will feel the difference as the comb glides on your hair that will be silky even if you use hot tools to style it.
Buy our selection of hair products. If you purchase something through the links, Notorious-mag may get a commission.
Images @NotoriousMag