We still love Maisie Williams in Thom Browne at PFW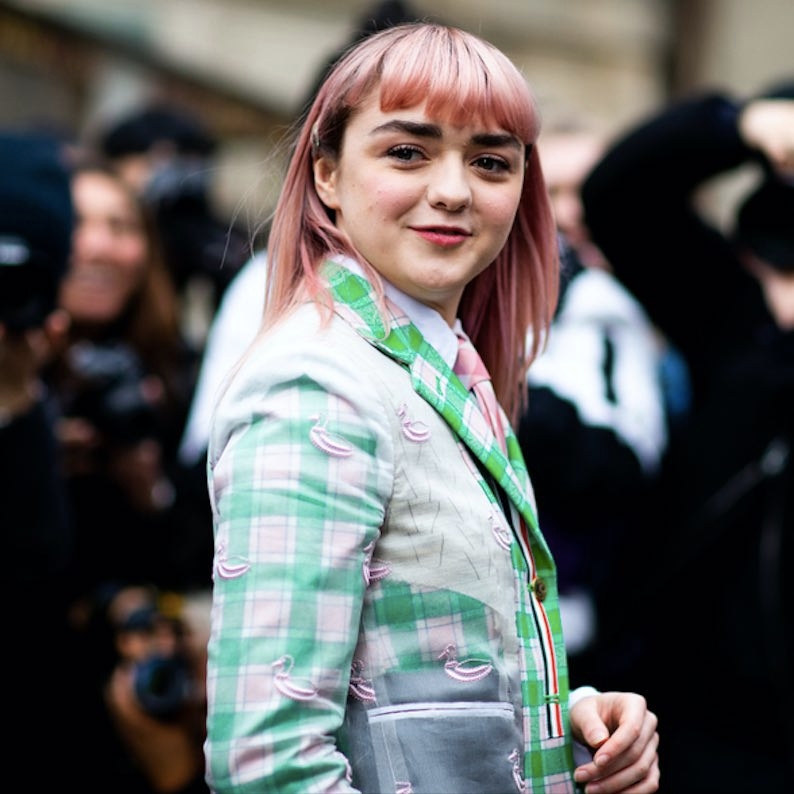 It's been 2 years since Maisie Williams rocked Paris Fashion Week in her colourful Thom Browne suit. The actress sat in the front row of the designer's Fall/Winter 2019 collection show, looking absolutely fabulous. And clearly, we still can't forget about this iconic look.
A suit for the books.
For Thom Browne's 2019 fashion event Maisie Williams chose a tailored masculine look with a twist. In fact, it's one that would have perfectly suited the feisty Arya. Comfort is essential when one fights to avenge one family. (Only Game of Thrones fans will understand!)
Who is the designer behind Maisie Williams look?
Thom Browne is an American designer who launched his eponymous womenswear and menswear label in 2003. Ever since he's received the "Designer of the Year" award a number of times. Not surprisingly, his show was packed with celebrities. Among them were Anna Wintour, Andrew Bolton and Amanda Harlech, the fashion consultant and muse to the late John Galliano and Karl Lagerfeld.
To present his Fall/Winter 2019 collection, Browne recreated a '50s open-plan office with desks, old typewriters and lamps, showing plenty of beautiful three-piece suits. However, Maisie Williams' plaid suit with ducks embroidered got us head over heels. She paired the green/pink costume with a checked pink and white tie that matched her hair. And, of course, white sneakers. The edgy power suit from the Pre-Fall 2019 collection is not for everyone, but Maisie looked mesmerizing in it.
What is Maisie Williams doing now?
Maisie Williams has stolen our hearts as Arya Stark in the HBO series "Game of Thrones". So what is she up to now that the hit show is over? In a recent interview, the actress revealed that she's been working on a new project. London Creates aims to connect young creatives/start-ups with professionals. Furthermore, Maisie has recently become H&M's new Global Sustainability Ambassador, working closely with experts within the brand to drive sustainability initiatives. The actress's been filming, and we're waiting to see her in the new TV mini-series, Pistol.
Title photo @shutterstock
If you love Maisie Williams like us, maybe you're also Emma Stone's big fan and want to watch 10 things about La La Land's actress.
[fvplayer id="214″]