8 Ukrainian designers and fashion brands you must know now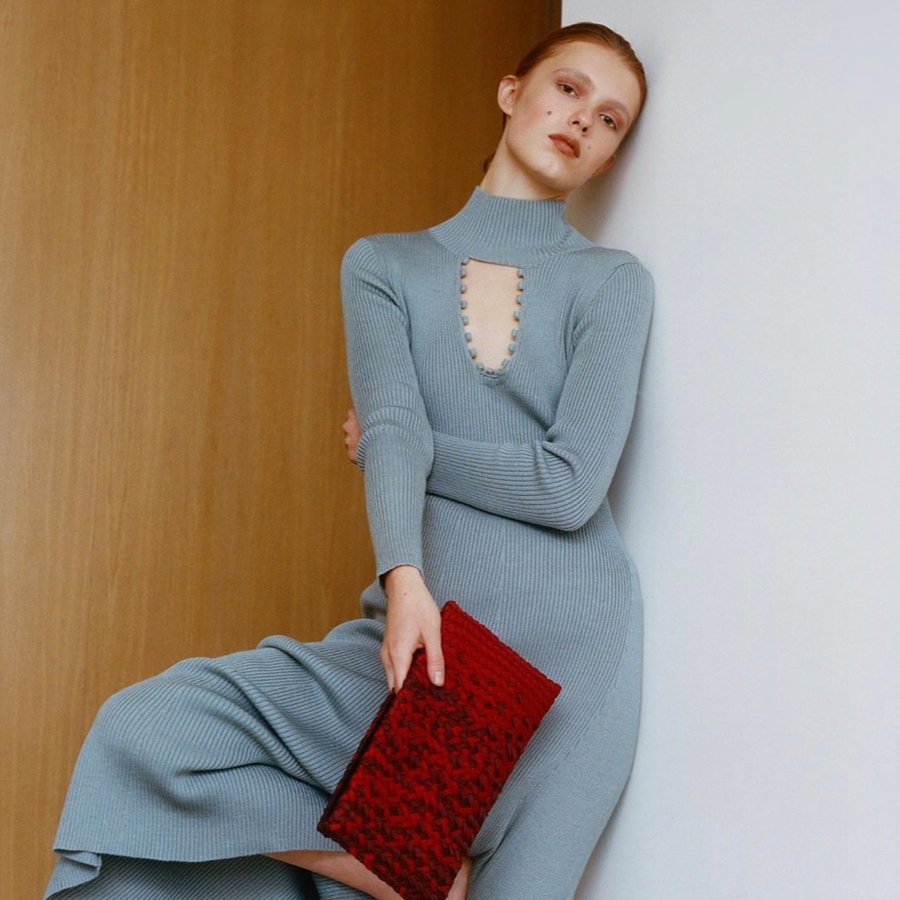 As Ukraine is more and more on the news, sadly, because of the Russia-Ukraine crisis, we would like to present to you its thriving fashion scene that gets, each day, more visibility. Despite the national dramatic events, the country is making its mark worldwide through fashion, with designers at the forefront of cultural diplomacy. We selected the most interesting Ukrainian fashion designers and brands among names already known internationally and newcomers we want you to know before anyone else. So, here is the best Ukrainian fashion that local fashionistas and trendsetters worldwide are already wearing, and so should you.
Our editors select independently all products featured on Notorious-mag. However, we may get a commission when you buy through our links.
Bevza
One of the most celebrated Ukrainian womenswear fashion designers is undoubtedly Svitlana Bevza. She launched her label in 2006 and was the first Ukrainian designer to ever be a finalist of  Vogue Talent in Milan in 2014. Bevza has also showcased her collections at NYFW since 2017. Her minimalist style comes in chic muted colours in the best of Phoebe Philo's Old Céline style. Although the design may seem simple at first look, her clothes carry the history and heritage of Ukraine and symbols of ancient civilizations. For example, Svitlana Bevza's balaclavas were inspired by a powerful female ruler of Kievan Rus, Princess Olga. Models Gigi and Bella Hadid and the actress Dakota Johnson are among the label's fans. And the actress Sophie Turner wore to her wedding a white suit by Bevza.
Vita Kin
Designer Vita Kin and her eponymous fashion label use Ukrainian heritage artisanal techniques and traditional prints to create beautiful embroidered pieces. Kin's already had her beautiful pieces shown in Vogue and Harper's Bazaar and is becoming the darling of fashion enthusiasts and women like Demi Moore and Aerin Lauder, who like the brand's hippie-chic vibe.
Ruslan Baginskiy
Among our favourite designers is the self-taught hat maker Ruslan Baginskiy, who wanted to bring Ukrainian culture and fashion to the world. And he's done it. Madonna, Kaia Gerber, Anna Dello Russo, Rosie Huntington-Whiteley, and Bella Hadid wear his headpieces. The young designer started his brand in 2015, having his family members, including his mother, produce the hats in his small studio, and promote the label on Instagram. A few years later, his Baker Boy caps, berets, and Ushanka hats are among the main hat trends of this winter. Despite his colossal success, all hats are still Made in Ukraine, supporting local production.
Ienki Ienki
Winter fashion and puffer coat lovers are undoubtedly, big fans of the Ukrainian outwear brand Ienki Ienki. Dima Ievenko has created since 2016 the stylish and super warm puffers that are worn by Emily Ratajkowski, Kourtney Kardashian, Irina Shayk, Hailey Bieber, and many other fashion influencers.
Ksenia Schnaider
Firstly, the Ukrainian label Ksenia Schnaider became famous for its Demi-denim, a hybrid between jeans and Bermuda shorts the married designers first presented at Mercedes Benz Kyiv Fashion Days in 2016. Ksenia and her husband Anton Schnaider use second-hand jeans scoured in flea markets. The couple upcycles denim to create fantastic sustainable pieces like, for example, "fur" coats made with shredded denim, chic patchwork blazers, and modern asymmetrical jeans.
Sleeper
The glamorous pyjamas embellished with feathers by Sleeper are a massive success not only in Ukraine but also in Hollywood. For example, Kristin Davis, AKA Charlotte, wore checkered pyjamas in the Sex and The City reboot, And Just Like That. Certainly, the Ukrainian fashion designers and founders of the brand, Asya Varetsa and Kateryna Zubarieva create fabulous shirt and trouser boudoir sets in silk or lurex that are the very dream of any party girl. Additionally, their linen dresses with smock bodice and puffy statement sleeves are a huge hit. 
Poustovit
Lilia Poustovit founded her fashion brand Poustovit which focuses on a fusion of contemporary trends and Ukrainian ethnic prints. Her effortless chic shirt dresses are the signature of this label that is already well-establish in Ukraine.
Gunia Project
This brand produces exceptional artisanal pieces based on Ukrainian traditional culture and fashion. As a result, you'll find silk and wool scarves and delicate embroidered, detachable Peter Pan collars among their creations. Additionally, they also make Guglya ponchos embellished with pompons. The woven outwear was originally worn as a wedding garment in the Carpathian Mountains.
Title photo @Bevza.
[fvplayer id="386″]