Thom Browne, the designer making women suits fun again 
Tailoring and ducks.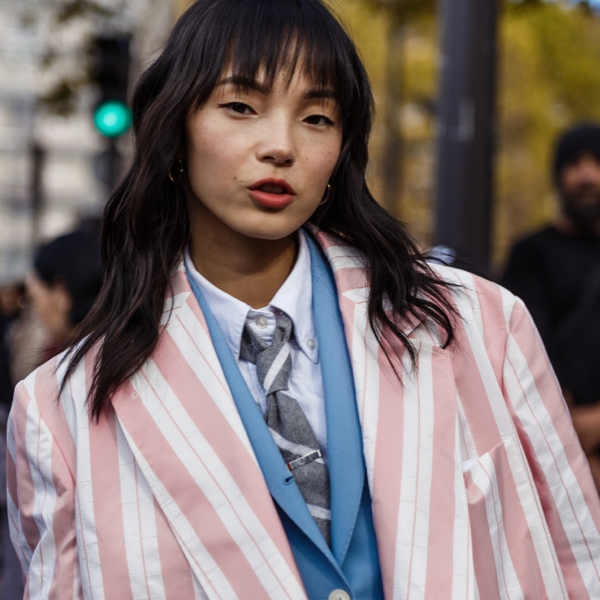 Tired of your power suits? Want an office outfit with an edge, that makes you look both fun and professional? We have the solution for you; the fun women suits designed by Thom Browne. The American designer has made women's suits fun again. With humour, he combines the conservatism of the tailored suits with the eccentricity of the details. You will see classic suits with details such as duck embroideries and a mix of patterns and colours. 
Browne began his career in fashion working as a salesman at Giorgio Armani. He then worked with Ralph Lauren at Club Monaco for several years before launching his eponymous men and womenswear label.
The fashion designer creates suits with a patchwork of striped or plaid fabrics, which are fun yet sophisticated. Women of all ages can wear them, and not only to go to the office. Thom Browne suits are fun enough to go out for lunch. Additionally, they are also perfect for visiting an art exhibition or going to a cocktail party.
The signature look of Thom Browne for men and women is the three-piece suit with sartorial precision and fun, subversive imagination. Whether pant-suits or tailored jackets worn with skirts or shorts, Thom Browne pairs his suits with fun handbags in the shape of dogs, ducks or crabs.
Who wears Tom Browne
Women who like strong looks with a twist are fans of the American designer. For example, at Thom Browne Spring/Summer 19 catwalk show during Paris Fashion Week, A-list guests were wearing the label's trademark fun suits. Maisie Williams, AKA the fierce Arya Stark of "Game of Thrones", looked fantastic in a checked suit with ducks embroidered all over it, and a pink tie matching her hair.
Thom Browne winter 20-21 and spring 2021
This winter, the fun suits designed by Thom Browne come with midi-length pleated tweed skirts. The preppy striped blue, red and grey looks are embroidered with cute animals that seem designed by a child. 
I love taking really simple ideas and approaching my collections in an almost childlike way.

Thom Browne
For his Spring 2021 collection, Thom Browne imagined  Olympic Games happening in 2132 on the moon. Using only shades of white, the designer plays with texture; thick embroideries, intarsia suits and cashmere seersuckers.
Talking about his fun suits, Thom Browne explains: "There's definitely an interest in making sure there's something entertaining, a little bit of escape and fantasy, especially now. It's the most important time to be fantastic and show beautiful things. To inspire, to create things that take people out of their realities. I think creativity is always the most important thing to celebrate in times like these."
Our editors select independently all products featured on Notorious-mag. However, when you buy through our links, we may get a commission.
Title photo via Shutterstock