Things you would love to know about Lily James 
Eternal Lady Rose.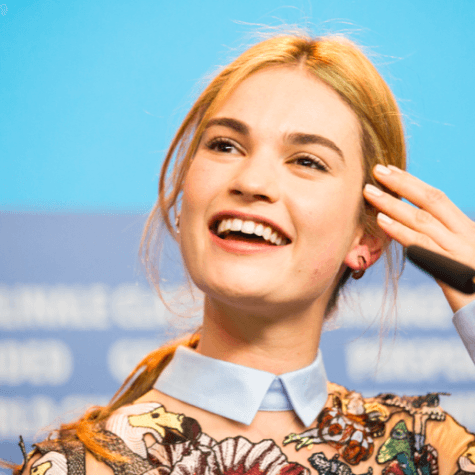 Lily James is a 29-year-old English actress who is better known for her roles as Disney's Cinderella and the rebellious Lady Rose in the British TV series "Downton Abbey". And we are in love with her!
Here are a few facts you might want to know about her:
Lily's name
Lily's real surname is Thomson. She changed it to James as a homage to her father's name, the actor and musician James Thomson when he passed away from cancer in 2008. This is also why, she says, it was so difficult for her to film soon after, the sad father-and-daughter scenes for Cinderella. In the film, this scene is very touching and believable indeed.
From Posh English to American accent
After one year of graduating from the Guildhall School of Music and Drama in London, Lily James was already in the hugely successful "Downton Abbey". In the worldwide famous series, she played the posh, aristocratic and rebellious British Lady Rose. After that, she played an American waitress in the critically acclaimed and box office success "Baby Driver". For this role, she had to learn to speak with an American accent, and she did it perfectly! She said that during the whole shooting of the film she avoided talking to the director, who is British because she wanted to stay in character and keep speaking only with the American accent.
Theatre
She has also worked in several theatre-plays in England and her performances have been acclaimed by critics and theatregoers.
She played Juliet in Kenneth Branagh's "Romeo and Juliet", and the critics just loved her. They didn't share the same enthusiasm toward Richard Madden, the actor playing Romeo, saying that she had literally saved the day.
She's in fact so incredibly talented that her success has already paid off; she is said to be worth $15 million.
Royalty
The beautiful English Rose is almost royalty as, since 2014, she's been dating Prince Philip, Duke of Edinburgh. Alright, alright, that's not exactly accurate, she's actually dating Matt Smith, the super charming British actor who portrayed Prince Philip in the TV series "The Crown". The two met while shooting the horror/comedy "Pride and Prejudice and Zombies". There are rumours that the couple got recently engaged because Lily attended the BAFTA Awards wearing a big diamond ring on her finger. She later dismissed the rumour, saying she had only worn a ring. Let's pretend we believe her!
Burberry's
Lily James became the face of Burberry's and starred with Siena Miller the company's Christmas campaign. The 3-minute film The Tale of Thomas Burberry", tells the story of the company's founder Thomas Burberry, who created the iconic trench coat.
Singing
Lily James was also in the sequel of the musical "Mamma Mia: Here we go again!", playing the younger version of the wonderful actress Meryl Streep's character. Among many talents, Lily has a gorgeous singing voice which you can listen also at "A Dream is a Wish Your Heart Makes" in Disney's Cinderella.
photos via shutterstock