The vintage jewellery we are buying on Etsy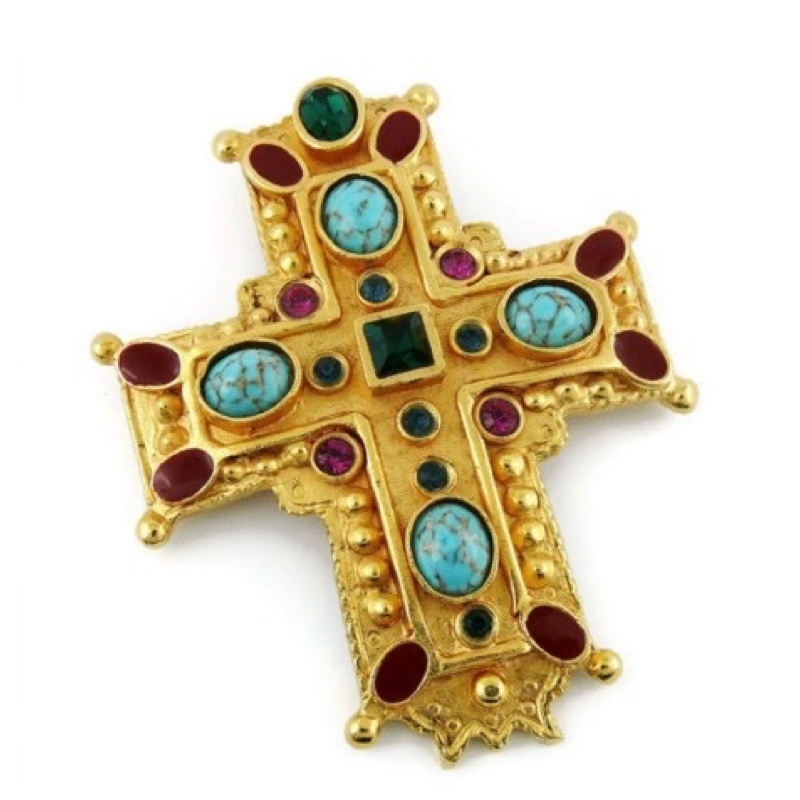 Buying vintage jewellery can be as exciting and fun as going on a treasure hunt. But one needs a lot of time and patience, and a good eye, of course, to find out where to buy good pieces. There are several shops selling vintage jewellery on Etsy, and you can get lost there. Don't despair, we can help you find some fantastic costume jewellery to add to your bauble collection.
One of the reasons we love vintage jewellery is the idea of wearing a part of fashion history around the neck. Not to mention that it can also be a good investment. One of our editors, for example, bought a Chanel chain belt, which value has more than quadrupled in a few years.
We've done the heavy lifting for you, scouring Etsy longer than we dare say. Here are the seven shops where we're buying the vintage jewellery we love.
VintagEnMode
Christian Dior cuff designed by Robert Goossens in 1987.
VintagEnMode, the French vintage enthusiast sells haute couture and jewellery that she finds during her travels. You can buy here seriously good costume jewellery from designers like Yves Saint Laurent, Chanel, Christian Dior and Christian Lacroix among others.
BlackRedSquare
Christian Lacroix Medieval-inspired brooch.
BlackRedSquare is another French shop to look for designers' vintage pieces. The vast selection includes massive statement necklaces, earrings and brooches like the iconic Christian Lacroix cross.
LandOfVastDesires
1980's Fendi Sun face necklace.
LandOfVastDesires is an American shop with vintage jewellery from all major European and American designers. We're in love with this Fendi bulky chain necklace with sculptural sun faces.
RosesAllure
Marion Godart bracelet in Art Déco style.
Sop on RosesAllure funky pieces made by French artists Marion Godart, using colourful Resin, Lucite and Bakelite, and Marie-Christine Pavone, using Galalith, the ancestor of plastics.
Jaarbutik
Jaarbutik sells vintage jewellery from Europe and the USA from the '30s to 2000. We especially like the fun animal brooches and bold colourful bracelets from the '60s and '70s that are very on-trend again. To know more it, read the article Jewellery trends to help you update your look for 2020.
iPomeeVintage
Céline necklace from the '80s.
On iPomeeVintage you will find French designers like Ines de la Fressange and Edouard Rambaud, but also Hermès, Saint Laurent and Céline, among others.
GiftsHomeDecor
Christian Lacroix statement necklace.
GiftsHomeDecor focuses on pieces with rhinestones and you'll find some great Christian Lacroix and Yves Saint Laurent vintage jewellery.