Here's why the chunky chain necklaces are here to stay 
The classic '80s style.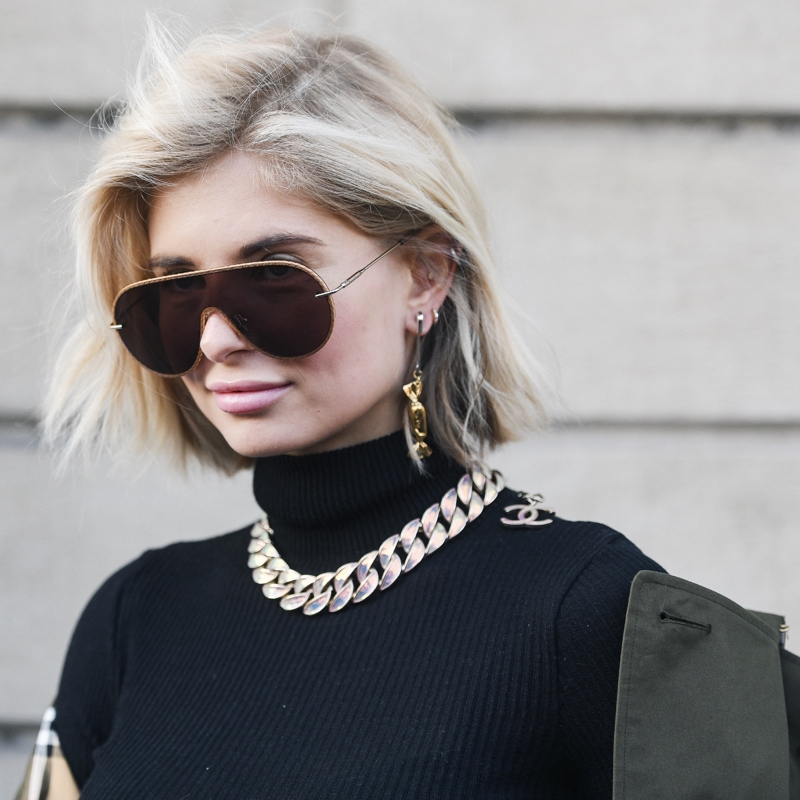 We see them everywhere, on the runway and Instagram; fashion houses and fashionistas can't get enough of chunky chain necklaces. Therefore, after years of layering dainty little chains, statement chains with bold links are here for the long haul. Certainly, thanks to the '80s trends comeback.
As a matter of fact, the classic oversized chains were one of the Jewellery trends that help you update your look for 2020. Similarly, in 2021, they've come even chunkier. Consequently, after months of hiding your neck with scarves and foulards, it's time to show your beautiful collar ornated and bejewelled with these bold necklaces.
Above all, this statement piece is a hit among fashion designers, from the chic Hermès and Oscar de la Renta to the trendsetter Bottega Veneta. Additionally, fine jewellery houses have also created plenty of chunky chain necklaces and bracelets. But we picked the best brands for you on Instagram because the social media platform is simply generous regarding jewellery trends.
So, scroll down to see our selection of jewellers making fabulous chunky chain necklaces.
Missoma
Marisa Horder launched the demi-fine jewellery label Missoma in 2008. Her latest collection features retro-inspired statement chains that are both contemporary and classic.
Skrein
The Viennese Skrein is a mix of a jewellery shop and gallery. Additionally, it doubles as a workshop where all the luxurious pieces are designed and hand-made. And you can also have your dream jewel specially designed for you.
Schullin
Headed by Hans Schullin, the traditional company has certainly made fine jewellery in Austria for five generations. Above all, Schullin is known for its excellent craftsmanship and design.
Kenneth Jay Lane
The American costume jewellery designer Kenneth Jay Lane founded his namesake label in 1963. After that, he's had many famous women wearing his creations. For instance, Wallis, Duchess of Windsor, Diane Vreeland, and Audrey Hepburn were among his clients. To sum up, he was compared to Coco Chanel for making faux-jewellery chic.
Marjana von Berlepsch
Firstly, Marjana von Berlepsch is a former fashion editor for Vogue and Harper's Bazaar. As a result, she has an amazing eye for trends. Certainly, the Munich-born designer adds twice a year, new pieces to her extensive jewellery selection. Therefore, you will find plenty of eye-catching chains in her Spring/Summer collections.
Juwelier Heldwein
This jewellery house is rooted in the traditions of four generations of the Heldwein family and classical Viennese craftsmanship. Consequently, the Juwelier Heldwein combines timeless, classic design with contemporary trends.
Lizzie Fortunato
Since 2008, the Twin sisters Lizzie and Kathryn Fortunato have made jewellery with found, reclaimed and precious materials in fashion-forward silhouettes.
Saskia Diez
Munich-based, Saskia Diez uses recycled gold and silver to produce locally the beautiful jewellery pieces that she's also presented in Vienna during the Wiener Schmucktage.
New One
Niki and his sister Nina come from the traditional family of jewellers Schullin. As a result, they've decided to open New One, which has already several shops in Austria and Germany. Since New One's pieces follow the latest trends, you will find several chain necklaces that are modern but timeless.
And why not pair your chunky chain necklaces with chunky rings? Watch next why these statement pieces are called cocktail rings.
[fvplayer id="198″]
Photo title via @Shutterstock