The prettiest beach bags that I want to wear everywhere.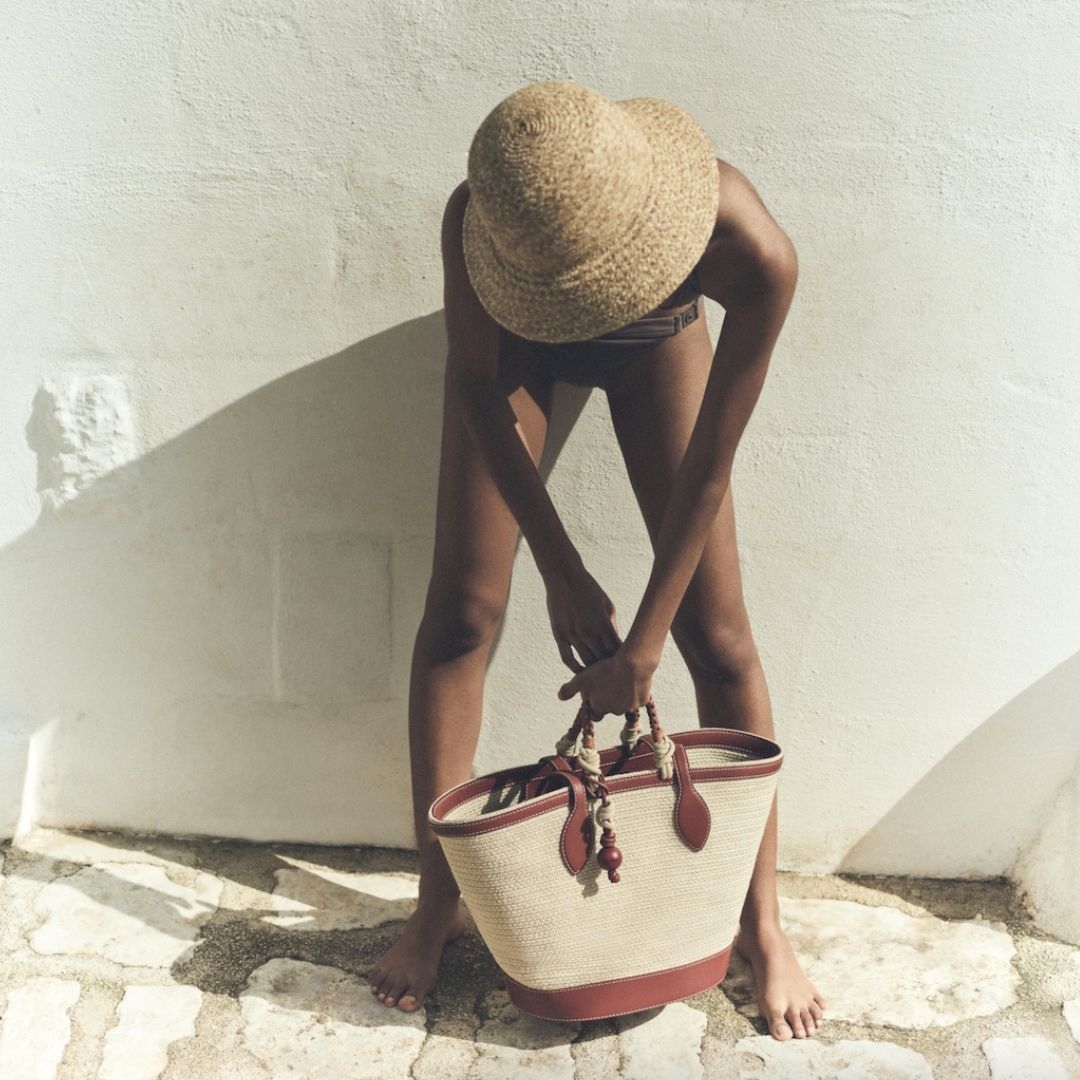 Wave goodbye to the days when we'd hit the beach with inexpensive straw bags, only to have them soggy and stuffed with sand. For a handful of summers now, luxe brands have been plunging headfirst into the straw bag game. Celine, Jacquemus, Chloé, and Loro Piana are just a snapshot of the labels that are now essentials under the trendiest summer parasols. The prettiest beach bags of summer 2023 are not just chic and classic, they're versatile. Rock them on the beach or in the countryside, or even pair them with your office attire. Take a leaf out of the French women's style book — they sport their straw bags year-round, even when they're bundled up in fur coats!
Here's our curated selection of this season's most sought-after beach bags.
PRADA
This Prada beach bag is your summer dream. It's made of raffia, a natural material, woven like crochet and features Prada's iconic triangle with embroidered logo in the middle. Prada's signature bag is timeless, and you'll wear it for many summers. On Instagram, influencers like Linda Tol and Camille Charrière walk everywhere with this pretty beach bag.
LOEWE
This is the most searched bag on Google in the last quarter of 2023, according to the fashion platform Lyst. Loewe is also the number one fashion brand on online search lists. Despite being a classic model, the Loewe logo, inspired by cattle branding irons, creates all the mystique of this bag.
ARKET
In line with Arket's brand concept, this paper straw-woven design, trimmed with vegetable leather is a perfect example of chic minimalism. Sustainable and ecologic, this bag is perfect for summer but also autumn.
MANGO
Not all beach bag has to be made of raffia or straw, right? The Vichy plaid beach bag from Mango in black and white cotton is a classic French girl style. It's big enough to carry everything you need to the beach and perfect for taking your computer and paperwork to the Uni.
LA DOUBLEJ
La DoubleJ design is synonymous with statement Italian prints. And this mini tote is lined with one of the brand's iconic prints. Made from raffia, it has two top leather handles. This bag is perfect for a romantic dinner in Capri with a floral cotton dress and Venetian flats.
DRAGON DIFFUSION
Dragon Diffusion's team of dedicated artisans employ time-honoured basket weaving techniques to create each style. This Window shopper is handwoven with buffalo leather strips that promise to develop a rich patina over time. Perfect for picnics, garden parties, beach days and office. And on top, an antiqued St. Christopher medal charm, in homage to the patron saint of travellers, is hand-sewn inside each and every Dragon Diffusion bag. Love it!
MARINA RAFAEL
Deciding on just one bag from Marina Rafael's stunning collection can be a true fashion conundrum. With her bloodline running six generations deep into the Swarovski family on her mother's side, you could say glamour is in her DNA. But her story isn't one-dimensional — while her legacy hails from Austria, Rafael herself was born and bred in her father's homeland, Greece.
Not one to keep her talent to herself, Rafael joins creative forces with brands such as VENYX by Eugenie Niarchos. And her clientele? It's a roll call of A-listers and high society figures, including Jennifer Lopez, Katie Holmes, Adjoa Andoh, and even Queen Maxima of the Netherlands, to name just a few.
MAX MARA
Max Mara tips its hat to the humble plastic bag, and honestly, the timing couldn't be more on point. Now that the chatter around the upcoming Barbie movie is reaching fever pitch, this would be the go-to accessory if our beloved doll strutted her stuff in the real world. But let's get real, doesn't she already?.
Image courtesy of Loro Piana