Where to have the best Mexican food in Vienna 
Authentic food.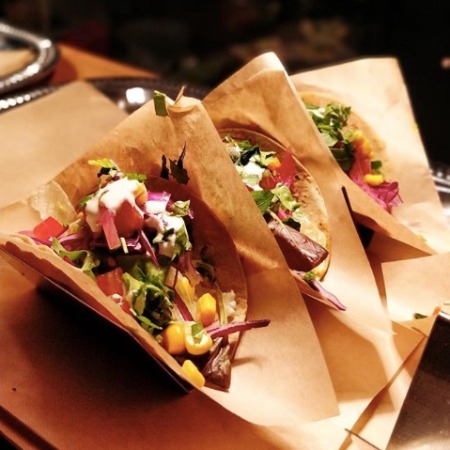 Burritos, tacos, enchiladas… just thinking about Mexican food makes our mouths watering. While going to Mexico would be the best thing to do in this case, the easier solution is for sure to head out to one of the many Mexican restaurants here in Vienna. While finding good food seems to be easy in a big city, sometimes the real treasures are quite hidden and cannot be found on any "Best …"-lists. That's how it also is with Mexican food in Vienna. However, we've kept our eyes and ears open, taste-tested, asked friends and family and can now proudly present the best places to enjoy Mexican food in Vienna.  ¡Que aproveche!
1. Taco Tante
Taco Tante in the first district is run by Jennifer Salchenegger. Located directly in the centre of Vienna, this restaurant offers the best Mexican tacos, burritos and nachos, but also steaks and burgers. The industrial interior design is chic and the selection of cocktails amazing. If you happen to be around Johannesgasse, make sure to check Taco Tante out.
2. Los Mexicas
Los Mexikas is a really traditional Mexican restaurant in Vienna. Chef Mauricio Aceves Omana serves totopos, huaraches, tacos, enchiladas and everything you'd expect from an authentic Mexican restaurant. They have two locations, the Taquería, in the eighth district and the Antojitos, in the second district. So, choose what is closer to your home and enjoy some real Mexican food.
3. Tapas Mayas
Tapas Mayas is a family-run restaurant located in Vienna's seventh district, and it's famous for its massive servings of tasty Mexican food. A mother runs the kitchen, and her son is the friendly waiter serving the tables. The cocktails are excellent too, and the selection, huge. They have around 50 different tequilas and 30 different mezcals to choose from.
4. Los Santos
Santos is another recommendation we often get when asking for good Mexican restaurants in Vienna. The menu includes salads and soups, traditional food, street food, burgers, ribs and steaks. Oh, and can we please talk about the cocktails? Blueberry basil margarita, chilli mojito and raspberry thyme smash sound like heaven to us! By the way, there are three locations; in the fourth, seventh and fifteenth district. 
5. Doña Irma
Located in the third district, Doña Irma captivates with its colourful interior, authentic dishes and the many vegetarian, vegan and gluten-free options. There is also a cocktail happy hour each day and we would highly recommend getting one.
You may also want to know where to get the best bread in Vienna:
[fvplayer id="204″]
Title photo @tacotante