The '90s Giorgio Armani and Donna Karan style is totally now!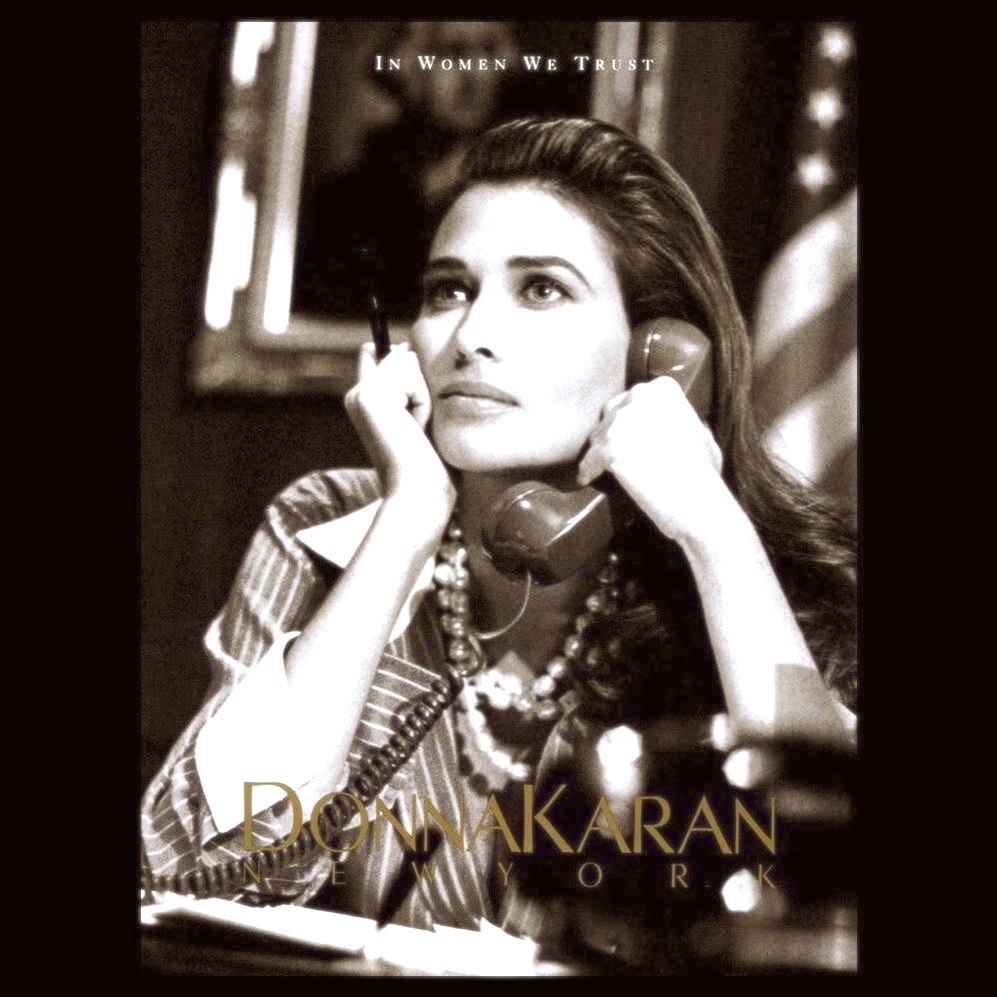 To all Madonna's fans delight, the 90s style is back. Honestly, we're happy to see again trends such as power suits, plaids, polka dots, overalls, neon colours, buckethats, platformshoes,  turtlenecks and baguette bags, to name a few. Besides all these 90s iconic pieces, two designers shaped the way women dressed in that decade, and their style is still contemporary. I'm talking about Giorgio Armani and Donna Karan.
Giorgio Armani

's '90s style and now

Giorgio Armani is well-known for his clean, tailored designs. He launched his namesake label in 1975. Five years later, he famously designed the costumes for the unforgettable "American Gigolo", the movie that made a generation fall in love with Richard Gere. The Armani woman was- and still is- chic, very chic. In this 30 years gap, she continued wearing sartorial pantsuits and dresses in pastel hues, following the motto 'less is more'. Absolutely the same minimalist trend that we're living now. 
1993 and 1996 campaigns shot by Peter Lindbergh for Giorgio Armani
Donna Karan, the queen of the 90s
The second designer that marked the '90s style is Donna Karan. The New Yorker fashion designer was a pioneer in the mid-eighties when she launched her eponymous label. Her first collection was "Seven Easy Pieces", with which women could create several sleek looks by combining the easy-to-wear garments. By the early nineties, Donna Karan had already become the epitome of simple chic and refined elegance. Her monochrome pieces that took women from the office to the night out are as relevant today as they were back then.
1992 campaign shot by Peter Lindbergh, courtesy of Donna Karan
"In Women We Trust" Campaign
Donna Karan designed power suits and wonderful outwear in hues of black, beige and grey, for the working woman-on-the-go.
In 1992, she released the now-famous ad campaign "In Women We Trust", shot by the iconic Peter Lindbergh. The black-white photos showed a model being sworn in as the President of the United States, now talk about empowerment!
1992 campaign shot by Peter Lindbergh, courtesy of Donna Karan
90s Shapes, Cuts and Accessories
Besides the shape and cut from the '90s, Giorgio Armani and Donna Karan are also an influence when it comes to accessories. They usually completed their minimalist looks with statement necklaces and earrings or big brooches.
The Armani style of the nineties is so up-to-date and on-trend today that the Italian house tapped the supermodels of that time for its new ad campaigns. None other than Kate Moss is the face of Giorgio Armani's autumn/winter campaign shot by photographers Mert Alas and Marcus Piggott.
2019 campaign shot by Mert Alas and Marcus Piggott, courtesy of Giorgio Armani 
The Armani's woman today
And for Armani's "New Normal" campaign, Peter Lindbergh shot four of the original supermodels' team he used to work with; Stella Tennant, Eva Herzigova, Yasmin Le Bon and Nadja Auermann. About this viral campaign, Giorgio Armani explained he chose "iconic women with strong personalities to show that feminine beauty is ageless (…) and convey a sense of reality, of clothes that offer natural elegance and the normality of everyday life."
I hope you're as inspired as I am by these beautiful images; let's make the world elegant again 😉
Photo title by Peter Lindbergh, courtesy of Donna Karan