Do you know the story of Suzanne Belperron unsigned jewellery? 
My style is my signature.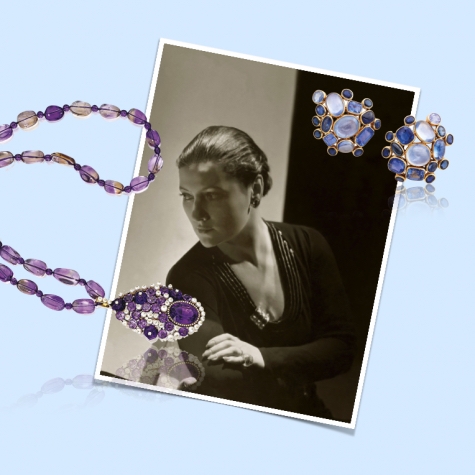 Maybe you haven't heard yet of Suzanne Belperron and her unsigned jewellery, but she was a pioneer and one of the greatest jewellery designers of the 20th century! Keep reading to know more about the iconic designer whose jewels are back in the limelight thanks to an incredible discovery.
Suzanne Belperron in the Golden Twenties
Born in 1900, Suzanne Belperron studied at the School of Fine Arts in Besançon. There, she received the first prize in the Decorative Arts competition with the design of a pendant watch. The French designer started her career in Paris during the Roaring Twenties. She began working at the jewellery house Boivin and became its co-director at the young age of 23. Belperron's curvaceous jewels stood out in a time of Art Déco's geometric and structured pieces. Additionally, her choice of materials was also quite revolutionary. She set precious stones in non-precious gemstones that were not used in high jewellery at that time. For example, rock crystal, smoky quartz, and chalcedony. 
Belperron and Herz
In 1932, Suzanne Belperron joined Bernard Herz, a famous pearl and precious stone dealer who supplied Boivin. As the exclusive designer at the Maison Bernard Herz, the talented young woman had total freedom of creation. Suzanne Belperron created the original unsigned jewellery pieces that brought her fame, not only in France but also internationally. In the '30s, her jewels appeared in fashion magazines such as Vogue and Harper's Bazaar, and the fashion press described her work as "new and barbaric"! The iconic Diana Vreeland was one of her close friends and a fan of her bold creations.
My style is my signature
Suzanne Belperron found inspiration for her jewellery in nature. Flowers, leaves, insects, starfishes, and the colours of the underwater world became unique jewels through Belperron's vision. The distant cultures of India, Egypt, and the Far East also influenced her. She never signed her pieces because she believed her style was so original that one could easily identify her work. To clarify, the designer famously stated that "My style is my signature." 
Saving the Maison Bernard Herz
During World War II, Bernard Herz, who was Jewish, was sent to Auschwitz. In his last letter, he asked Belperron to look after the interests of his two children. However, at Herz's request, the designer had already saved his company. She did so by taking full control and changing the company's name to "Suzanne Belperron SARL". Then, in 1946, Jean Herz was released from captivity as a war prisoner and returned to Paris. Belperron gave him back half of the company and changed its name again to "Jean Herz-Suzanne Belperron". The duo worked together for the next thirty years.
Exclusivity and A-list clients
Belperron's clients included European royalty, famous artists, writers, dancers and fellow designers. For example, Elsa Schiaparelli, Nina Ricci, Christian Dior, and Jeanne-Marie Lanvin. Belperron never opened a boutique; she received by appointment her notorious clients in her salons. The Aga Khan, the Duke of Windsor, Josephine Baker, Colette, Jean Cocteau, Daisy Fellowes, were some of her famous clients. They had several fittings at Belperron's salon, where she took all measurements like an haute couture dressmaker. Suzanne Belperron studied her clients' skin complexion, the shape of the face, their hands, lifestyle, and so on to make sure each unique -and unsigned- jewellery piece would be perfect for each client. No wonder her fame grew and grew!
The end of Herz-Belperron
At the end of 1975, the Herz-Belperron company was dissolved. After that, several jewellery houses, including Tiffany and Co, wanted to work with her and re-edit her designs. But Belperron refused all proposals. The French designer died in 1983 at the age of eighty-two. Five years later, Sotheby's auctioned the jewels belonging to the Duchess of Windsor. Among them were sixteen Suzanne Belperron unsigned jewellery pieces that were highly valued.
After almost two decades of Sotheby's sale, Belperron's inheritor discovered a small apartment in Montmartre that had remained closed since the designer's death. Yet, surprisingly, he found all her archives, drawings, casts, and list of clients in its dusty interior. This discovery was fantastic and has helped ensure the authenticity and traceability of the unsigned jewellery pieces that Suzanne Belperron created.
Back in the limelight
By then, the name of the discrete designer had almost been forgotten. Now, thanks to discovering this treasure and the hard work and dedication of a father and son, the iconic work of Belperron is back in the limelight. To clarify, Ward and Nico Landrigan acquired the use of Belperron's name and archives, including around 5.000 sketches of jewellery that were never executed. As a result, they re-launched the Suzanne Belperron brand, now with a luxurious flagship store in Manhattan, New York. Today, her stunning unsigned creations are available again to all jewellery lovers, proving that the style of Suzanne Belperron is timeless.
Visit Suzanne Belperron Salon:  745 Fifth Avenue, Suite 1210, New York, NY 10151.
Do you know why chunky rings are called cocktail rings? Find out why in the video below:
[fvplayer id="247″]
Collages by Notorious-Mag, photos @Suzanne Belperron