Sophie Fontanel, the French Instagrammer we all love.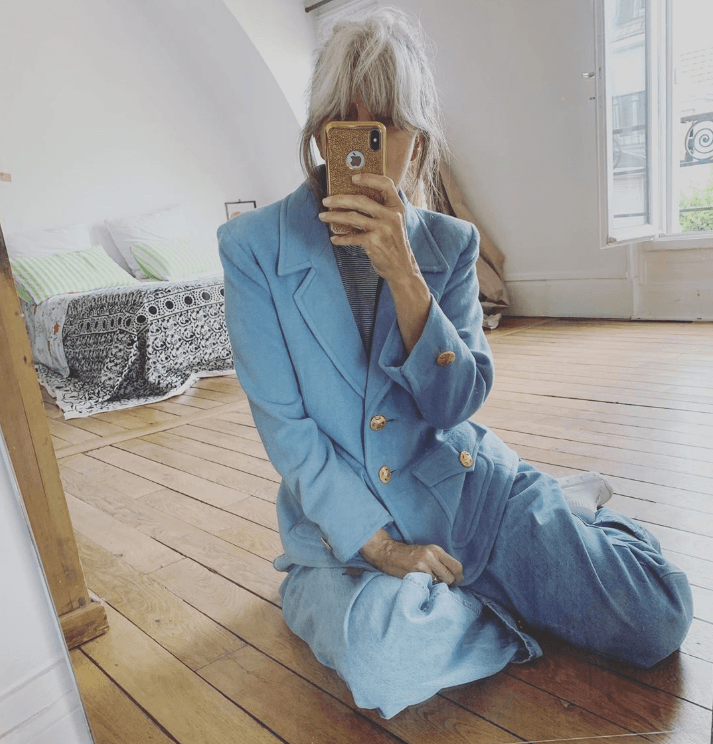 With 163k followers on Instagram, the 56-year-old Sophie Fontanel is one of the coolest fashion journalists and Instagrammers there is.
Sophie Fontanel's style
Fontanel's style is at the same time feminine and boyish, free and fresh, a kind of Katharine Hepburn with a street-style attitude if you know what I mean. On top of that, she has a flair for mixing high fashion with flea-market oversized shirts. And unlike most people in the Parisian fashion industry, she wears a lot of pastels instead of the black wardrobe she used to have.
Sophie Fontanel likes to play with proportions. For example, she loves to mix voluminous skirts or masculine pants with shirts with ample sleeves or slouchy pullovers with a belt. Her fashion style is daring, experimental and fun, and the Parisian writer achieves with it that kind of chic sexiness that only women who are at ease with themselves have.
Fontanel pairs her nightgown nonchalantly with pants and kickers. The fashion guru also wears the same nightdress under a leather Valentino skirt or with a gold-sequin cape by Sonia Rykiel, which by the way, she wore on the red carpet at Cannes Film Festival! Not only does she manage to get away with it, but also does it without looking like the crazy old lady with the twenty cats in a tiny basement apartment.
The fashion journalist finds fun garments for a couple of euros that she then mixes with high fashion labels to dress down expensive the items and wear them more often, like the Mickey jacket that she pairs with a Celine skirt. She also likes adapting clothes, the Instagram star is not afraid of cutting off pants to make shorts, for example, and more importantly, she's not scared of showing her body. The digital celebrity says "it is important to be proud of your body whatever your age". No wonder we love her!
White Hair
Sophie Fontanel's signature white mane is the result of being fed up of dying her hair and thinking that it was too dark and hard for her first wrinkles. Two years ago, when she saw Vogue UK's fashion editor, the British Sarah Harris with her fabulous long white hair, Fontanel decided to adopt the white look too. Her hair transformation even became a book, Une Apparition, which is a diary of her makeover and her search for beauty.
Her Instagram 
For the Parisian fashion writer, there is no style without attitude. And her Instagram success is mainly due to her attitude. Fontanel began taking selfies posing in front of a mirror in her bedroom four years ago. Her eclectic wardrobe, unconventional styling and her sense of humour have won her thousands of followers of all ages who find in her feed, sartorial inspiration.
Fontanel's Instagram is also a result of her experience in journalism. The writer worked at Cosmopolitan as assistant editor-in-chief, and at French Elle as a fashion editor. She has now a column in the Parisian magazine L'Obs. 
SS