Raf Simons and Prada together 
What's next?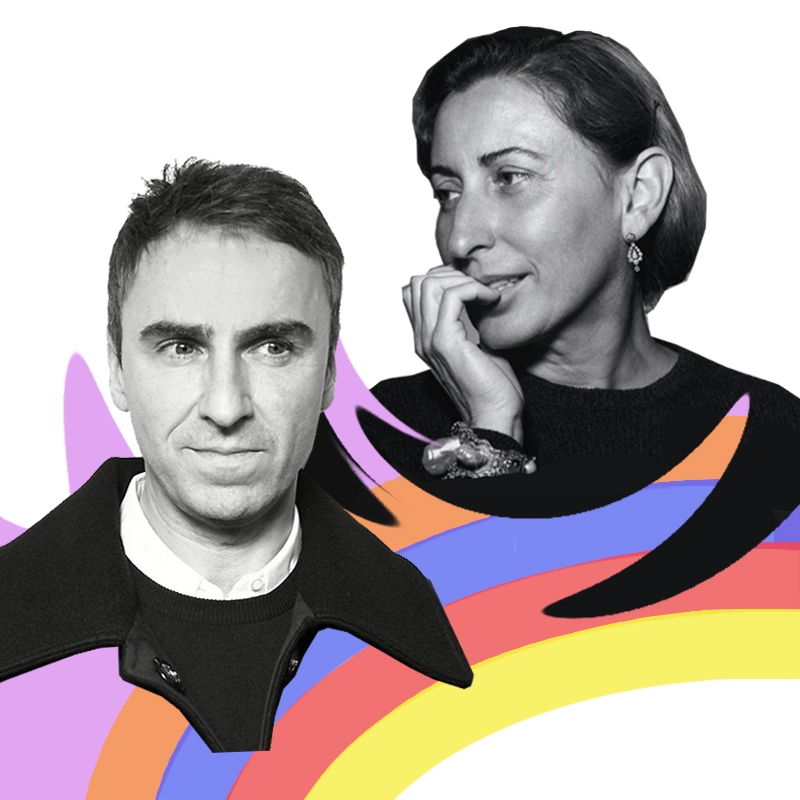 The fashion world is astonished at the news of Miuccia Prada recruiting Raf Simons to co-direct the creation at Prada.
During MFW, the designer of the Italian fashion house announced that the Belgian star-designer would become Prada's co-chief designer. And they will present their first joint collection at Milan Fashion Week in September this year.
Why is this news so surprising?
To begin with, Patrizio Bertelli, business-partner and husband of Miuccia Prada, pinpointed in a statement what's most surprising. "It is the first time in fashion history that two experienced designers who are individually very successful will work together", he said. As a result, both designers will have equal responsibilities for creative input and decision-making. In doing so, they will challenge the idea of singularity of creative authorship in fashion.
Miuccia Prada's style
Miuccia Prada took over her family's luxury goods business in 1978. Since then, she's been the head-designer at Prada, along with creating its subsidiary label, Miu Miu. As you know, the Milanese designer has a unique style, making ugly chic and maximalism, her norm. In other words; for Prada, more is more. As a result, her cutting-edge style is both classic and eccentric, modern and old-fashioned. In short; Prada has challenged "good taste", creating a new aesthetic in fashion. For example, Prada's bold accessories, especially bags and shoes, have become objects of desire of fashionistas around the world.
Raf Simons' style
The 52-year-old Belgian started his career as a furniture designer. Although his designs are mainly minimalist, he is inspired by club and street culture. First, Simons was hired in 2005 by the Prada Group to be the creative director of Jil Sanders. At the time, Jil Sanders was part of the Italian group. Simon wanted to strip Jil Sanders down "so there was nothing that wasn't necessary". Therefore, he created for the label fantastic minimalist pieces during the next seven years. But not only that; Simons also proved that he's a master when it comes to using and combining colours.
After that, Simons worked as the creative director of Christian Dior Couture Women's collection from 2012 to 2015. During those years, he created the Haute Couture, ready-to-wear and accessory collections. He gave a modern edge to the romantic signature style of Dior.
He then left Dior to become chief executive at Calvin Klein. Raf Simons earned several awards from the Council of Fashion Designers of America for his creations. His revisiting of America's quintessential as cowboys and patchwork received critics' acclaim during his time at Calvin Klein. But despite the awards, he stayed there for less than two years. Simon's creative vision for Calvin Klein was a bit too high-fashion for the brand. On the other hand, the American label was driven by more commercial mass marketing.
Why the Prada-Simons union?
We've already seen several designers collaborating with other labels. But the union of two influential creators to direct together a fashion house like Prada is a first. The surprising partnership was born out of mutual respect and friendship. Prada and Simons believe that their collaboration can bring back strong creativity into the fashion business. In addition, both designers expect to attract new generations of luxury shoppers.
"The Prada group has always been able to anticipate global changes in the global fashion sector, and we still demonstrate this today" explained CEO Patrizio Bertelli.
In conclusion, it will be very interesting to see such strong creators with different styles like Raf Simons and Prada together. For instance, how they will balance Miuccia Prada's maximalism with Simons' sleek minimalism. We're looking forward to seeing the result of this partnership.