Sneak Peek: Prada's costumes for Baz Luhrmann's Film Elvis 
'60s and '70s fashion.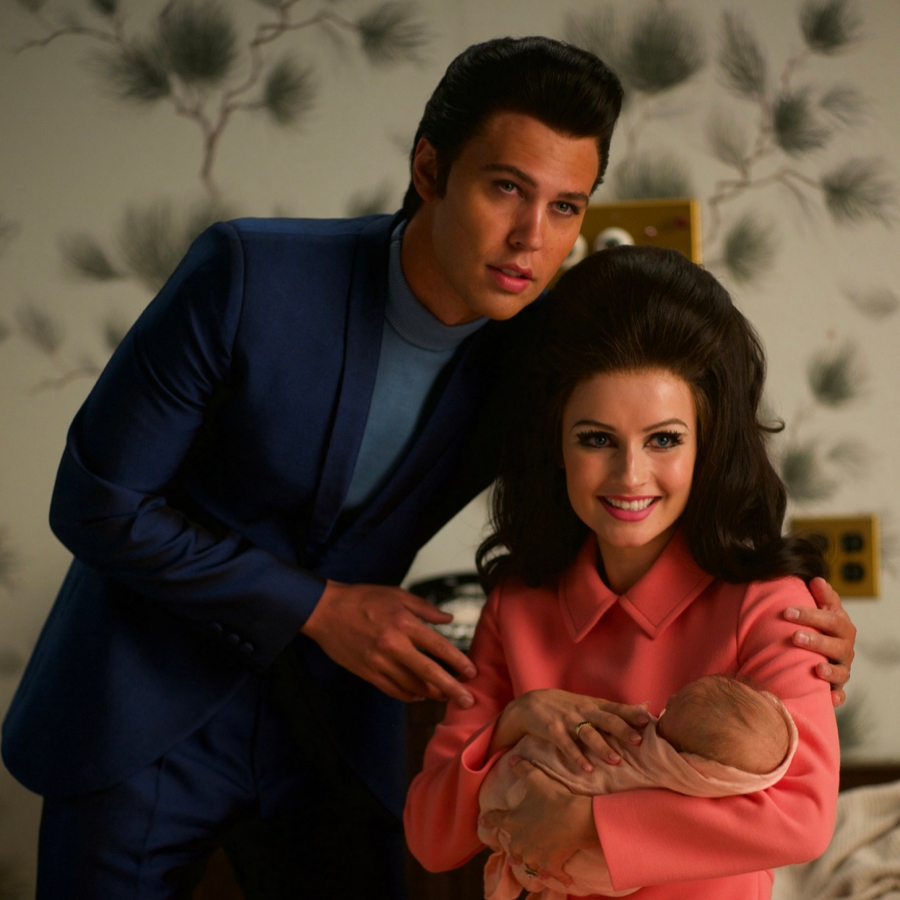 The highly-anticipated Baz Luhmann movie Elvis about the life of Elvis Presley and his wife, Priscilla, was presented at Cannes Film Festival, and you can have a sneak peek at Prada's fantastic costumes for the biopic here. The Italian fashion house Prada collaborated with Oscar-winning costume designer Catherine Martin to recreate Elvis and Priscilla's colourful outfits, a real treat for retro fashion lovers. They revisited Miu Miu and Prada's archives to costume design looks and outfits that celebrate Elvis and Priscilla Presley's iconic style and the historical fashion of an entire era. So, get ready to dive into the fashion world of the '60s and '70s. And expect plenty of fringes, crystal and sequin-embellished outfits from the King of Rock and Roll and Priscilla Presley.
Skirt suit à la Jackie O.
Very '60s, the retro skirt suit Priscilla wears in Elvis reminds us of the style icon Jackie Kennedy Onassis. This look is totally contemporary; we saw similar preppy ensembles on Dior, Moschino, and Michael Kors' S/S22 runways.
A cowboy belt adds an Elvis vibe to suiting
Although a timeless costume, Prada's plum wine mohair suit custom made for Elvis has a tight silhouette typical of the '70s. The suit distils the essence and style of the main character in Baz Luhmann's movie. Additionally, a statement belt adds a pop of colour. The Western belt with a bold turquoise-embellished buckle nods to Elvis' country boy roots and that era's spirit of Rock'n'roll.
Prada's '70s glamour overloaded in the movie Elvis
Priscilla wears a brocade pantsuit embellished with beads and fringes at the Elvis opening concert in Las Vegas. The über glamorous outfit represents the late '60s and '70s Zeitgeist. And it certainly goes hand-in-hand with our current 1920s trend and desire to celebrate life.
Flower Power meets Rock'n'Roll chick
The late '60s and '70s were revolutionary years that certainly changed fashion and the cultural landscape. Miu Miu and Prada have found inspiration in these eras throughout the years for their collections and for the costume design for Elvis. Pricilla Presley pairs a graphic flower printed dress with knee-high boots. As a result, this outfit is an excellent example of the fashion and desire for freedom of the time around Elvis.
Prada's take on the '50s preppy look
Prada costumes for Elvis also include a preppy sleeveless midi dress with a '50s silhouette. This retro bourgeois outfit looks fab for a cocktail or garden party.
Layering Priscilla Presley style
To create this look, Prada was inspired by the authentic tweed dress that Priscilla Presley layered over a mohair sweater. She wore it to the NBC Elvis special.
Elvis will be in cinemas worldwide from the 22nd of June. So, while we wait, why not start wearing outfits inspired by Prada's best looks for the movie?
Images courtesy of Prada and Warner Bross.