Prada Galleria Bag: Scarlett Johansson in a Vibrant Campaign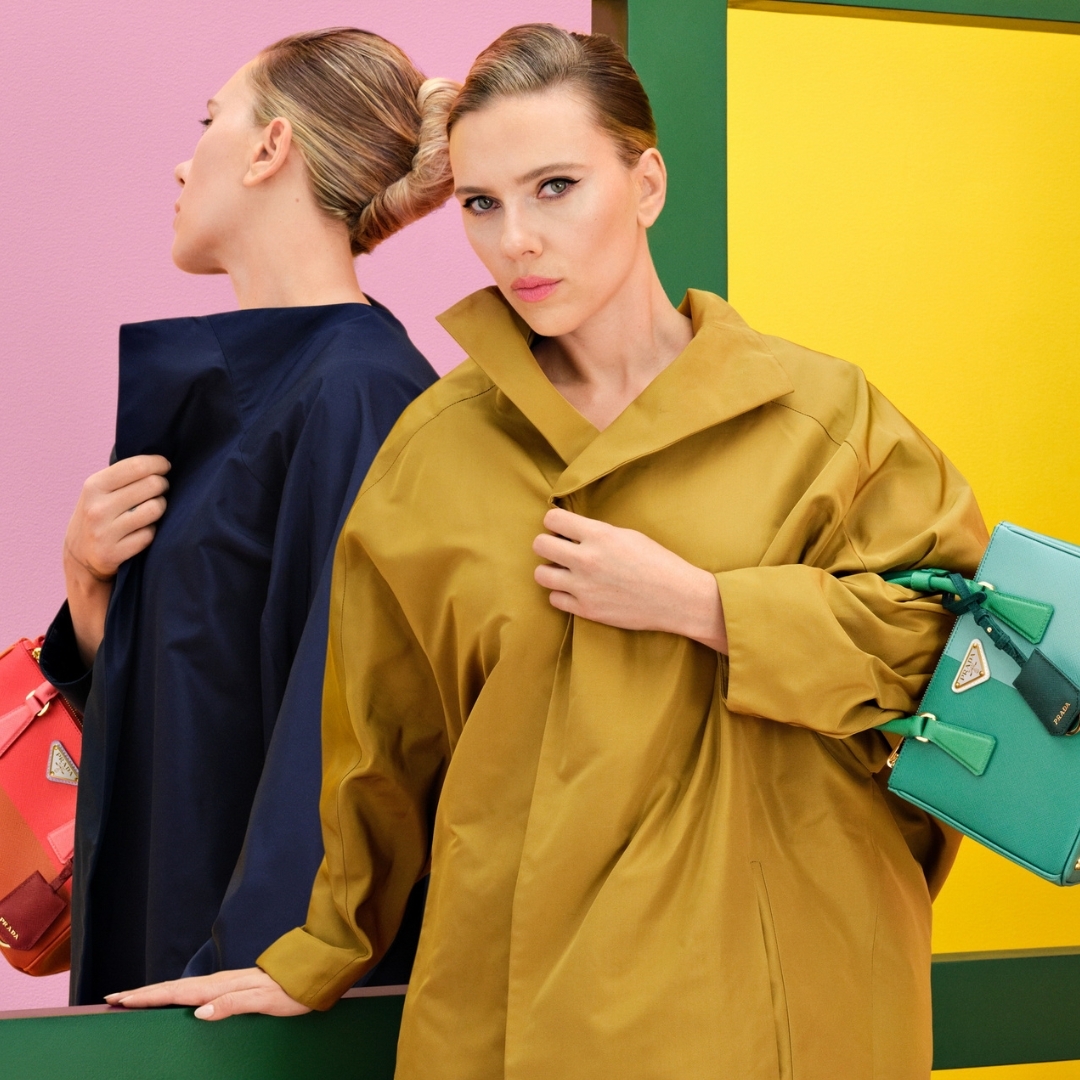 With an enchanting story, the iconic Prada Galleria Bag pays homage to the brand's heritage while remaining timeless in its design. With a unique combination of traditional craftsmanship and modern aesthetics, the bag has captured the hearts of fashion enthusiasts worldwide. Now, the Galleria Bag is being celebrated in a coloured campaign featuring the Tony and BAFTA award winner actress Scarlett Johansson.
The Prada Galleria Bag: Timeless Chic at its Finest
Named after the renowned Galleria Vittorio Emanuele II boutique, this bag is a testament to Prada's deep-rooted connection with the world of fashion. This Galleria in the heart of Milan is the place of the first Prada boutique in 1913. Stepping into the store feels like a journey through time, with its preserved historical elements and exquisite architectural details.
Where Tradition Meets Cutting-Edge Design
Picture this: a bag inspired by the cool medicine bags of the 1950s but reimagined with a modern twist. The Prada Galleria Bag is a true work of art, crafted from scratch and water-resistant Saffiano leather, boasting a distinctive crosshatched texture. Its hot-pressing process ensures sleekness and perfection, with every raw edge meticulously smoothed and hand-painted. This baby is a patented masterpiece created by the one and only Mario Prada.
A Nod to Prada's Illustrious Heritage
As the brilliant minds of Miuccia Prada and Raf Simons steer Prada into a new design era, the Galleria Bag stands tall as a tribute to the brand's awe-inspiring legacy. Imagine being appointed Official Supplier to the Italian Royal Household back in 1919! The Prada logo itself showcases this honour, featuring the majestic coat of arms of the House of Savoy and an oh-so-chic knotted rope motif. Each Galleria Bag, crafted in Prada's factory near Florence, embraces this rich heritage with style and grace.
The Exquisite Craftsmanship Behind the Magic
The creation of a Galleria Bag is a meticulous dance between industrial precision and delicate handwork. This marvel is composed of a staggering 83 individual pieces, each thoughtfully assembled with an artist's touch. The iconic gold-toned triangle-shaped Prada plaque? It's a labour of love, with each letter carefully affixed to the logo. This level of craftsmanship is pure fashion sorcery, blending artistry and perfection into one covetable masterpiece.
Unleashing the Glamour with Scarlett Johansson
Prada is turning up the heat with an unforgettable campaign starring the one and only Scarlett Johansson. This awarded actress, known for her mesmerizing performances, is taking the spotlight and showcasing the Galleria Bag in all its glory. And guess what? The campaign is a visual feast of vibrant colours, brought to life by the visionary Venezuelan American artist Alex Da Corte. It's the perfect fusion of high fashion, captivating art, and pure pop culture magic.
If You Know, You Know
If statement, heritage and quiet luxury belong to your daily vocabulary, the Prada Galleria Bag is for you. It is your ultimate ticket to timeless chic and contemporary allure. As you embark on your journey with this iconic accessory, take inspiration from the captivating campaign starring Scarlett Johansson. And answer quickly: what is your colour?
Images courtesy from Prada