#NotoriousOnTour: This is the mini skirt we're seeing in the streets of Paris 
Hello, spring!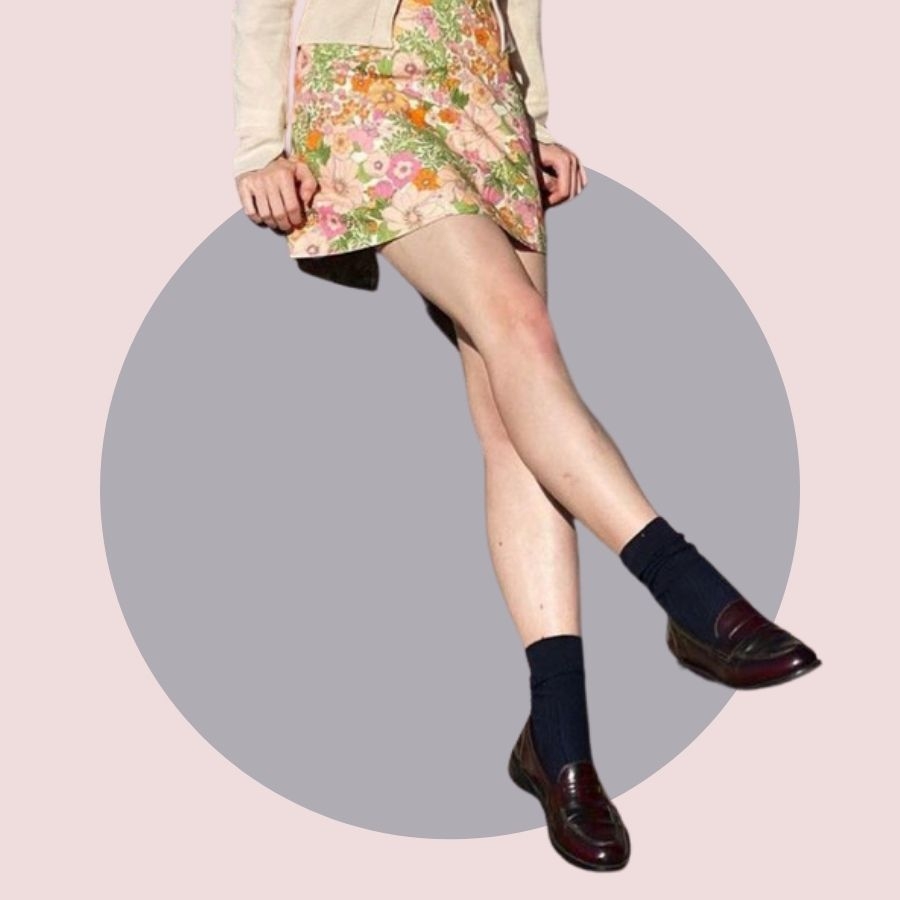 As soon as the weather starts getting warmer, we're all more than happy to put our winter clothes away and welcome springtime. So heavy coats go back to the wardrobe, and floral dresses and bright-coloured jackets are out again. And from what we're seeing in the streets of Paris, mini skirts are the must-have trend this spring, but not just any miniskirt, as the fashion-enthusiasts French girls have chosen one particular style to wear.
This comes as no surprise to us. One of the most popular trends from the Spring/Summer 22 runway shows during Fashion Week is the micro-skirt. For example, luxury fashion houses like Chanel, Fendi, Versace, Prada, and Miu Miu sent models down the catwalk in minimalist mini skirts similar to what we see now in Paris' street style.
Mini -ma non troppo- skirts
Certainly, fashion-savvy women know how to adapt the trends designers present on the runways in a manner that best suit their bodies. For this reason, stylish girls have taken the micro skirt trend with a grain of salt and are wearing this spring, minis that are little bit longer. In addition, the mini skirts that Mary Quant made popular in the '60s come in minimalist and a simple A-line silhouettes this season. And you can start wearing them now with tights and boots to keep you warm.
Paris's chic street style
Indeed, the mini skirts we're seeing in the streets of Paris are chicer and more flattering for us, mere mortals who are not part of the super model's Olympus. Nevertheless, model Justine Soranzo is a good inspiration on how to style the on-trend mini skirt with a retro-inspired cardigan and sheer tights, a perfect style trend for spring.
Hello, springtime!
Our favourite outfit for warmer days, so far, is the retro look the Parisian Camille Pidoux put together. To sum up, she choose a floral mini skirt in pastel colours, beige cardigan, and pussy-bow shirt to enjoy the sun in the streets of Paris. Finally, she completed her chic outfit with bourgeois loafers worn with socks in a preppy style Sofia Coppola would approve of indeed.
Dress like jane Birkin
Of course, the fashion icon and muse of the Birkin bag, Jane Birkin, is our number one inspiration for this Spring's must-have look. Certainly, the mini skirt, classic white shirt, flat ballerinas, coloured-lenses sunglasses, and straw bucket bag she wears in the classic movie The Swiming Pool are all trends as contemporary now as they were in the late '60s and '70s.
Our editors select independently all products featured on Notorious-mag. However, we may get a commission when you buy through our links.
Lastly, don't forget to pair your miniskirt with a classic trench coat, the best outweat for spring. And learn about the history of the iconic trench in our video below.
[fvplayer id="409″]