No-paid review: skincare and hair products we tested this month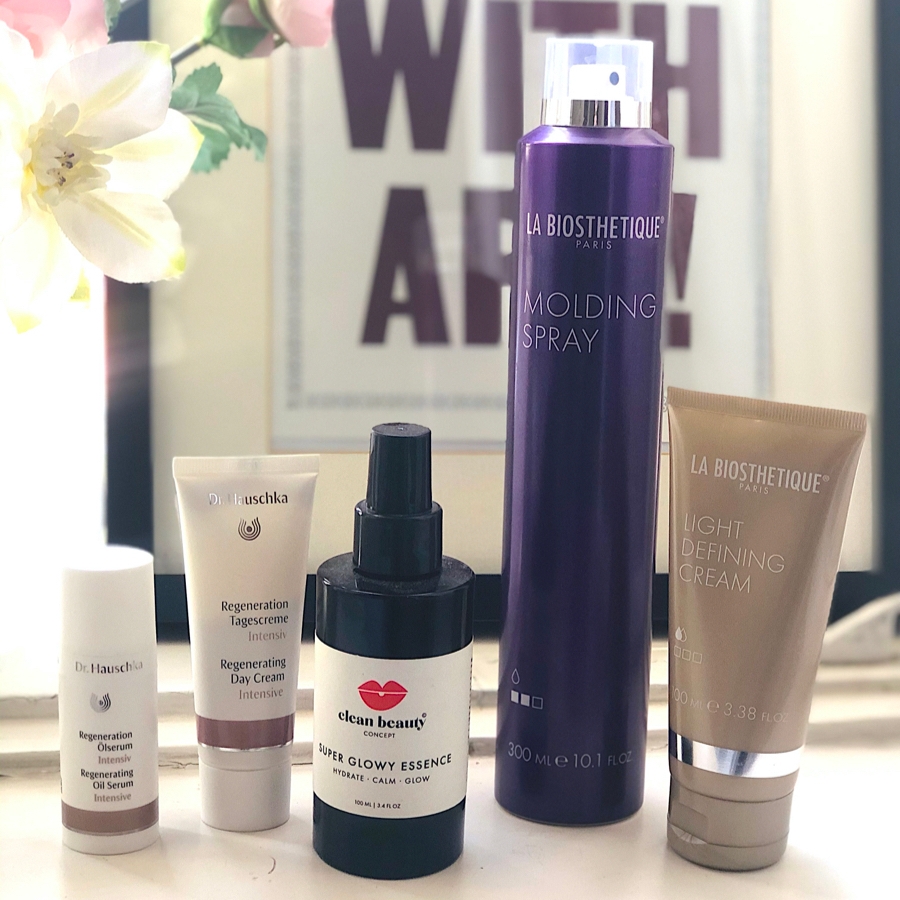 Like millions of people out there, I love watching youtube videos with skincare reviews, hair products reviews and, of course, tutorials. But not all of them are trustful opinions. Influencers and Youtubers have to make a life out of it, and their advertising contracts can dictate their views. Having said that, we want to make it clear that our article is a no-paid beauty review. 
For the last three months, we've tried 3 beauty products; 2 skincare and 1 hairstyling product for our reviews. We took the time to use them almost every day to give you authentic and careful feedback.
Regenerating Intensive from Dr Hauschka
Skincare duo Regenerating Intensive.
A German company founded in 1967, Dr Hauschka is 100% certified natural cosmetics. Although I am not 100% fond of natural cosmetics because I believe in sustainable science, I like Dr Hauschka's products. This year, they've launched a skincare line for mature and dehydrated skin called Regenerating Intensive; a duo of day cream and oil serum. I was thrilled to try these products since, according to skincare reviews, I am their target; mature and dry skin. Apart from that, I am launching a skincare cream for dry skin (wait and follow @viennaskincare), so I was curious. 
Here is my no-paid beauty review #1: The serum is a composition of blackthorn, almond oil and olive oil, and promises to firm and give elasticity to your skin. This oil serum also promises that your skin will feel silky smooth all day long. Well, it didn't work for me as day-treatment because my skin didn't absorb all the oil. It left an oily film on my face. On the other hand, I found the Regenerating Intensive serum perfect as a night treatment. The silky consistency is ideal for a face massage. And the delicious scent of the oils is very relaxing. 
Regenerating Intensive cream has a lighter consistency and a fresh scent. However, it's still difficult to be absorbed by the skin. Again, the day cream worked wonders as a night cream.  
Super Glowy Essence from Clean Beauty Concept 
Clean Beauty made in Austria.
Clean Beauty Concept is an Austrian-based cosmetic company founded by PR Natalie Herzlieb in collaboration with dermatologist Dr Hajnal Kiprov. 
All-natural, composed of a herbal mix of mallow, chamomile, St John's wort flower and sage, the Super Glowy Essence comes in a cute brown spray bottle. It promises Hydration, Calming and skin glowing. 
Here is my no-paid beauty review #2: When I started using this glowing water spray, it was high summer, so it was just perfect from time to time to spray it on my face when it was too hot. It was like being thirsty and drinking a glass of fresh water. Indeed, Super Glow Essence gave my skin some glow, but less than the tutorial videos on the website. And being 100% honest in my skincare review, after the product dries out, it leaves a somewhat sticky feeling. The good news is that this herbal water can be used over your makeup—a great product to carry in your bag in summer, in the office, or in the aeroplane. 
La Bioestetique Hair Styling
Hair products for total beauty.
Girls, this is a great brand. Founded in 1950 in Paris, it's been, for the last 50 years, in the hands of Siegfried Weiser and made in Germany. The founder's values, however, have remained untouchable; high quality, raw materials and intense research to achieve the "culture of total beauty". I've been using different products from La Bioestetique, such as makeup, perfume and hairstyling, and I am delighted. It's a brand that combines luxury with efficiency, very Deutsch. 
Here's the no-paid beauty review #3: I have curly hair, which is cut very short, à la garçonne. So, I need hair products to control my hair's nature and to style it in a sleek way. For that, I can positively suggest the Light Defining Cream. As the name says, it's for weightless and natural styling. It can be used for dry or humid hair, and the ingredients from wheat proteins protect the hair's structure.  
I've been wearing the Molding Spray too, actually, more often when my hair was longer. It's a finishing spray that promises to give your hair volume. And it just delivers the promise; my hair looked full and fancy styled for many days, which is kind of a miracle for curly hair. So these are, so far, the best of my hair product reviews. I recommend it 100%.  
Hope you liked the skincare and hair products reviews, and hope you follow @viennaskincare on Instagram to be the first to know when my wonderful healing cream will be on the market.