Our answer to Christian Louboutin and feminists 
About high heels.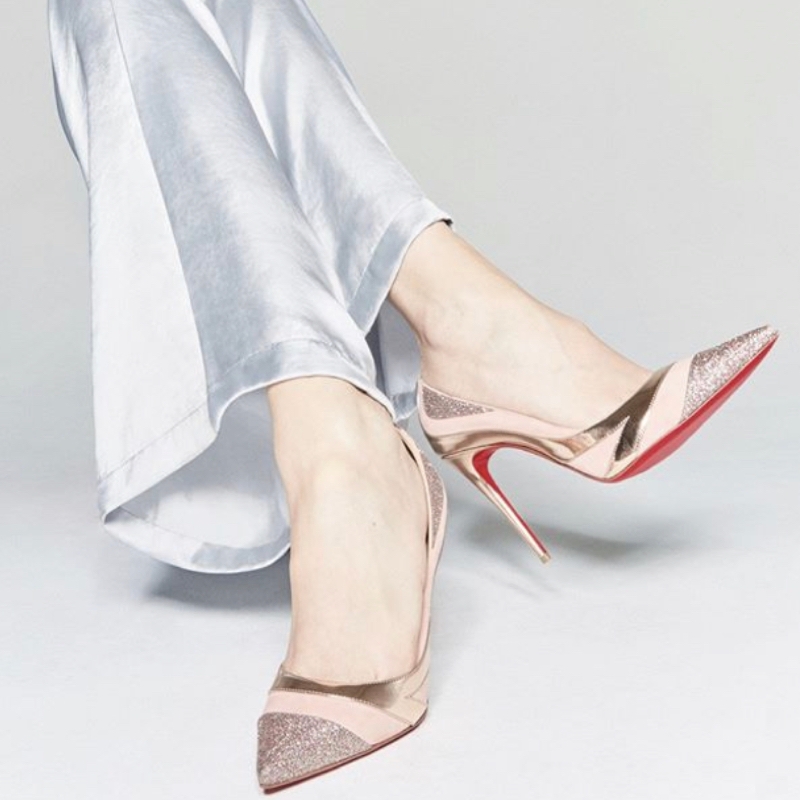 Christian Louboutin came to the defence of high heels a few days ago, after feminists declared that high heeled shoes oppressed women. This statement has caused mayhem among women and shoe-lovers. As expected, it has stirred up a discussion that's been around for a while now. 
Christian Louboutin's opinion
Shoe king Christian Louboutin says high heels can free women, allowing them to "break free of crushing norms". On the other hand, Louboutin admits that he doesn't think about comfort when he designs his famous red-soled stilettos. He explains, "No shoe with a 12cm heel is comfortable… but people do not come to me looking for a pair of slippers". He adds, "I don't want people to look at my shoes and say: 'They look really comfortable!' The important thing is that people say: 'Wow, they're beautiful!"
Also, when asked about what men found the most attractive about high heels, his answer was quite surprising. The French shoe designer said that it was the fact that the heeled shoes slow women down hence giving men more time to look at them. That alone seems already like perfect ammunition for feminists. These women say shoes have been used to immobilise them since foot binding in Imperial China; hence they represent female oppression.
When and why did women start wearing high heels
What feminists seem to forget is that men were the first to wear heels. Persian soldiers wore them to ride horses in the 10th century. Later, men were the only ones in heels in Europe until the mid-17th century. Funnily enough, women first started adopting high-heeled shoes to appear taller than man and more masculine. This would explain why we usually feel more powerful in heels. 
My choice
I choose to wear flat shoes to go to work. First of all, because I live in Vienna, a city where everything is at walking distance, so I don't need a car. Secondly, because I usually run late and, obviously, I walk faster in flats. And finally, because I am quite tall and don't feel the need to add extra centimetres to my height. Having said that, I must add that when I do wear high heels, I feel empowered and sexier. Like most women on earth, I just love beautiful high heeled shoes.
Can stilettos be comfortable?
Another point to be made is that not all flat shoes are comfortable. In fact, I've owned a few pairs that hurt my feet to the point I had to give them away. On the other hand, Carrie Bradshaw and I have killer heels from Manolo Blahnik that are wonderfully comfortable. I can wear all day my Manolos or my pair of Chanel pumps with no discomfort at all. In other words, it is possible to create fabulous stilettos that women can actually wear without suffering.
Louboutin has been famous since the '90s when Princess Caroline of Monaco wore one of his firsts designs. Even so, we feel maybe it's time the designer started paying attention to what the competition is doing. Manolo Blahnik, for example, is the number one choice of Hollywood stars who have to stand for long hours at red carpet events. This is because they know his pumps are incredibly comfortable.
If you want to know more about Christian Louboutin, you can visit until the 28th July "The Exhibitionist", a retrospective of his 30-year career has just opened in Paris, at the Palais de la Porte Dorée.
Photos via Louboutinworld