Notorious Women #1: Sabine Wiedenhofer at Galerie Kovacek 
If Walls Could Talk.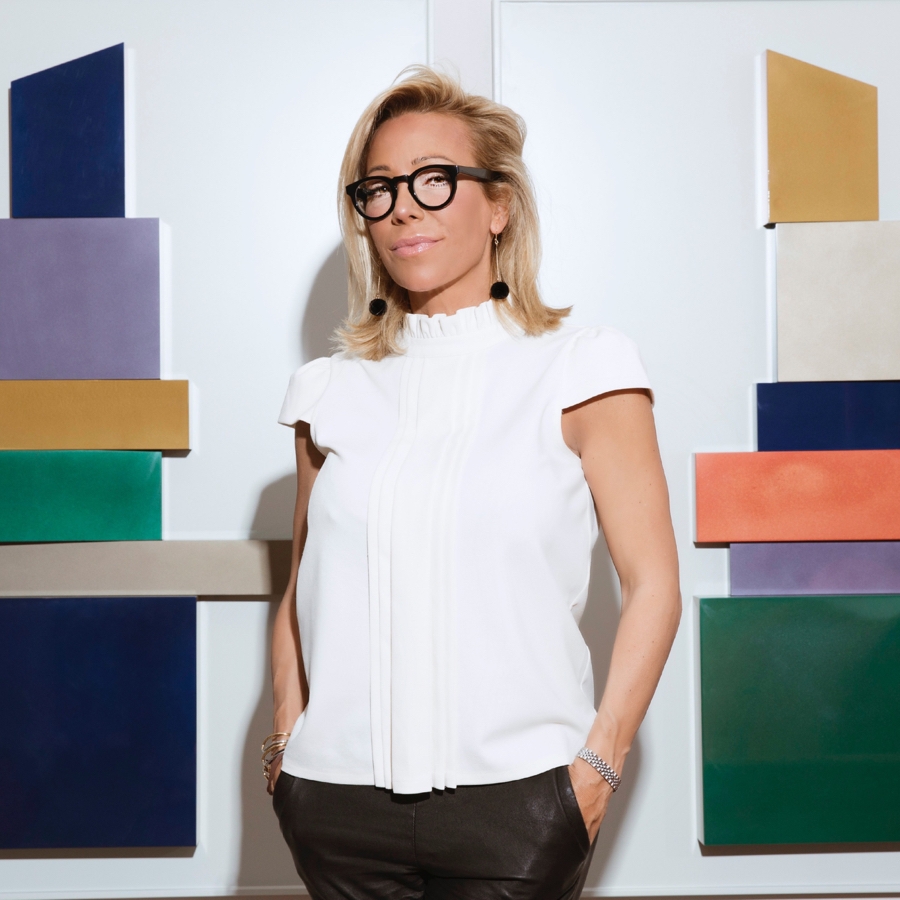 Welcome to our first article from the series Notorious Women, that will bring you, once a month, the profile of extraordinary women from all walks of life. We are honoured to start Notorious Women with Austrian artist Sabine Wiedenhofer, who is exhibiting her latest work, "If Walls Could Talk", at Galerie Kovacek contemporary.
Sabine Wiedenhofer in a brushstroke
Sabine Johanna Wiedenhofer was Born in Vienna in 1974. She is one of the most outstanding and important representatives of contemporary art and has made a name for herself well beyond the Austrian art scene.
Like a Renaissance woman, Sabine Wiedenhofer masters different techniques. She is a painter and designer who combines computer technology with a brush. Additionally, she switches between canvases, furniture, fabrics and glass, exploring and crossing the boundaries of art in everything, as you can see at the Galerie Kovacek exhibition.
Sabine Wiedenhofer and "If walls could talk"
Austria exudes culture. From the Empire, through the woke Secession period, to nowadays, Austrians have produced and consumed art like no other. And people who respect and preserve their culture can state, with no doubt, that art is the greatest witness of a country's history.
In the art project currently showing at Galerie Kovacek, "If walls could talk", Sabine Wiedenhofer uses photography. Through her photos, she unites people who have something to say with buildings steeped in history. In doing so, the artist allows the past, present and future to merge.
When Sabine Wiedenhofer photographs the screenwriter, director and actor Paulus Manker in the very room in which the Austrian State Treaty was signed, the viewer becomes aware of how closely Austria's freedom is linked to the freedom of art.
Art historian and museum director Agnes Husslein-Arco can be seen in the former headquarters of Veitscher Magnesitwerke AG, which was founded in 1899 and today, houses one of the most magnificent hotels on Vienna's Ringstrasse.
Sabine Wiedenhofer also photographed actresses Katja Riemann, Hilde Dalik, Nicole Beutler and Edita Malovčić were also photographed for the series displayed at Galerie Kovacek.
What Sabine Widenhofer told us
1 – How and when did you have the idea for your current exhibition "If Walls Could Talk"?
Sabine Wiedenhofer – In summer 2019, I was invited by the luxury Hotel Imperial for my latest Artist in Residence Project. Going through the amazing historical archive, I was wondering what these walls might have heard and seen in all these years. So many amazing artists and actors visited that world-famous Hotel. For Oskar Kokoschka, Alma Mahler, Charlie Chaplin, Hedi Lemar and so many other famous people, the Hotel Imperial was their extended living and sleeping room. Prominent people felt at home behind these old walls.
My Project  "If Walls Could Talk" was born and since then, I've been working with a lot of historical houses like the Hotel Sacher, the Belvedere, the Opera, the Grand Ferdinand Hotel, and even privately-owned Villas from the past Century. 
2- For this exhibition at Galerie Kuvacek, you shot more women than men. Is the art scene in Austria living a gender flip?
S. W. – This is what I am actually hoping tho. Females are ruling on many sectors more than ever, we've now got the mind, the unstoppable power and the heart united. Women, especially female artists, stood way too long in the second row.
3- How did you choose the people in "If Walls Could Talk"?
S. W. – I am working with actors, artists and economic personalities,  people who leave their footprints, especially in the charitable sector. For example, I portraited the German actress Katja Riemann at the Berliner Kammergericht. Hundreds of innocent people were fated to die in that court because of Roland Freisler in 1945! I asked Katja because of her human rights activities; she is an honorary citizen of Berlin and supports Amnesty International, Caritas, MSF etc. She never holds back and speaks out loud in her new book "Jeder hat, Niemand darf!"
I also shot Ursula Simacek, who runs a facility management company with 8000 employees from 40 different kinds of nations, in 6 counties. Ursula works with refugees and supports many non-profit organisations like Doctors Without Borders. So do Nicole Beutler or Hilde Dalik, who works for the Diakonie Austria, an organisation that helps to integrate young refugees with art projects like "Romeo & Juliet".
In my opinion, these people leave their footprints. Besides their artistic nature, I share one important thing with them; WE have to learn from the past and make things better!
4- What walls would say about March 2020 when we experienced for the 1st time the lockdown because of the pandemic? 
S. W. – Our Planet, our system, we are fragile. The pandemic showed us the domino effect all over the world. Each and every human has a story to tell.
Many might say it was a peaceful break from the daily well-known life. Others were happy to leave all the distractions behind. Many will talk about the feeling of being locked down as a person, separated from beloved ones. Several got pregnant during the lockdown, and separated couples found their way back together. It was or is the time of self-confrontation, and this might be not such a fun experience if you don't love yourself.
For me it was a very peaceful and welcome experience. 
5- Why we need art in times of crises? 
S. W. – Artists all over the world have one thing in common, they show the things behind the scenes, everything which is hidden between the lines! 
Art gives us peace, happiness and makes life more colourful! It touches our hearts and souls. Art outlives the artists and remains on earth, doing its job for generations and generations. And it makes us think.
6-  Between four walls, what would Sabine Wiedenhofer say to a young woman starting a career as an artist in Austria? 
S. W. – As President Reagan once said in front of Brandenburger Tor in Berlin: "Tear down this wall! And all the others around you!" 
Don't miss the "If Walls Could Talk" exhibition at Gallery Kovacek Contemporary. From 19 to 31st October 2020. Spiegelgasse 12, 1010 Wien
But we aren't done yet.
We asked Galerie Kovacek contemporary to give us tips on how to start an art collection. According to Galerie Kovacek, there are several advantages to collecting art.
Why start an art collection
1 – Stability
On the one hand, it is noticeable that, especially in times of crisis, people invest their money in fixed values ​​such as real estate, securities, but also art. These are more stable in value and are not or to a lesser extent subject to the often unpredictable fluctuations of conventional investments. Art is also immune to inflation, which also speaks in favour of investing in uncertain times. So much for the financial motivation to start an art collection.
2 – Aesthetic and art
On the other hand, there are aesthetic, art-loving reasons. Art makes us happy, makes us think, and makes life colourful and worth living. There is hardly any other investment that can be enjoyed every day and that remains so stable in value. Art does not wear out; it does not get any signs of use. Art pieces can be used and "consumed" every day without their value being reduced. On the contrary: if you bet on the right horse or invest wisely, the value can increase nicely over the years.
3 – Appreciation
Art collectors surround themselves with beautiful things that are stable in value even when they don't increase. So these people are not primarily concerned with maximizing profits. However, appreciation is of course a welcome side effect. For conventional investors, returns are more important; Real estate is not used, the gold bars are in the depot. But art should be viewed, and art collectors often lend their objects to museums or other institutions.
How to start an art collection
1 – Interest
When talking to art collectors, one often observes that, at the beginning of a collection, there is an interest in a certain art genre, time or a thematic field. With interest, you begin to deal with the topic in more detail; you get information and accumulate an enormous amount of knowledge in the course of your collector's career. Often, collectors are proven experts in their fields, often simply through "learning by doing", i.e. H. without having been scientifically active in this area.
2 – Information
If you want to set up a collection or invest a little money in art, think about what appeals to you. Aesthetically, which art direction or genre you are interested in and what you can get excited about. Then you should inform yourself about the market. In the case of contemporary art, you should find out who is "on the rise" at the moment. Because in modern art, in particular, there are trends that can be an advantage to recognize early on.
3 – Art dealer
The next step is then to contact an art trader. The art dealer can advise and accompany an art collector over the years and decades in fruitful cooperation.