Notorious talked with Michael Michalsky 
At Vienna Awards for Fashion and Lifestyle.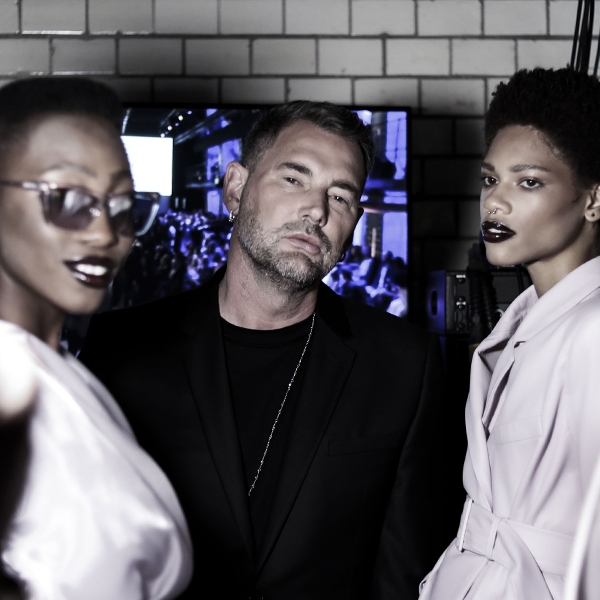 The annual event "Vienna Awards for Fashion and Lifestyle" awarded German star designer Michael Michalsky with the "21st Century Style Award". So Notorious took the occasion to interview Michael Michalsky. The German fashion designer became vastly popular with the TV series The Next German Top Model. However, before his TV success, Michalsky was already an established designer as Adidas Creative director. And apart from his eponymous brand, Michael Michalsky is since 2005 MCM luxury bags' creative director.
The jury of the "Vienna Awards for Fashion & Lifestyle" decided to confer you the "21st Century Style Award" during the 10th-anniversary event. How do you feel about coming to Vienna to grab your award?
I feel honoured to receive the 21st Century Style Award. It is a recognition of my constant effort to establish my own style beyond the realms of fashion. Also, I am quite excited to be in Vienna again; I love this city.
Great to hear that you love it, but sometimes Vienna is said to be a slow city, especially when it comes to fashion.
I don't feel Vienna is a slow city at all. There is a fantastic music scene, take Kruder & Dorfmeister, for instance. When it comes to fashion, what I like about Vienna's style is that people value tasteful clothing, and they make more of an effort to look their best.
And I will always be grateful to Vienna for having produced one of my all-time heroes of fashion: Helmut Lang!
When did you become aware of your interest in fashion design, and which steps did you take?
I have been interested in fashion for as long as I can remember. Having always liked to dress up, even before primary school, I knew early on that I would become a designer one day. To pursue my dream, I later enrolled at the London College of Fashion, which paved the way to where I stand today.
Besides being a student, you earned your living as a bouncer. How come, and do you have a crazy story to tell?
Living in London, I loved my job as a bouncer. Selecting the audience for a club, finding the right mix of people, is crucial to shaping the club's atmosphere. Of course, people would do the oddest things to get in. Once, I remember, there was this girl. She tried so hard to get my attention that she started performing a striptease. Well, she didn't know I wouldn't be interested. (laughs)
Thanks for that 🙂 
After your studies, you took a big step and continued your career as head designer at Levi's Germany and, later on, at Adidas. Now, as an independent designer, your creations appear less sporty but more fashionable. Did you miss that aspect in the past jobs and therefore you express it now?
If you look back on all the collections I have designed so far; you will always find some sportswear elements. I pair all my looks with my sneaker designs, and my latest ATELIER MICHALSKY S/S 2019 was inspired by boxing.
@Michael Michalsky SS20
If you could change something in fashion, what would it be?
I would definitely slow down its pace. Fast fashion keeps you from actually enjoying and appreciating the styles you buy, as there will be something new again next week, and then again the week after that.
The question about sustainability, the other way round: If people start to buy less and wear the collections longer, how will this influence your sales, and how will you deal with it then?
The common misconception is that sustainability and profitability are mutually exclusive. In the long run, it pays off to consider quality before quantity. My designs are hand-made in Berlin, using only high-quality materials, and are therefore more expensive. My customers appreciate the fact that I create timeless pieces that last a long time.
As a designer who stands in the spotlight, what's your favourite spot in Berlin to take a break?
My bed! (laughs)
What is your favourite fashion piece in your wardrobe?
Even though I love every single item in my wardrobe, I would have to say my sneakers. It's all about sneakers with me — definitely my signature item.
What is the biggest fashion sin you have ever seen?
There has been a lot of them! There is one woman I particularly remember. She looked very fashionable in Chanel, Off-White sneakers paired with a beautiful cashmere coat. What a stylish woman! But then she had to ruin it with a pair of cookie-cutter glasses my grandfather could have worn.
You create fashion, bags, shoes, perfumes, interior, and you wrote a book. What else could Michael Michalsky dream of?
There are so many different aspects of design and style I still wish to explore. But opening a MICHALSKY department store that offers a wide range of products for your everyday life, that would probably be my biggest dream.
Any other plans in Vienna, besides going to the Awards? Maybe we can recommend a Schnitzel Place, assuming you do eat Schnitzel 😉
Well, then I would say "give me a call later"… (laughs)
We will 🙂
The Vienna Awards for Fashion & Lifestyle is taking place on November 6th at Weltmuseum Wien.

Photos courtesy @MichaelMichalsky