New dramedy: Lily Collins stars on Netflix Emily in Paris 
From Sex in the City creator.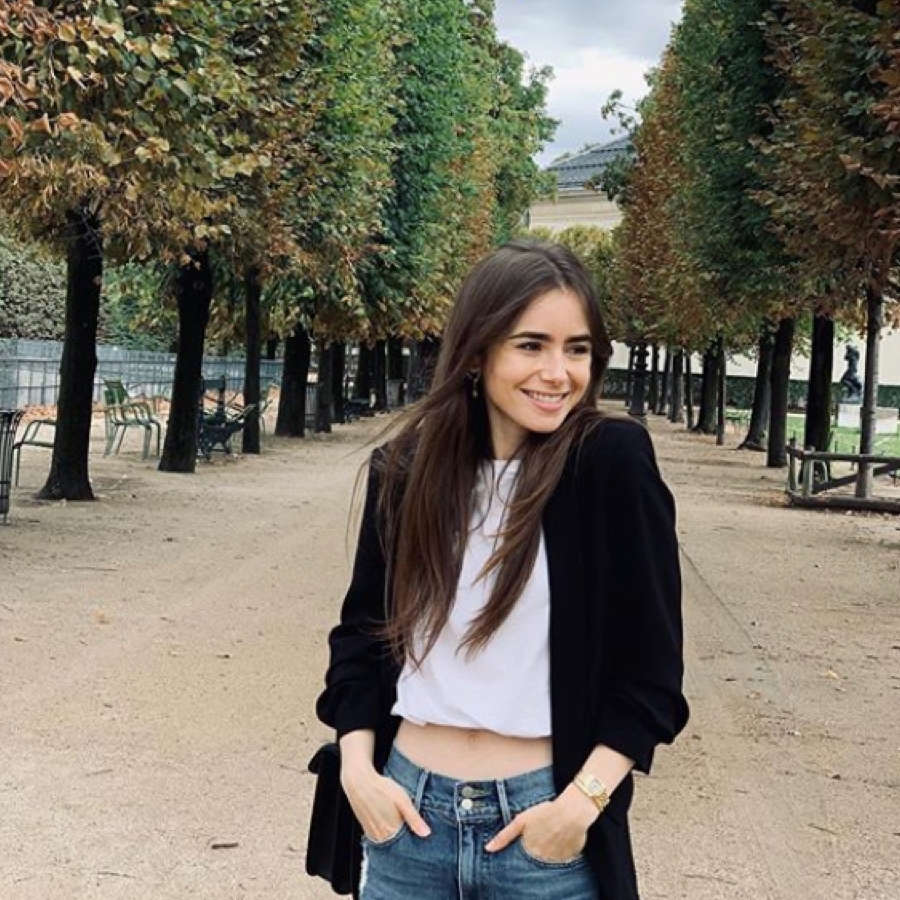 Good news for all those who miss Carrie Bradshaw and her fabulous outfits and Manolos in Sex and the City; the new dramedy with British-American actress Lily Collins, Emily in Paris, will give us our daily fix of fashionable women-led romantic comedies.
The daughter of musician Phil Collins will star in the upcoming TV series from Darren Star, the creator of Sex in The City, Beverly Hills 90210, Melrose Place and Younger. With such an impressive curriculum filled with TV hits, you can be sure that Emily in Paris will be another addictive Netflix series you won't be able to stop watching! 
Why is Emily in Paris?
The dramedy with Lily Collins on Netflix follows the adventures – and misadventures – of a twenty-something marketing executive. The young American moves from her native Chicago to Paris after landing her dream job. Her task is to revamp the social media of a French luxury marketing firm that her company acquires.
As you can imagine, her move won't be exactly smooth. To begin with, Emily doesn't speak any French, and as we know, French people aren't big fans of Americans. So you can expect to see fun cultural clashes and many faux pas of the character of Lily Collins on Netflix. Making friends and winning over her colleagues in the French company are big challenges for Emily, especially because she has strong opinions about how to do things. Naturally, she will find out that the American way isn't always the best. And being a romantic comedy, of course, Emily falls in love in Paris. She will need to learn how to navigate international romances.
What does Emilie wear in Paris?
We couldn't hope to see better costume designers dress Lily Collins on Netflix! Marylin Fitoussi and Patricia Field are the costume designers responsible for the wardrobe of the series perfect for fashion lovers. As you might remember, Field famously worked in The Devil Wears Prada and Sex in the City. Peris Costumes collaborates in this project, and we loved the super stylish outfits we've seen so far in the photos of the newest Netflix series 2020.
Who is in Paris with Emilie?
Besides the star of Mirror, Mirror and To the Bone, the cast of Emily in Paris includes international actors. The French characters are played by Philippine Leroy Beaulieu, Lucas Bravo, Samuel Arnold, Camille Razat, and Bruno Gouery. Additionally, Ashley Park, Arnaud Viard and William Abadie appear in the Netflix series. And Grey's Anatomy Kate Walsh plays Emily's Chicago-based mentor.
When can we see Lily Collins on Netflix?
The 10 episode-show still doesn't have a fixed date to premiere, but it should hit Netflix this Fall. Star is not only the creator but also the writer and executive producer of the show. She says "MTV Studios and I couldn't hope for a more perfect home for Emily In Paris than Netflix". And then adds, "With their international reach, we are excited to share Emily with audiences around the world". We too, are excited and can't wait to watch Emily in Paris with the cute and talented Lily Collins on Netflix!
Photos courtesy of Netflix and via @lilycollins