Miuccia Prada and Raf Simons want to hear your opinion 
What do you think?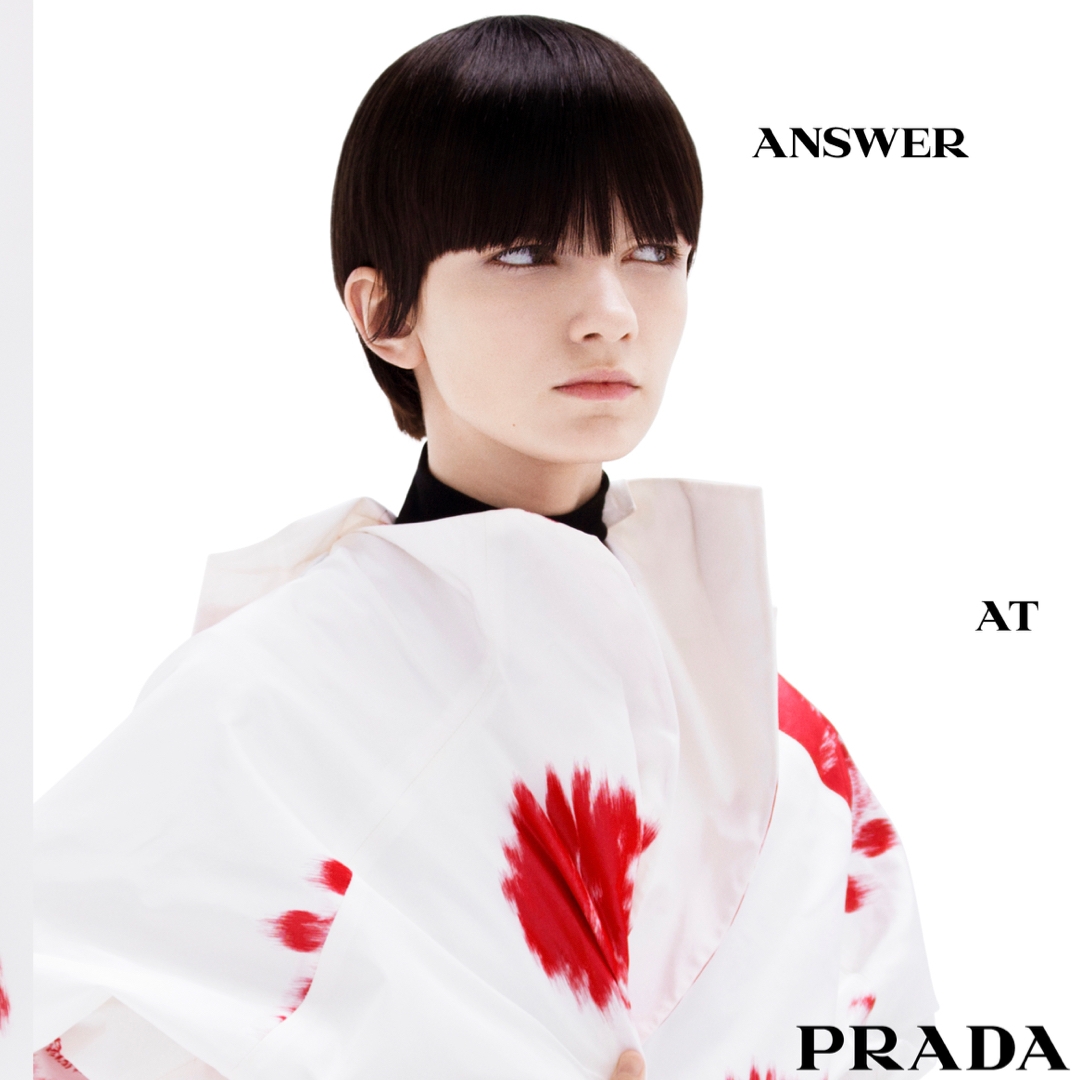 Miuccia Prada and Raf Simons want to hear your opinion in the first joint campaign for Prada showing their debut  SS21 collection, co-designed by both creative directors.
With Prada's new advertisement campaign, Miuccia Prada and Raf Simons want to open a dialogue with the public and know your opinion. That is because the campaign features a series of questions on various matters. Prada asks the viewer to answer on its website, and your answer will become part of the campaign.
Prada and technology in its latest campaign
Miuccia Prada and Raf Simons stated that "contemporary life is shaped by technology." And they created the spring campaign in tune with our digital era. The artistic director Ferdinando Verderi chose to use technology instead of a star photographer. Verderi placed hundreds of cameras around the models to show Prada SS21 collection from different angles. Certainly, the same approach of the videos Miuccia Prada and Raf Simons presented to showcase their first joint collection from an empty room with several cameras hanging from the ceiling. The Austrian Elisa Hofer is among the models for this campaign. The stunning Tyrolian model is the new face of Prada.
Contemporary life is shaped by technology. It has radically redefined our perspective on ourselves, and through that our collective perspective, on humanity.

Miuccia Prada and Raf Simons
The questions Prada wants you to answer
Each image of Prada SS21 campaign comes with a close-up shot of the model and a detail of her look. On the white background, Prada asks a question to know what you think. "The questions themselves meditate on these subjects: perceptions of self, views on technology, ideas of humanity – diversity, inclusivity, sustainability," explained Miuccia Prada and Raf Simons in a statement. Prada asks questions such as "Should we slow down or speed up?", "Is future a romantic idea for you?", "How is unique different from new?"
The reaction to Miuccia Prada and Raf Simons first joint campaign
The public has received Prada SS21 campaign with mixed feelings and started a debate. Many feel it lacks the beauty of the previous Resort campaign shot by Steven Meisel, and they miss the fun of Prada. Some say the campaign is pretentious and blame Raf Simons of using fake intellectualism. One viewer answered to Miuccia Prada and Raf Simons question "Is consensus boring?" by sating "Not as boring as this campaign so far…"
As usual, internet users didn't waste time to react to Prada's new campaign. Fashion lovers starting posting on Twitter a series of memes with hilarious questions in the same format as the campaign. The user @iolsi asked, "If you're waiting for a waiter, does that make you the waiter? Answer at Prada.com". "If tomatoes are a fruit then isn't ketchup a smoothie? Answer at Prada.com", posted @MaxKilworth.
But whatever might be your opinion about the first joint campaign of Miuccia Prada and Raf Simons, the co-directors of Prada have certainly managed to engage the public. Either thought-provoking or pretentious, the campaign has sparked conversations and drawn attention to the Italian luxury fashion label, which, at the end of the day, is the primary intention of any add campaign. 
Photos courtesy of Prada