Lucy Boynton has one of the best styles ever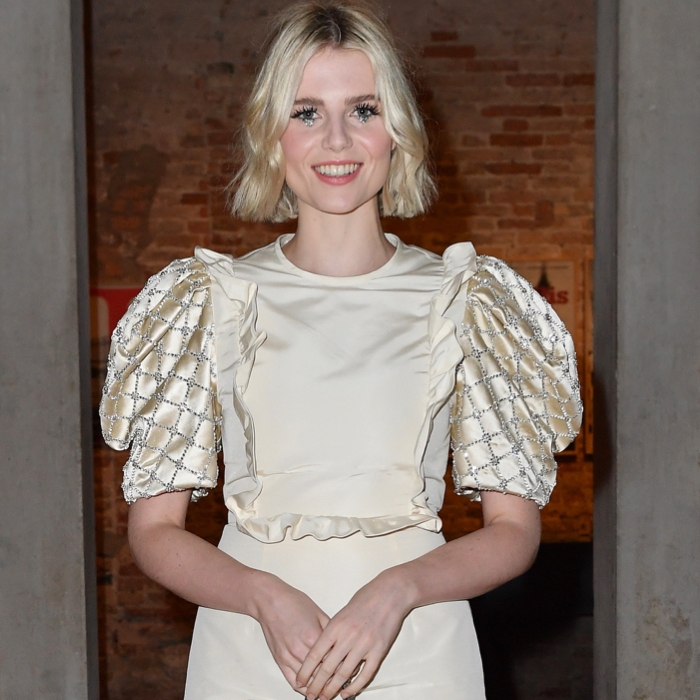 Photo courtesy of Miu Miu – Getty Image
If you ask me which actress has one of the best style ever, the name Lucy Boynton comes very first.  Every time I see her, I think that's the best she's ever looked. But then Lucy Boynton comes and out-does herself with her next look even more fabulous than the one before. Her style is unique and very distinctive. You see that in the way she wears lady-like dresses, with a  vintage feel but she manages always to look modern and fresh.
Lucy Boynton is in "The Politician"
The American-British actress is starring the Netflix series "The Politician", alongside Ben Platt, Jessica Lange and Gwyneth Paltrow. The brilliant series is about a high school students facing the political challenges of their school president election. Also in "The Politician", Lucy's style catches all the attention.
Boynton's career
The first movie of the 25-year-old actress was "Miss Potter" in 2006, where she appeared as the young writer Beatrix Potter.  But she became best known after playing Mary, the first love and life-long friend of Freddie Mercury in "Bohemian Rhapsody".  And it was during the shooting of the Oscar-Awarded film that she met her co-star and now boyfriend, Rami Malek.
Next, Lucy Boynton will play Marianne Faithfull in a film about the singer's life, and it is said that Boynton will also be the executive producer for the biopic.
Lucy Boynton Style
Her choice of couture florals and mini dresses paired with flats and Mary Janes are always on-point. And her look is meticulously finished with the unique her makeup style. The colourful eyeshadows the pretty actress usually wears gives a twist to her romantic gowns. She looks like a healthy version of Harley Quinn from the Suicide Squad.
Behind her beauty statement is the makeup artist, Jo Baker, who creates the experimental looks using glitter, bold colours and fairytale-like eyelashes with Swarovski crystals.  Behind her style is Leith Clark,  responsible for helping her choose the ethereal gowns and retro mini dresses we can't get enough.
Although quite young, Lucy Boynton has already found her own style, and her looks are so refreshing, especially in Hollywood's red carpet events, where some actresses seem to compete over who's showing more cleavage and legs.
Here are some of our favourite outfits:
I bet now, you too can't wait to see what she's wearing next!
SS