Lila Moss, Kate Moss' daughter, follows her mother's footsteps 
Miu Miu show SS21.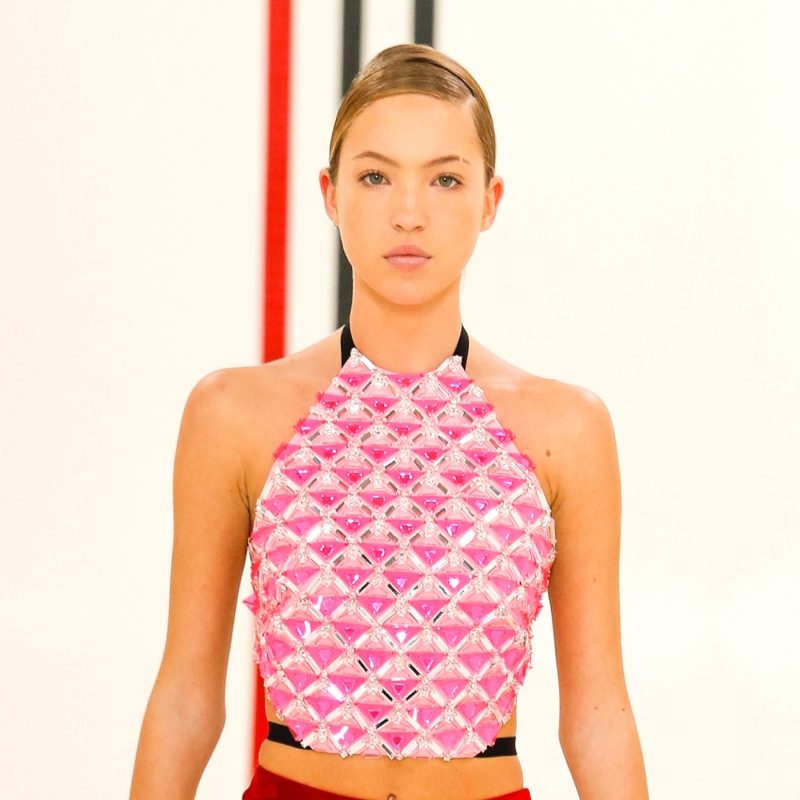 Opening Miu Miu SS21 show during Paris Fashion Week, Kate Moss' daughter, Lila Moss, is following the footsteps of her mother. With her runway debut for Miu Miu, Lila Moss is making a name for herself in the fashion world.
Both mother and daughter made their runway debuts at 18 and during Paris Fashion Week; Kate Moss walked for Dolce & Gabbana in 1992, and Lila Moss, for Miu Miu.
Lila Moss at Miu Miu SS21
Because of the coronavirus pandemic, Miu Miu SS21 was a virtual show staged on a stadium-like runway. On its walls; digital screens showing the virtual A-list guests watching the runway show hence becoming part of the show itself. Since the apple doesn't fall far from the tree, Kate Moss' daughter debuted at Miu Miu like a pro. The English Rose beauty walked down the catwalk as if she had done it forever. She opened the fashion show in an oversized jacket layered over a blue collared shirt, a black mini skirt embellished with rhinestones, bejewelled pink mules and handbag. Lila Moss then wore a cute baby blue dress with a big yellow bow on the waist. Her last look was a pink halter-neck top made of metal mesh, paired with a shimmering orange mini. 
How Kate Moss' daughter became a model
In 2017, Kate Moss' daughter got her first modelling gig. At only 14, Lila Grace Moss Hack appeared in the ad campaign of a British hair brand, Braid Bar, with her BFF, Stella Jones, the daughter of rock legend Mick Jones, of The Clash. By the way, Kate Moss' daughter started her modelling career at the exact same age her mother had when she was discovered by Sarah Doukas, the founder of Storm Model.
At 16, she became the face of Marc Jacobs Beauty. As a close friend of Kate Moss, Marc Jacobs said that the campaign "felt a bit like an intersection of my personal and professional life coming full circle." Interestingly, a few years ago, the first campaign of Kaia Gerber, the daughter of supermodel Cindy Crawford, was also for Marc Jacobs Beauty.
A family affair
Needless to say that Lila Moss signed with her mother's Kate Moss Agency. As her manager, Kate Moss says "I will support her, obviously. I'll support her in anything she wants to do." In 2018, Kate Moss' daughter appeared on the cover of Dazed Magazine, which was co-founded by her father, Jefferson Hack.
Additionally, before her runway debut at Paris Fashion Week SS 2021, Lila Moss had already been shot by Kate Moss' boyfriend, the photographer Nikolai von Bismarck. He photographed her at their home, for Miu Miu F/W 2020 fashion campaign. You can read more about it and see the photos of the campaign in Miu Miu Fall 2020 takes us to a glamorous bygone era.
You may also want to see our video with the highlights of Milan Fashion Week SS21.
[fvplayer id="58″]
Title photo courtesy of Miu Miu