Style tricks: the dos and don'ts for petite women 
Notorious' hacks.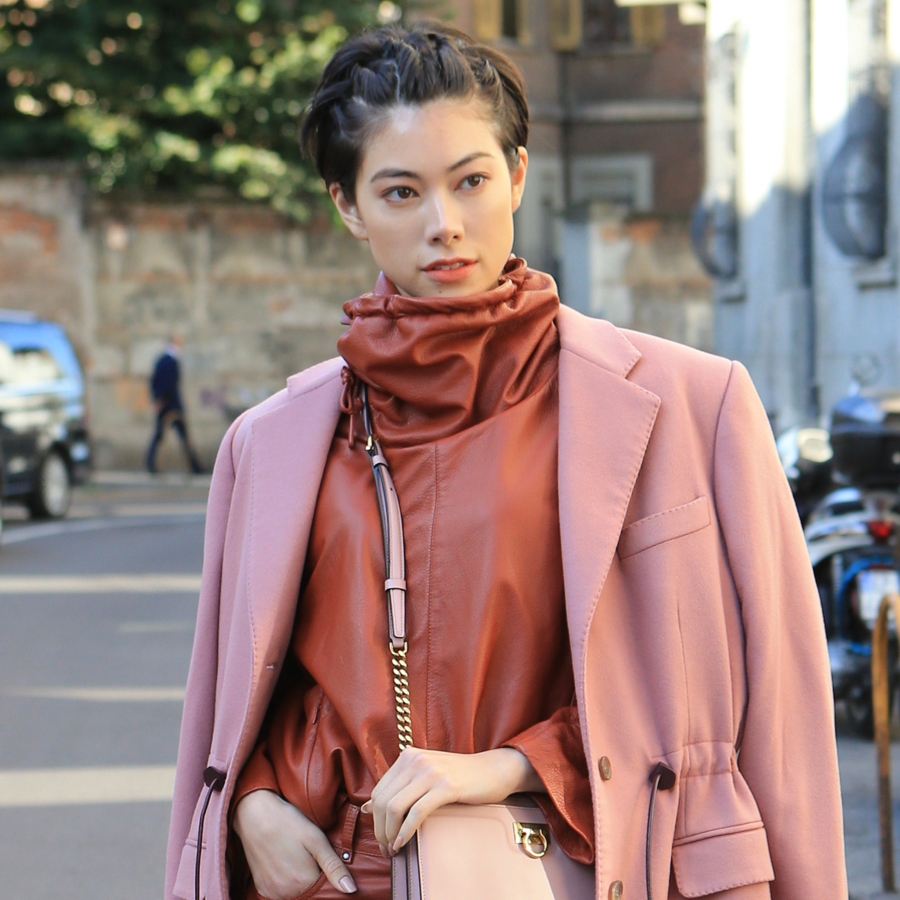 Shopping can be pretty daunting for petite women lost in an ocean of long-legged trousers and maxi skirts. And even though many retailers create specific lines for shorter and taller women, this is often not enough. For example, a dress from the petite section can reach your ankles, and sometimes, you can barely fit one leg into a pair of jeans since petite departments follow one standard size. Although this might surprise some, short girls come in different sizes, just like any other woman. So, here are Notorious' style hacks for petite women. Follow our Dos and Don'ts for short women in every shape and size because, with our tips on what to wear and where to shop, you will skip that fitting room frustration altogether and rock your petite style like a pro.
1- Streamlined silhouette
A long coat and monochrome looks with a streamlined silhouette are some of the best style tricks to make short women appear taller than they are. Plus, long coats elevate any look, perfect for polished office outfits.
2- Style hack: the higher the waist, the longer petite women's legs
High-waisted jeans, tailored pants, and Bermuda shorts are an easy way to make your legs look longer and balance your silhouette by embracing your waistline. However, if your breasts are not as petite as you are, our style hack is you should better go for mid-waist models that suit all women. Additionally, cropped trousers that show a little of your ankles give the impression that you are taller than you are. A clever trick is to combine ankle boots and trousers in matching colours like this stylish show-goer at Fashion Week.
3- Jeans: length and wide legs
Choosing jeans sometimes feels like a mission impossible, but you can read how to find the right jeans for your body type for some excellent style tips. When we speak about the best leg length for petite women, cropped jeans are almost a tabu, unless you wear them with high heels or platforms, and even better, if they are bootcut. Wide leg jeans are also a good option if they have a cinched waist. Pair them with a fitted top to balance the volumes and respect proportions. A good hack for petite women to elongate their legs is to wear cropped jeans with a boot in the same colour and wide-legged pants with pointed shoes, as you can see in the photo above.
4- The jumpsuit challenge
Jumpsuits are one of the most challenging garments for short women because we end up with too much loose fabric in the bum, and the waist never sits where it should. This means if you intend to shop online, make sure you buy where they have petite models. Also, remember to look for the crotch measure; Asos and many shops show all measurements, including the height of the model in the photos so that it's easier to know whether the piece will fit you or not.
5- The best dress and skirt length for petite women
Any petite woman will look better with a skirt or dress that ends above the knees. And the same goes for the polished Bermudas, which are a super modern option this year. In the same vein, you should take advantage of the mini/micro skirt trend in 2022. Again, you can layer leggings under and wear them with pointy shoes or boots for a contemporary look.
However, you shouldn't see this as a rule because maxi skirts are fantastic. You just need to be a little more careful to find the fitting silhouette for you. So, keep reading.
6- Our hack to nail maxi dress if you are a petite woman
If you just won't let that maxi skirts and dresses go (that's the spirit!), then remember these three style hacks for petite women:
7- Avoid too much layering
Layering is one of the Don'ts for petite women, making them disappear under the fabrics. But if you love this trend, make sure to layer fitted pieces like a t-shirt, straight-leg jeans or leggings under dresses or other garments.
8- Heels are short women's BFF, whether high or low style
Although this may sound obvious, wearing heeled shoes is the best hack to give petite women some extra height. But the good news is that you don't have to wear stilettos all day; comfortable shoes with low and medium heels already do the trick. For example, feminine kitten heels or chunky clogs are great footwear trends that elongate your legs.
9- Compulsory fitting room for the oversized trend
Here's an essential hack in our Dos and Don'ts as a petite woman. You should always try on everything you want to buy. Nothing makes you look smaller than a piece of clothing that seems too big on you. And with most retailers' standards, this is most likely to happen. In particular, make sure that the top of your sleeves sits right on your shoulders, without slouching down the arms. However, if you like the current oversized trend, choose only one key piece like an oversized blazer or sweater, and pair it with straight-leg trousers or a sleek skirt.
10- Keep your head high (and your hair higher!)
We're all for embracing your natural beauty. But, if your aim here is to look a little taller, consider wearing the high bun. It creates a vertical line with your body that indeed is flattering. Also, heavy, long hair can bring you down a little, so our hack is to try a shorter haircut style that looks great on petite women.
11- The Golden Rule
Knowing hacks and tricks to enhance your body type is essential, no matter where you shop and whether you're a thin or plus size, petite woman. There is only one rule in every case: it looks nice if it's proportioned. 
12- Where to shop for petite women
And finally, here are the best brands and shops that cater for petite women:
Lastly, watch our video to see why we think you're extraordinary.
[fvplayer id="373″]
All photos via Shutterstock.