Les Eaux de Chanel – 6 scents for 6 Summer destinations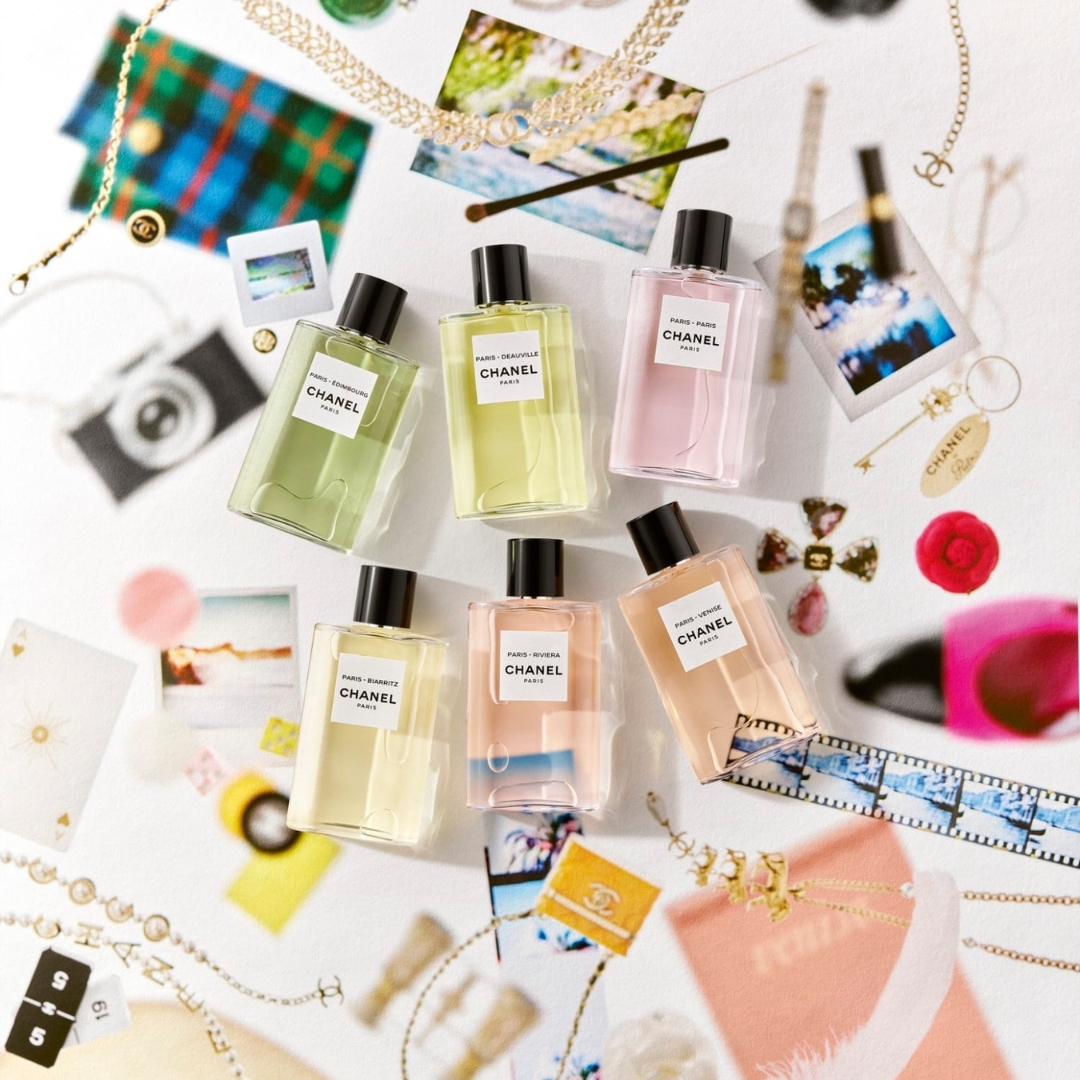 With her chic artsy lifestyle, Coco Chanel is undoubtedly an icon for women worldwide. And now you can be transported to her dreamiest Summer destinations, thanks to the new six Les Eaux de Chanel scents inspired by Chanel's favourite spots. So, cure your wanderlust with these light and unisex fragrances that evoke Coco Chanel's trips from Paris to the Riviera, Deauville, Venice, Biarritz, and Edinburgh. Our Les Eaux de Chanel review is like travelling with Coco Chanel. Bon voyage!
1- Travelling with Chanel to Paris
Famous for the timeless perfume No.5, the luxurious brand translates the modernity of Coco Chanel's spirit in this collection. These deceptively simple scents gradually reveal their extraordinary complexity and come in chic, minimalist bottles.
And the first olfactory journey is the vibrant and timeless Paris. And it is also the latest perfume in the fragrance collection Les Eaux de Chanel. Olivier Polge, Chanel's perfumer-creator, has bottled Parisian women's allure and relaxed elegance in the sparkling floral composition of Paris-Paris. We asked Olivier Polge to describe Paris-Paris in 3 words and here they are: Freshness, elegance and fluidity.
Paris-Paris Review:  the scent mixes Damascena rose, citrus and pink peppercorn with a patchouli base. It is fresh and light, like a carefree morning on a terrace of a Parisian café. To have a better feeling of travelling with Coco Chanel to Paris, you want to watch Visiting Paris in the footsteps of Coco Chanel to discover the designer's life in the French capital.
2- Travelling with Chanel to Deauville
Deauville is known for its wide sandy beaches and elegant villas. The beach town on the coast of Normandy is a significant destination in the history of Chanel. It was the starting point of the French heritage house as Coco Chanel opened her first boutique there in 1913. Deauville is also known for its villa, luxurious hotels, and casinos. As the closest seaside resort to Paris, Deauville has long been home to French high society.
Paris-Deauville Review: Paris-Deauville is a fresh fragrance. With a base of patchouli, jasmine and rose that leaves a zesty trail of Sicilian orange peel and basil.
3- Summer destination Biarritz
Coco Chanel opens her first couture house in Biarritz. Hence, the villa opposite the Casino marks the birth of her luxurious brand, now owned by the Wertheimers.
Paris-Biarritz Review: Inspired by the revitalising getaway on the Basque coast, Paris-Biarritz is the most cologne-like scent among the six Les Eaux de Chanel. You'll be transported to the beachfront with this invigorating perfume that mixes grapefruit, mandarin, lily of the valley, and vetiver.
4- Travelling with Chanel to Venice
Venice is the city of art where East meets West par excellence. Consequently, its Byzantine paintings and palaces were a source of inspiration for Coco Chanel's style. Hence, the romantic Italian destination-inspired Les Eaux de Chanel Paris-Venise.
Paris-Venise Review: A feminine fragrance with a sensual and exotic powdery scent. Berry, iris, and geranium notes contrast with the warmth of cedar. To sum up, wear it, and it will transport you to the canals and narrow streets of Venice and the luxurious Orient Express.
5- Summer destination, Riviera
In 1928, Mademoiselle Chanel had La Pausa built, her summer residence, on the Côte d'Azur. It was also there where she met the parfumier who created the iconic No.5. You can read The story behind Chanel No.5: the result of a mistake? to know more about it. But back to Paris-Riviera, this radiant floral fragrance evokes the region's breathtaking landscapes and vibrant life.
Paris-Riviera Review: Les Eaux de Chanel Paris-Riviera is what you need if you're longing for a sunny, sophisticated getaway destination. Mediterranean Jasmin and Neroli infused with the freshness of orange peel give way to a subtle sandalwood and benzoin base.
6- Summer in Edinburgh
Certainly, Gabrielle Chanel discovered Scotland by spending time away from the mundane at the Duke of Westminster's property in the Highlands' wild and romantic mountain landscape.
Paris-Édimbourg Review: Set off on a journey to the rugged Scottish moors and countryside with Les Eaux de Chanel Paris-Édimbourg, a woody and smoky fragrance. The perfume has aromatic juniper berry and cypress notes paired with warm tones of cedar and vetiver.
All photos courtesy of Chanel.