Kate Middleton's latest outfits in 2021 are simply perfect office looks 
All about blazers.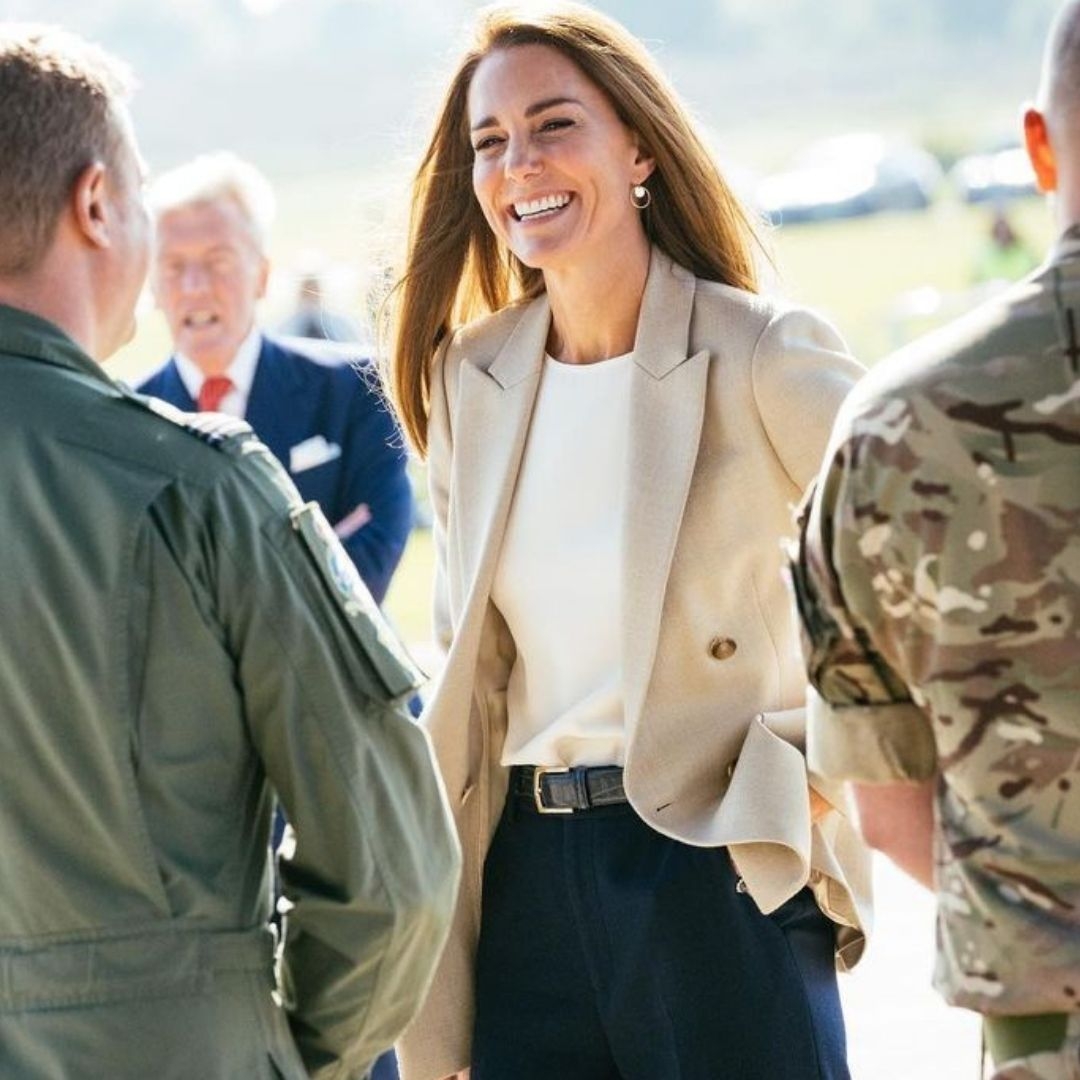 Since becoming the Duchess of Cambridge, Kate Middleton's proven that blazers are her wardrobe heroes for royal engagements, and they're certainly an excellent inspiration for our office looks. Over the years, she's worn classic blazers in different colours, styling them in both formal and informal ways. Additionally, blazers are in all luxury fashion houses' A/W 2021 collections and a key piece for your fall wardrobe.
Our editors select independently all products featured on Notorious-mag. However, when you buy through our links, we may get a commission.
The easy-to-wear beige blazer
In her last official event, the Duchess wore a cream double-breasted blazer from Reiss to visit the Royal Air Force in Oxfordshire. She paired the beige jacket with navy blue high-waisted trousers with wide legs, a trend we spotted at Fashion Week A/W 2021. A simple white t-shirt makes Kate Middleton's polished outfit more relaxed, a perfect office look to start the week.
Office look staple: the navy blue blazer
No office wardrobe would be complete without a navy blue blazer, the most versatile and easiest-to-wear piece for a sleek office outfit, which you can wear with jeans or tailored trousers. Additionally, you can also pair it with a pleated midi skirt like Kate Middleton's outfit to attend Wimbledon, if you want to look put together at the office. Choose a midi skirt with wide pleats, the must-have item for fall 2021.
Electric blue for a splash of colour
If you want a more joyful look to go back to the office, follow Kate Middleton's lead and wear an electric blue outfit or just a blazer in this bright hue, paired with denim or black trousers. Otherwise, see how fashion designer Pierpaolo Piccioli combined electric blue with silver and green for his fabulous Valentino Fall 2021 Couture collection and dare to wear bold colours to go to work.
Black blazer, a must-have in a capsule wardrobe
Nothing is more timeless and classic than a black blazer, which looks great with a Breton t-shirt like Kate Middleton's combo, a great office outfit for fall 2021.
Chic bottle green blazer
Put together a chic outfit with a bottle green blazer like Kate Middleton's pantsuit, which she wore in Scotland but would also look fantastic for a meeting at the office. You can pair it with a polka dot top as she did, or with a crisp white shirt.
Why not a peach blazer?
Pastel colours also look great at the office, so consider wearing a peach blazer with a classic cut or something more modern in Kate Middleton's style. Moreover, read Best colour combinations to update your wardrobe and see how to style your pastel-coloured blazer.
Photo @dukeandduchessofcambridge.
Finally, find out 10 little-known facts about Catherine Duchess of Cambridge in the video below:
[fvplayer id="308″]